Zilliqa Monthly Newsletter — Sep 2022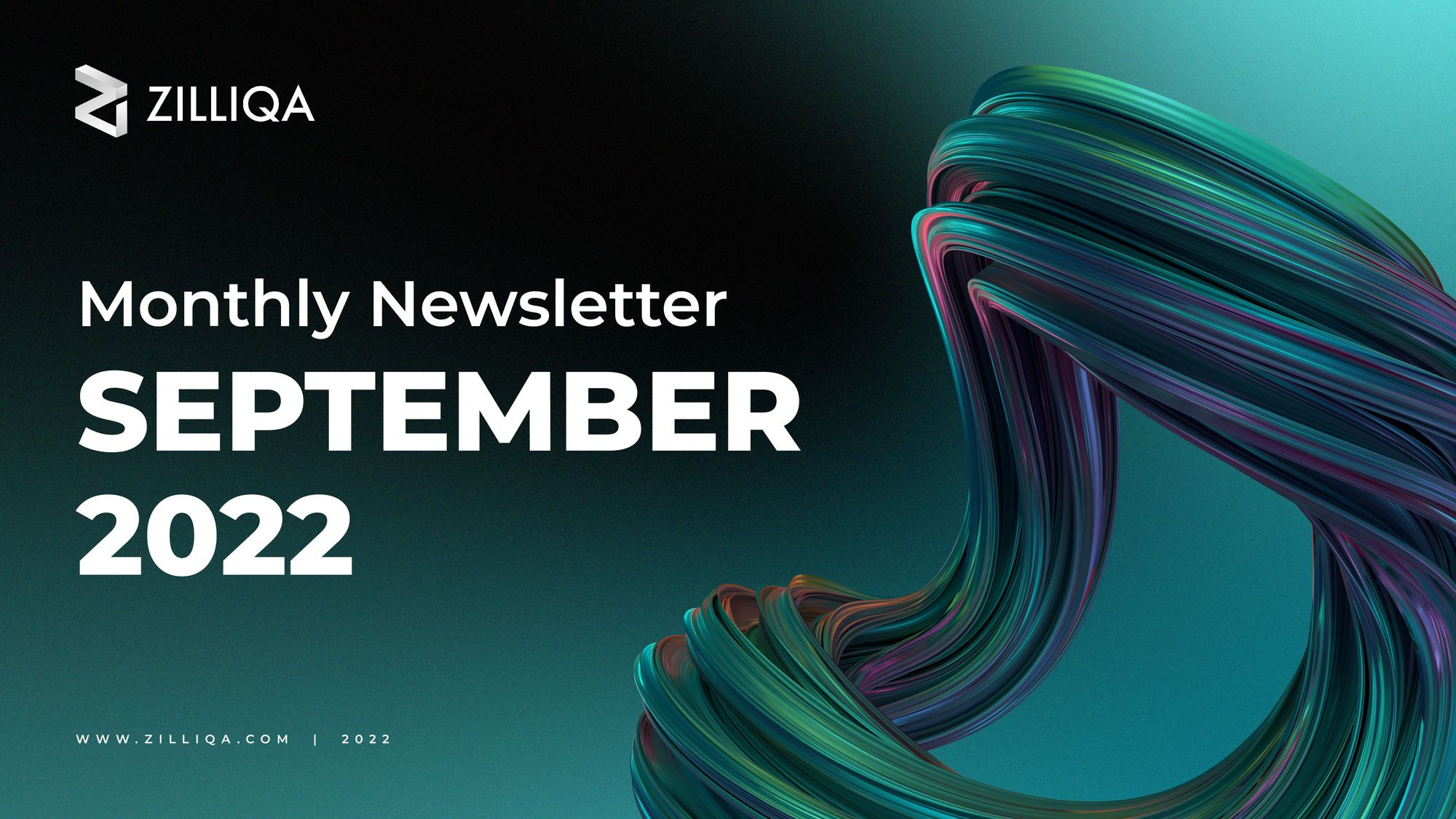 Gaming, partnerships and hiring, as well as some important forward-looking technical changes, defined our September here at Zilliqa!

TYRON Network launched its Soulbound xWallet on mainnet while IgniteDAO began testing features such as instant unstaking and NFT displaying for its Torch wallet.

Things are really heating up on our gaming play as we announced the launch of Zilliqa's gaming console and published a comprehensive report on Web3 gaming. We also welcomed a new CTO and Director of Investments in our latest round of strategic hiring. and joined forces with XBorg to accelerate our gaming ecosystem development!

Zilliqa's technical teams also met some key milestones as we prepare for some big new features to be introduced to the network.

Ready or not, let's venture into a very successful September!
Ecosystem
Take a look at what's been going on within Zilliqa's vibrant ecosystem!
IgniteDAO: Torch Wallet Progress
Smart wallet Torch has begun mainnet testing with a string of new features such as a reputation system for stakers, NFT displaying, and even instant unstaking!

Soulless Citadel Team Expansion

Soulless Citadel welcomed Manuel Thomasser this month. The 3D artist and designer has an incredible resume, having worked with game studios, film production and Netflix shows, including League of Legends, Call of Duty and Terminator: Dark Fate.

Soulless Citadel launches NFT Marketplace
The Soulless Citadel NFT marketplace is finally live! Get your hands on some of the most unique NFTs out there, all for a 0% marketplace fee!
Beanterra Shares Roadmap Updates & Teases Relic VFX
Beanterra's updated roadmap revealed the slew of new updates it will be bringing to its gamers in Q4 and next year!
The team also shared a video teaser of Relic, which allows trainers to equip their Beanels with new abilities, leverage powerful items, and summon mysterious creatures!
TYRON Network launches the Soulbound xWallet On Mainnet
TYRON Network's Soulbound xWallet is now live on Zilliqa mainnet! The SBTxWallet enables you to safely store Soulbound Tokens (SBT) - non-transferable tokens bound to your digital identity. Learn more here!
XCAD Released Creator Tokenomics Yellow Paper
XCAD's Creator Tokenomics Yellow Paper describes the design and modeling elements used to develop the components of the XCAD network, which includes its Watch-to-Earn token earning paradigm.
XCAD Launches 2nd CLO
The second Creator Liquidity Offering (CLO) by XCAD went live! Find out about XCAD's latest CLO and how it empowers creators while unlocking unique experiences for fan bases here!
Heroes of Lowhelm: Beta Game Updates & Monthly Development Report For September 2022
There has been lots going on at Heroes of Lowhelm in September. The beta launch of its game went live to the community. Want to play too? You can join here! They released their September monthly report as well!

Red Chillies Shares Sneak Peek Of Prediction Dex
Take a look at the testnet version of the Prediction DEX teased by Red Chillies Lab! Progress continues to be made on implementation of the BET token, too.
BLOX-SDK Launches Own SSN
BLOX-SDK launched their own SSN (staked seed node), featuring some of the lowest SSN commission fees at only 1%, as well as the opportunity to earn bonus rewards. ZIL stakers now have even more staking options!
DeMons Project Celebrates First Anniversary

DeMons recently turned 1! We're delighted to follow and support their journey. Can't wait to see what's next!

Soulless Citadel's Soulless NFT Marketplace Goes Live
Soulless Citadel's NFT Marketplace went live! Visit their website to get your hands on their CH1 Soulless collection — with 0% marketplace fees!

Forbidden Verse Publishes September Report; Holds NFT Sale For 2nd Chapter
Forbidden Verse, a ZilHive alumnus, held an NFT sale for its newest chapter and published its monthly report for September 2022!

LunarCrush Launches Level 5
LunarCrush released a whole new level! Level 5 now provides users with access to stocks - an all-new asset class - and higher weekly and daily rewards!


Technical

Testnet Version 8.2 Was Shipped

The latest version of the Zilliqa Testnet, version 8.2, went live in September and included new Scilla constructs. Full details can be found in the release notes.

EVM Devnet Deployed Internally

As we continue our preparations and scale up progress towards introducing EVM compatibility to the ZIlliqa blockchain, the first version of the EVM devnet was deployed internally. Watch this space for more news on the horizon, as we get closer and closer to the first public testnet release.


Partnerships

Zilliqa Accelerate Gaming Ecosystem Development With XBorg

Zilliqa announced its partnership with XBorg - a leading Esports 3.0 organisation - to advance the development of our rapidly-expanding game ecosystem.
Through this collaboration, XBorg will organise competitions and tournaments for Zilliqa's games to amplify exposure across crypto gaming communities, jointly co-market games within the Zilliqa gaming ecosystem, plus, their players will also be given exclusive access to beta versions of games built on Zilliqa to provide development feedback

Learn more here!


General

Zilliqa's Latest Strategic Hires: Dr Richard Watts and Adrien Gheur

Zilliqa was pleased to announce the appointment of Dr Richard Watts as Chief Technology Officer, and Adrien Gheur as Director of Investments in September! Both individuals are key strategic hires for Zilliqa and will be crucial in driving progress towards becoming a top 10 blockchain and destination-of-choice for building.

Find out more about the careers of Dr Richard Watts and Adrien Gheur!

Sandra H Shifts Focus To Metapolis

Our former Head of Metaverse & NFTs Sandra Helou made the transition to Metapolis as she looks to direct her time and undivided attention at growing Metapolis, the company she helped to found.

Sandra has flown the Zilliqa and Metapolis flags very prominently in the Web3 space by building strong connections with the community, driving initiatives and strategy internally, as well as participating in global events and conferences, all of which have created significant levels of interest in Metapolis from brands and businesses everywhere.
We wish her all the best and look forward to continuing working closely with her!
Read more here.

Next Steps On gZIL

Following plenty of feedback received from across our community, the team at Zilliqa will be opening up the discussion on the role and utility for gZIL in the Zilliqa 2.0 framework, with a focus on longevity and value. Currently, deliberations internally are exploring the feasibility of deploying gZIL as part of our approach to gas metering when EVM support is introduced to Zilliqa.

We will soon conduct some sessions with individuals from within the community, in parallel with public discussions to get a better sense of opinions and ideas.

Learn about the next steps for gZIL!


Gaming

Zilliqa Announces Native Web3 Gaming Console

We announced the launch of our very own hardware gaming console in September! The console is a comprehensive all-in-one Web3 device that integrates Zilliqa's gaming hub, in addition to possessing mining capabilities and an embedded crypto wallet.

Early access to the gaming hub for beta testing will become available in October, while pre-orders for the console are anticipated to launch in Q1 2023.

Zilliqa Publishes Industry Report: Web3 Gaming In 2022 And Beyond

Zilliqa published its very first research report, focusing on gaming in the Web3 space!

The explosion of mainstream interest in blockchain gaming has been remarkable, given its relatively short history. What resonated with gamers? What failed? What will the path moving forward look like?

"Web3 Gaming In 2022 and Beyond" tackles these questions and more by exploring the early mechanics of blockchain games, the challenges around tokenomics, and more.

This is the first of many insights-driven industry reports that you can expect to see from Zilliqa's research division!
Read the full report here.

WEB3WAR

We continue to make rapid progress on WEB3WAR as several more features are rolled out, in addition to the development of several new maps! These videos provide a glimpse at what you can expect soon!

Multiplayer Match

Release Of Map #6

Night Mode Gameplay - Map # 6

Character Customisation

Survival Game

Autumn is the latest map to be released in our Survival Game! Check out what it looks like here.

The Gaming Chat with Matt And Valentin

Our gaming podcast featuring Chief of Staff Matt Dyer and Head of Gaming Technology Valentin Cobelea launched this month and the first 4 episodes are already out!

In the series of episodes, the two talk about how Zilliqa's gaming push started, how WEB3WAR was initially conceptualised, why the gaming hub is central to our gaming strategy and much much more. Get caught up and watch them all here!

Episode 1
Episode 2
Episode 3
Episode 4
Gaming Perspectives: Three Reasons Why An Indie Studio Will Launch The First Blockchain Gaming Hit

Regulatory complexity around NFTs and the vibrancy of secondary markets are fundamentally game-changing factors, which is why we predict that the first big blockchain gaming hit will come from an indie studio, not a AAA studio.

Read why in this piece by Jack McCutcheon!


Industry Recognition

Invezz Speaks To Matt Dyer: What Does Zilliqa's Future In Gaming & Web3 Look Like?

Invezz caught up with our Chief of Staff Matt Dyer following our recent slew of announcements — from the XBorg partnership to the release of our gaming console.

Find out what Matt had to say about our gaming device, Zilliqa's strategy for growing its player base, as well as what makes us different from other L1s!


Ventures

Founders Interview With Michael Rey: Reimagining Risk Transfer

This month, we released the first installment of a new series of interviews, where we speak to founders creating and developing innovative solutions to modern day challenges using blockchain technology!

First up, we spoke to Michael Rey, who founded Cerchia, a platform that connects protection seekers with protection providers through blockchain-based smart contracts.

Discover how ZILHive helped Michael get started and what he thinks about the future of Web3!


Artbien Joined By Singapore's Minister Of Trade & Industry S Iswaran and Indian High Commissioner At Their Launch

Artbien, which was awarded a ZILHive ecosystem grant, welcomed two illustrious guests at their recent launch! They were joined by Singapore's Minister for Transport and Minister-in-charge of Trade Relations S Iswaran, as well as Periasamy Kumaran, High Commissioner of India in Singapore.

Artbien was founded with the goal of showcasing and promoting the works of upcoming contemporary artists across Asia.