Zilliqa Monthly Newsletter - May 2023
Check out the highlights from the Zilliqa ecosystem for May 2023.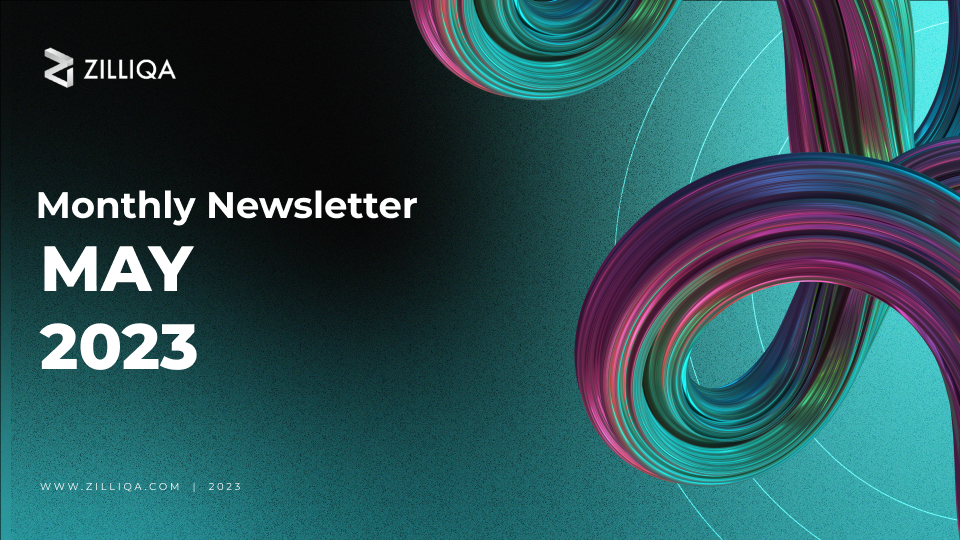 May has been an eventful month for the Zilliqa network, filled with significant achievements and exciting developments. I am delighted to share some notable updates with all of you.
The highlight of the past month was the launch of liquid staking on the Zilliqa network by Avely Finance. This groundbreaking feature allows ZIL holders to stake their tokens while maintaining liquidity and flexibility.
Enabling liquid staking opens up a new dimension of possibilities for Zilliqa, empowering users to actively participate in the network's consensus while having the flexibility to access their staked assets when needed.
We continue to work on the infrastructure needed to grow Zilliqa's DeFi ecosystem following the implementation of EVM compatibility, and the launch of Avely's liquid staking protocol is a major step towards providing more utility to ZIL holders and DeFi users.
As we move forward, expect to see more exciting products and tools launching on the Zilliqa network. EVM compatibility is being expanded to achieve full interoperability between Scilla and Solidity, and the first EVM-based dApps are already starting to come online.

It is important to note that the delivery of these major network upgrades has not been without obstacles, and I would like to thank the Zilliqa infrastructure team for the hard work they have done to quickly resolve network interruptions following the deployment of major updates to the Zilliqa blockchain.
As always, I'd like to thank you all for your support as we continue to deliver on our vision for Zilliqa's ongoing growth and development.
 - Matt Dyer
 Zilliqa CEO
Check out the highlights from the Zilliqa ecosystem for May 2023 below:
Liquid staking live on Zilliqa mainnet
On May 17, Avely Finance announced the deployment of its liquid staking protocol on the Zilliqa mainnet.
The Avely liquid staking dApp allows ZIL holders to earn staking rewards while retaining flexibility and liquidity thanks to the stZIL token - a fungible token that represents a user's staked ZIL balance and can be transacted in the same way as other tokens on the Zilliqa network.
Liquid staking offers the benefits of standard staking and liquidity by giving ZIL holders a way to earn rewards from staking while still being able to use their funds elsewhere.
This is a major step in the growth of Zilliqa's DeFi ecosystem and greatly improves the ability for ZIL holders to leverage applications such as decentralised exchanges, liquidity provision, money market protocols, and more while continuing to earn staking rewards.
Following the launch of Avely's liquid staking and Swap platform, the stZIL token was listed on LunarCrush, a platform built on Zilliqa that provides social insights and analytics in the blockchain space.
Avely's liquid staking protocol has also been integrated with the Zillion staking platform, making liquid staking accessible to ZIL holders and stakers across the ecosystem.
Moving community relations to Discord
Last month, we announced that Zilliqa is migrating its official channel for community and developer relations to Discord and that interaction from the Zilliqa team with users in the Zilliqa Telegram channel will slowly wind down.
The Zilliqa Discord has undergone a major overhaul and offers a range of new features that make it easier than ever before for the community to keep apprised of network changes and for developers to get the assistance they need from Zilliqa technical team.
Making Discord the home for the Zilliqa community offers a better experience for everyone, from users looking for updates on aspects of the network to developers who want to log support tickets to resolve issues with their projects.
This change addresses the lack of a central hub for communications between the Zilliqa team and our community, and we will continue to improve our relations going forward and find new ways to keep everyone updated on the latest ecosystem news or offer support to developers and users.
Join us on the official Zilliqa Discord.
Building out the Zilliqa EVM ecosystem
With the first implementation of native EVM compatibility now deployed on the Zilliqa mainnet, EVM-based decentralised applications are already beginning to add support for the Zilliqa EVM network.
Free NFT minting platform NFTs2Me announced this month that it has added support for the Zilliqa EVM network, allowing users to connect to the platform via MetaMask and mint NFT collections using the same process as they would for any other EVM-compatible blockchain.
This first implementation of Zilliqa's EVM compatibility offers a number of features, including the ability to transfer ZIL natively without complex conversion processes, making it superior to many layer-2 protocol implementations.
EVM on Zilliqa also means users can now connect popular wallets such as MetaMask to the Zilliqa EVM network, and developers can use tools like Truffle and Hardhat to deploy contracts written in Solidity to the Zilliqa network.
Find out more about EVM compatibility on Zilliqa in our announcement post or read the guides below to start using MetaMask with the Zilliqa network:
WEB3WAR and gaming on Zilliqa
The team at Roll1ng Thund3rz has continued to roll out updates to WEB3WAR, the free-to-play FPS secured by the Zilliqa blockchain.
WEB3WAR v1.2 was recently released, bringing exciting new gameplay features, maps, and game modes.
The latest version of WEB3WAR adds a new Ruins map with day and night variants,  a Domination game mode, new ribbons and loading screens, and an array of bug fixes and improvements.
Start playing WEB3WAR now and follow the latest updates on Twitter!
WEB3WAR will be on show at Web3 Gaming Week in Singapore, where players can test out their skill in the fast-paced FPS powered by blockchain technology.
Zilliqa game developers will also have the opportunity to participate in a six-day game jam and win prizes for building the best Web3 game at the event.
Ecosystem news and AMAs
The Zilliqa ecosystem has continued to grow, with many projects announcing exciting new plans for the future.
Last month, we caught up with Nyayomat founder and CEO Samwel Odundo to find out about his plans to boost prosperity in the African marketplace using Zilliqa and Web3 technology.
XCAD released an updated roadmap that offered insight into their plans for the year ahead, which include improving the utility of the PLAY token and boosting the fan token arena.
May also saw the announcement that Zilliqa is now supported as collateral on Guarda, allowing users of the wallet to secure crypto loans with their ZIL holdings.
Zilliqa's Ecosystem Marketing Manager, Kevin Meyer, also had a busy month in terms of podcast and AMA appearances, sharing news about Zilliqa on a Twitter Spaces AMA with NOW Solutions and appearing on the LensCast podcast with YouMeme.
Stay tuned to our socials and subscribe to the Zilliqa blog to stay up to date with the latest news from Zilliqa.