Zilliqa Monthly Newsletter - Apr 2023
Check out all the highlights from the Zilliqa ecosystem for April 2023.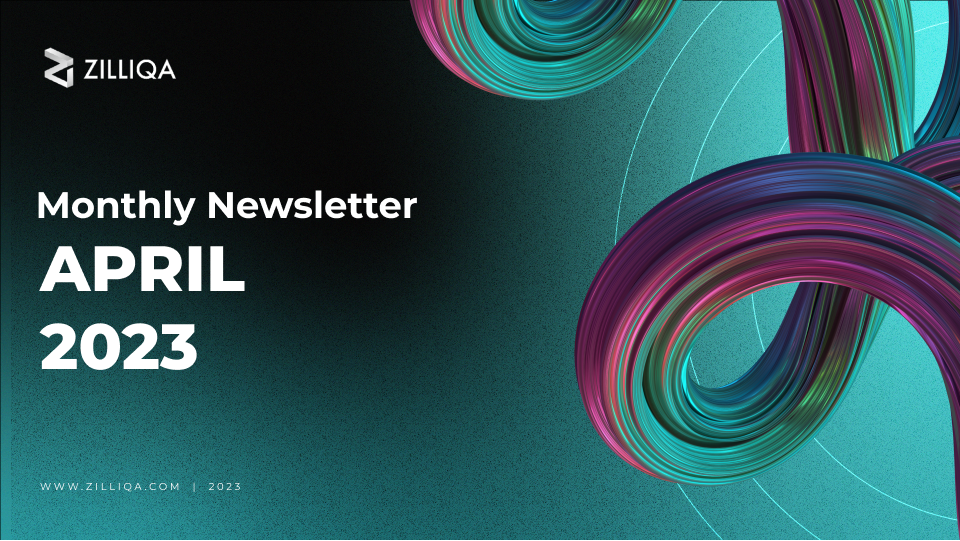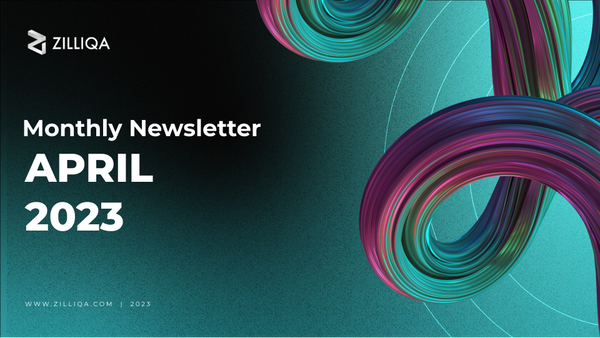 April has been a month of exciting milestones for the Zilliqa network and wider ecosystem. For me - as I'm sure for the rest of you - the biggest news this month was the long-awaited deployment of EVM compatibility on the Zilliqa mainnet.
Having an EVM-compatible network opens up the scalability and efficiency of Zilliqa's infrastructure to a massive new community of developers and users while making interoperability and building applications easier than ever before.
Popular wallets like MetaMask can now be used to send and receive ZIL without any complex token conversions, and developers can start to experiment with writing and deploying Solidity contracts on the Zilliqa mainnet using familiar environments like Hardhat and Truffle.
This is a massive milestone for the Zilliqa network and I encourage everyone to try out these new EVM-related features, whether you're an everyday ZIL holder or a Solidity developer looking for a network that can scale to meet the demands of your application.
We're looking to launch further EVM-related functionality later this year, including full interoperability between Scilla and Solidity standards, which will create exciting new opportunities for multi-chain NFTs, DeFi, and more.
Many products in the Zilliqa ecosystem have seen a number of major announcements this month, too. From the launch of ZilBridge v2 to Zeeves gearing up for the launch of their Zilliqa-based debit card, it's clear there are great things coming to the Zilliqa network this year.
I'd like to thank you all for your continued support as we continue to deliver on our vision for Zilliqa's ongoing growth and development.
I also want to thank the Zilliqa team, past and present, for the excellent work they have done on enabling these important capabilities and making these landmark improvements to the network.
 - Matt Dyer
 Zilliqa CEO
Check out the highlights from the Zilliqa ecosystem for April 2023 below:
EVM compatibility deployed to mainnet
On April 25, 2023, EVM compatibility was deployed to the Zilliqa mainnet as part of a significant upgrade to the network.
This launch coincided with Matt Dyer, Bradley Laws and Anton Agafonov from the Zilliqa team visiting Consensus 2023, the world's largest crypto conference, which was hosted in Austin, Texas.
Ethereum Virtual Machine (EVM) is the software platform used to build applications on Ethereum and other protocols that have implemented EVM compatibility. Adding EVM compatibility to Zilliqa opens up the network to EVM dApps and brings greater accessibility and functionality to the wider ecosystem.

This also means that developers can deploy Solidity dApps to Zilliqa using Hardhat and Truffle, and users can now connect popular wallets such as MetaMask to the Zilliqa network to easily send and receive ZIL from their browser.
If you want to try out MetaMask with the Zilliqa EVM network, read our guides on how to connect to the network, send ZIL to MetaMask, and transfer ZIL from MetaMask.
For more information on the functionality available in this first implementation of EVM compatibility on Zilliqa, read our EVM FAQs.
Paving the road to Zilliqa 2.0
EVM compatibility is a major step towards greater interoperability and adoption of the Zilliqa network, and it is being developed alongside the infrastructure for Zilliqa 2.0.
Zilliqa 2.0 will retain all the features of the current version of the Zilliqa network, including complete EVM compatibility, while bringing significant improvements to network performance and utility.

It is a complete refresh of the network that will allow for exciting new use cases and greatly improve the flexibility and scalability of application deployments on Zilliqa to meet a wide range of users demands and business cases.
Read our recent interview with Zilliqa CTO Richard Watts to learn more about our plans for Zilliqa 2.0.
Another improvement coming to the Zilliqa network as work on Zilliqa 2.0 progresses is the reduction and eventual elimination of downtime for mainnet upgrades. Currently, the network is brought down for up to 24 hours when upgrades are deployed and then restarted once the new version of the node software has been rolled out.
In the future, we aim to move to a dynamic update system that will allow the network to continue processing transactions while we roll out improvements to the network.
To find out more about our plans to mitigate downtime, read our blog post on future deployments.
Zilliqa & Roll1ng Thund3rz AMA with CEX.io
This month, Zilliqa Ecosystem Marketing Manager Kevin Meyer and Roll1ng Thund3rz co-founder and CTO Valentin Cobelea appeared in an AMA session hosted by prominent cryptocurrency exchange CEX.io.

The discussion ranged from the exciting improvements coming to the Zilliqa network and the team's role in fostering powerful use cases for the blockchain to the successful launch of WEB3WAR and the FUS1ON Gaming Hub by Roll1ng Thund3rz.
Valentin explained his vision for Roll1ng Thund3rz and Web3 gaming, where he stressed the benefits of delivering a gaming ecosystem that offers all the benefits of blockchain functionality while remaining focussed on the most important component of gaming - creating high-quality, fun games for players to enjoy.
Kevin fielded questions from the community around the roadmap for EVM compatibility, what this means for validators, and the powerful new features coming in future network upgrades.
Watch the full CEX.io AMA with Zilliqa and Roll1ng Thund3rz here.
Exciting news from companies building on Zilliqa
There have been several exciting announcements from companies building on the Zilliqa network in the past month.
Nyayomat, a startup building a Buy Now, Pay Later platform on Zilliqa that aims to empower small businesses across the African continent, has been accepted into the CV Labs accelerator programme, unlocking an exceptional opportunity for growth, development, and education. The company was first incubated through ZILHive and is already in discussions with partners in Africa to explore potential deployments of its decentralised lending platform.
Read more about Nyayomat in our interview with the company's founder and CEO Samwel Odundo.
Zeeves is building a Telegram-based banking platform on Zilliqa and announced this month that its new debit cards will begin rolling out in the near future. The company's neobank platform is now open to early adopters who can enjoy great rewards for helping to test the beta version of Zeeves.
Existing services operating on Zilliqa also saw a number of big announcements in April. Avely Finance launched a bug bounty programme that rewards developers from a pool of $20,000 if they discover any issues with their liquid staking smart contract, which is set to launch soon after the bug bounty period closes.
ZilBridge v2 was also launched, adding support for bridging to Arbitrum, Polygon, and Binance Smart Chain (BSC). This upgrade also made bridging tokens between these blockchains simpler and easier by removing the requirement to supply a transfer key.
A great month for the Zilliqa ecosystem
It's been an exciting month for projects across the Zilliqa ecosystem.
LunarCrush announced the launch of its LunrGPT service, powered by ChatGPT 3.5 through Telegram. In future, the company aims to integrate their data and analytics into the service, as well as making LunrGPT accessible directly through its website.
WEB3WAR continues to receive regular updates following its version 1.0 launch in March, adding an Easter Egg Hunt event, overhauls to the input system and UI, and a range of improvements to gameplay across the board.
We partnered with BitStack to integrate the Zilliqa blockchain into their platform, allowing developers to easily run bespoke RPC nodes for their applications.
XCAD has continued to see impressive growth, and this month the company published an in-depth article outlining its vision for the future and building around utility.
Following the launch of EVM compatibility, Tyron quickly implemented new functionality that allows to send ZIL directly from their SSI account to any EVM wallet, including MetaMask.
Stay tuned to our socials and subscribe to the Zilliqa blog to stay up to date with the latest news from Zilliqa.