Zeeves neobank to launch first-ever Zilliqa debit card
Zeeves is set to launch its neobank offering and its first batch of debit cards in July 2023.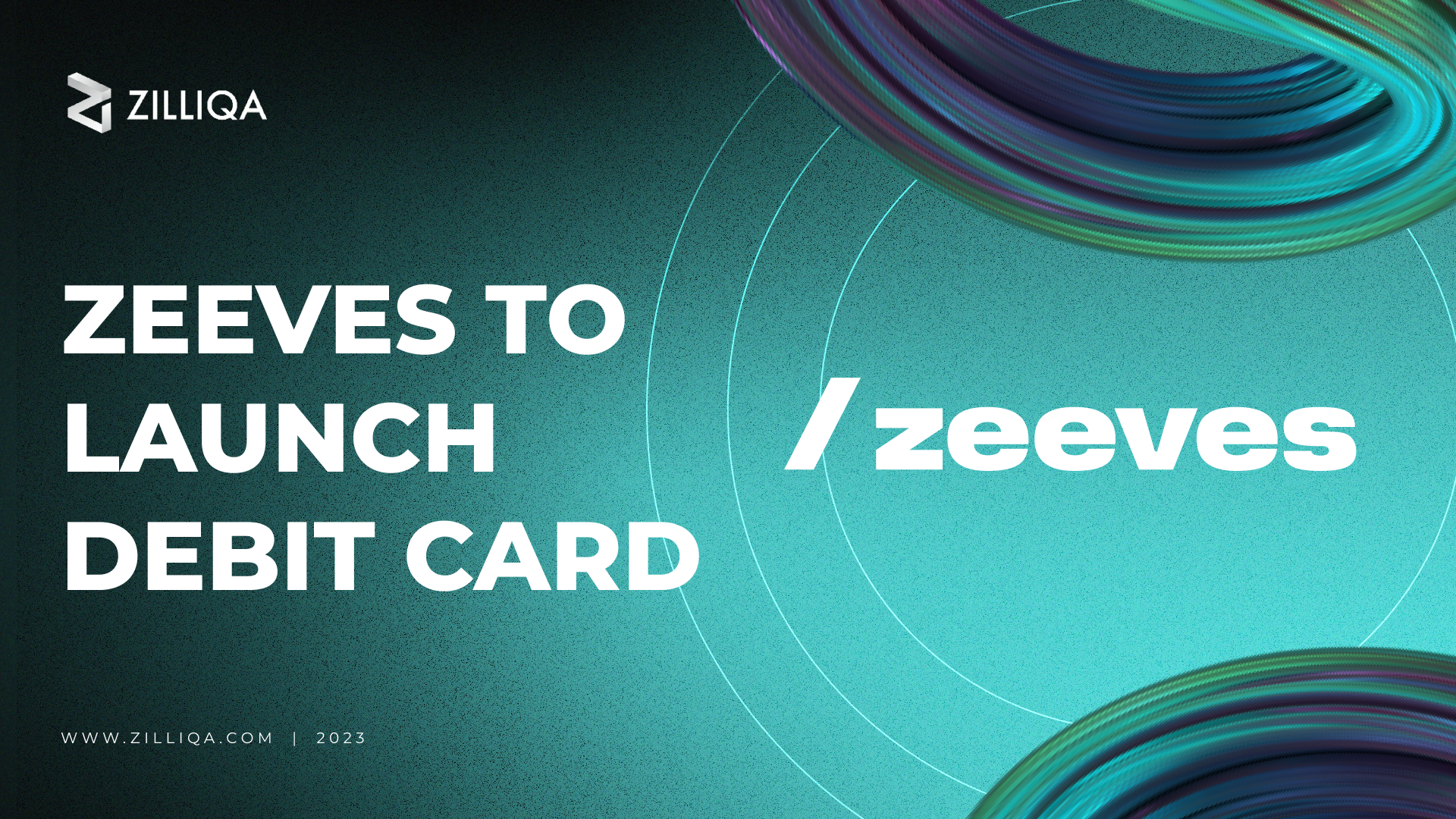 Zeeves, a Telegram-based neobank, wallet and activity tool powered by the Zilliqa blockchain, is set to launch its neobank offering and its first batch of debit cards in July 2023.
The Zeeves neobank will integrate fiat and crypto into a single application where users can easily exchange fiat for crypto or vice versa. With the launch of the debit card, Zeeves users will also be able to make payments and withdraw cash from ATMs around the world.
By signing up for a Zeeves debit card, users will be able to pay with EUR or ZIL in any store that accepts payments from the neobank's partnered card provider, allowing for native crypto-backed spending.
A limited number of debit cards will be issued in the first batch following the launch of the neobank platform, and interested users should join the waitlist to avoid missing out on the initial rollout.
Zeeves will initially launch its neobank platform in a beta stage as it continues to roll out additional features and test the performance and functionality of the service.
By making its neobank and Zilliqa wallet accessible over Telegram, Zeeves enables users around the world to easily trade fiat for ZIL and begin interacting with the Zilliqa and wider blockchain ecosystems directly from their smartphones.
The team aims to make the world of cryptocurrency more convenient and understandable to everyone, allowing payments and transfers with ZIL to be integrated into daily life through a platform built on one of the most widely used messaging apps in the world.
Great benefits for early adopters
Ahead of the beta launch of its neobank and debit card offering, Zeeves is offering exciting incentives to encourage people to sign up as testers on the platform.
Users who sign up to test the Zeeves neobank platform will receive a free debit card and three months of service upon launch. Testers will also have the opportunity to participate in platform surveys and earn rewards for providing feedback that will help the Zeeves team to refine and improve the application during the beta test period.
To take part in the Zeeves beta test, message the Zeeves bot on Telegram to sign up and open your account.
At launch of the neobank beta, only residents of Europe and the European Economic Area will be able to open an account on the platform.
This means if you are a European or EEA resident living outside of the EU, you will be able to open an account. Additionally, if you are currently residing in Europe or the EEA, you will also be able to open an account with Zeeves.
After signing up, users will need to fulfill the specified KYC requirements and prove their identity before their account becomes active. This is the process followed by banks and neobanks around the world to ensure compliance with regulations concerning financial institutions.
Following the beta period, Zeeves will also offer a referral programme that will provide benefits to users who refer their friends to sign up with the platform.
How to use Zeeves
After opening a chat with the Zeeves Telegram bot, users can select the "Create account" to begin their journey as a user of the Zeeves neobank.
This option will open a registration form that will prompt users to fill in their registration details, including their email and password. They will then be asked to set up an authentication method for account security.
After creating an account, users can purchase ZIL tokens directly through a fiat on-ramp payment service, through which they will be redirected to complete their purchase.
Once the neobank has launched in beta, an additional interface will be added to the registration process that will require users to fill in their KYC data and upload any supporting documents. Zeeves will also provide the user with credentials to deposit funds directly into their account from other accounts.
The integration of the Zeeves neobank platform with the existing Zilliqa wallet functionality will allow users to directly exchange fiat balances for ZIL within the app, as well as sell or transfer tokens.
Zeeves will offer an integrated bank account and Zilliqa wallet that will provide a range of blockchain functionality, such as viewing NFT balance and on-chain transfers, paired with the ability to make payments at points of sale with either EUR or ZIL.
The platform will make it easier than ever to purchase and sell ZIL, and it will allow ZIL holders to use their tokens for real-world payments, creating exciting utility for users within the Zilliqa ecosystem.
To find out more about how Zeeves works, visit the platform's official website.