Zilliqa Monthly Newsletter - Oct 2023
Check out the highlights from the Zilliqa ecosystem for October 2023.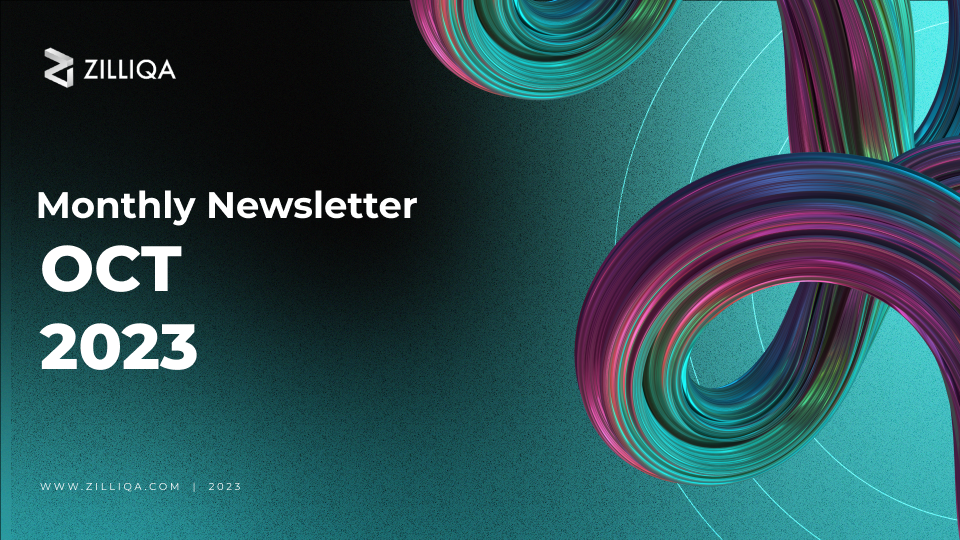 October was a busy and important month for both Zilliqa Group and the whole ecosystem. We saw a number of exciting new partnerships and announcements that touched on everything from compliance-focussed enterprise solutions to DeFi platforms built on Zilliqa EVM.
I am thrilled to see the progress being made across the ecosystem, from Zilliqa Group expanding its partnerships and capabilities to disrupt existing industries with powerful Web3 solutions, to the important proposals passed through the governance process that mark a major milestone on the road to Zilliqa 2.0.
I would like to thank the Zilliqa community for their continued support and engagement as we continue our journey towards Zilliqa 2.0 and a more flexible, efficient network. From gZIL holders participating in governance to ZIL holders trying out the exciting new DeFi platforms launching on the network, it is great to see this sustained and productive activity throughout the Zilliqa ecosystem.
From a Group perspective, our partnership with Racing League was a major highlight of the past month, as it demonstrates the ability for the Zilliqa network to power exciting new use cases in the loyalty space as well as Zilliqa Group's strategy to build useful and productive partnerships within a range of verticals.
We also announced a new collaboration with ChainUp this month, which will bolster our ability to offer Web3 infrastructure services to businesses by ensuring our solutions are compliant and robust enough to satisfy the demands of new and existing partners.
As we approach the end of the year, keep an eye out for more important announcements and updates to the network. We are not only shaping the future of the Zilliqa network but that of the entire Web3 space, and I am excited to share what comes next as we approach the end of 2023.
- Matt Dyer
Zilliqa Group CEO
Check out the highlights from the Zilliqa ecosystem for October 2023 below:
Partnership with Racing League on fan engagement
On October 24th, Zilliqa Group announced an exciting partnership with Racing League to deliver a new fan loyalty programme with unique and powerful features delivered by the Zilliqa blockchain.
Racing League is a competition based in the UK that offers a team-based approach to horse racing, creating exciting new ways for old fans to show their love for their favourite sports and opening the gates to new fans through an accessible and exciting competition format.
Its partnership with Zilliqa Group will see Racing League use the Zilliqa network to level up its fan engagement, offering exclusive rewards and exciting ways to interact with the competition, from participating in governance to competing in prediction games to earn tangible rewards.
This partnership is a major step in the Group's broader strategy to revolutionise the fan loyalty sector with disruptive blockchain-powered solutions, expanding its range of existing partnerships across the sports, gaming, and entertainment industries.
Read more about Zilliqa Group's partnership with Racing League.
Boosting Web3 infrastructure offerings with ChainUp
The last month saw another major partnership announcement for Zilliqa Group, this time with ChainUp - an enterprise blockchain solutions provider based in Singapore.
This collaboration will see ChainUp become an industrial-grade partner for Zilliqa Group, helping to boost its enterprise Web3 infrastructure offerings through the integration of compliance-focussed blockchain solutions.
As part of this partnership, ChainUp will also run a Staked Seed Node (SSN) on the Zilliqa network, playing a crucial supporting role as an archival node on the blockchain that provides services to end-users.
Thanks to this partnership, Zilliqa Group will be in a prime position to expand its Web3 infrastructure offerings to new and existing partners by offering efficient, reliable, and compliant blockchain-based solutions.
Read more about Zilliqa Group's partnership with ChainUp.
Important proposals passed as we approach Zilliqa 2.0
As the Zilliqa infrastructure team works continuously to implement network upgrades on the road to Zilliqa 2.0, the community has stepped up and voted to pass a number of important proposals that are necessary for this transition.
In October, a number of proposals were successfully passed through Zilliqa's decentralised governance system, with gZIL holders voting overwhelmingly in favour of the changes.
These include proposed changes to the role Staked Seed Nodes (SSNs) play on the network as we migrate to Proof-of-Stake for Zilliqa 2.0.
Other proposals were related to mining rewards and sharding, with proposals being passed that introduce active reward control for miners and implement desharding to improve efficiency before an improved sharding system is introduced.
Active reward control is aimed at improving the cost-efficiency of operating a mining node on the Zilliqa network and reducing inflation, while desharding is an important step to improve the efficiency of the overall network before a new sharding architecture is introduced as part of the shift to Zilliqa 2.0.
To find out more about these proposals and have your say on other upcoming changes to the Zilliqa network, visit the Zilliqa governance forum.
FUS1ON becomes the first Web3 gaming platform on Microsoft Store
Roll1ng Thund3rz has continued to build out its Web3 entertainment ecosystem at an impressive pace, delivering regular updates to its free-to-play shooter, WEB3WAR, and its FUS1ON Gaming Hub platform.
Version 2.1 of WEB3WAR officially launched in the past month, bringing exciting new features to the game, including a new event map, post-game rewards screen, progression-tied cosmetics, and much more.
Read the full release notes for WEB3WAR v2.1 here.
The company has also made significant progress on its unified FUS1ON Gaming Hub software and has officially launched its marketplace for tokens and in-game items, MARK3T, as a standalone platform available through a web browser.
This means that users can now interact with the FUS1ON MARK3T from their preferred browser and device, including desktop computers, laptops, tablets, or smartphones.
In the same vein of improving accessibility and growing its audience, the biggest announcement from Roll1ng Thund3rz in the last month was the official launch of the FUS1ON Gaming Hub on the Microsoft Store.
This makes FUS1ON the first-ever Web3 gaming platform available on the Microsoft Store and marks a pivotal moment in the mission to bring Web3-powered gaming to mainstream audiences.
Technical updates, DeFi growth, and ecosystem news
The Zilliqa ecosystem saw exceptional growth in the last month, with a number of exciting new platforms being launched and existing projects continuing to improve on their offerings.
Technical updates to developer tools have also proceeded apace, with the Scilla plugin for Hardhat continuing to receive updates that make it easier to deploy EVM-compatible smart contracts that interact with existing Scilla code.
One of the biggest announcements in the Zilliqa ecosystem in October was the launch of Plunderswap, the first DEX built on the Zilliqa EVM network, making it compatible with popular wallets like MetaMask.
To learn more about the exciting opportunities for DeFi growth on Zilliqa this launch brings, check out our full AMA with the Plunderswap team.
LunarCrush expanded their social insights platform this month, adding 30 new categories for users to explore, and IgniteDAO expanded its instant unstaking feature to include support for all Staked Seed Nodes (SSNs), allowing users to pay a small fee to instantly access their unstaked ZIL.
It was a busy October in terms of news and events for Zilliqa, with the recent strategic alliance between Zilliqa Group and Google Cloud being highlighted in an interview with Google Cloud Head of Web3 James Tromans by Blockhead.
Zilliqa Head of Business Development for Sports and Gaming, Tom Fleetham, also appeared on the BullCaster talk show this past month, engaging in an insightful discussion around blockchain's role in fan engagement.
The team was also present at ESI London 2023, where Zilliqa Brand and Partnership Manager Georgia Todd joined MAD Lions on stage to explore the new age of loyalty programmes enabled by Web3 technology.
Stay tuned to our socials and subscribe to the Zilliqa blog to stay up to date with the latest news from Zilliqa.