Zilliqa Monthly Newsletter - Mar 2023
Check out the highlights from the Zilliqa ecosystem for March 2023.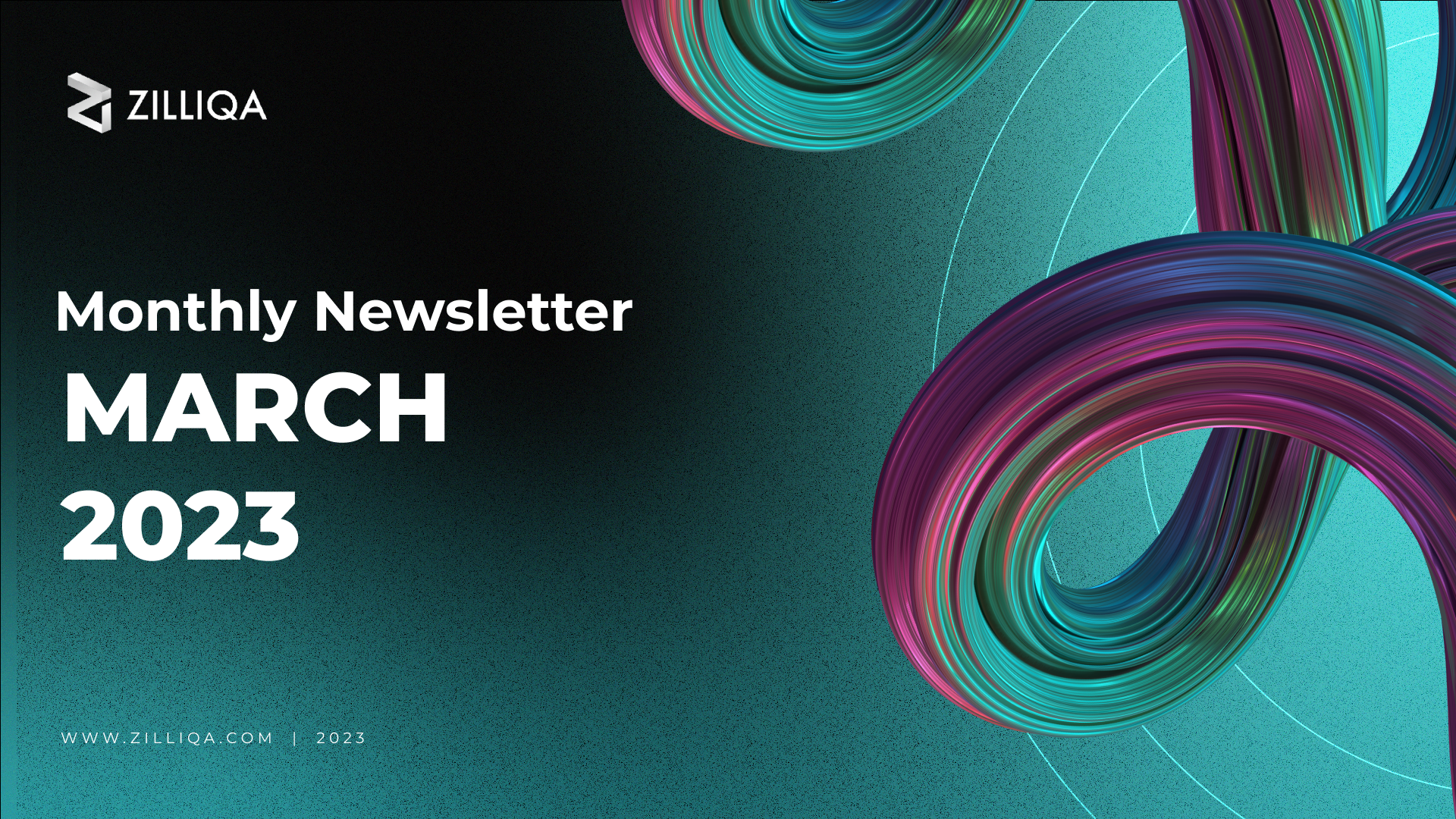 It has been an important and rewarding first quarter of 2023 for the Zilliqa ecosystem. We've seen impressive progress being made on major technical improvements that are coming to the Zilliqa network, as well as the launch of exciting new projects both within the Zilliqa umbrella and without.
One of the biggest highlights for me was the recent launch of WEB3WAR and the FUS1ON Gaming Hub by the team at Roll1ng Thund3rz. After being spun out of Zilliqa as a standalone company earlier this year, Valentin Cobelea and his team have wasted no time in delivering an amazing game with powerful blockchain features.
I would encourage everyone to download and play WEB3WAR - you will be amazed at how much progress the development team has made since the first public beta. Roll1ng Thund3rz have created a feature-complete multiplayer shooter that offers fun gameplay, impressive graphics, and blockchain-secured functionality that will only be expanded with the first of many planned seasonal content updates coming later this year.
On the protocol development side, our focus remains squarely on implementing EVM compatibility on the Zilliqa mainnet and working on the network upgrades for Zilliqa 2.0. While we had initially planned to launch EVM compatibility on mainnet in the first quarter of the year, we decided to delay this by a few weeks to ensure that our native implementation of EVM is as battle-tested as possible before being rolled out to the wider Zilliqa ecosystem.
As we expand EVM compatibility on Zilliqa over the coming year, we encourage developers and users alike to take advantage of the native support for MetaMask and developer environments like Hardhat and Truffle. EVM compatibility is the key to improving the interoperability of the Zilliqa blockchain and opening up our ecosystem to the wider blockchain developer and user community.
With these crucial and beneficial infrastructure changes coming soon, and the launch of Web3 applications like WEB3WAR that offer unique blockchain features and are aimed at widespread mainstream adoption, the year ahead looks to be the most exciting for Zilliqa yet.
 - Matt Dyer
 Zilliqa CEO
Check out the highlights from the Zilliqa ecosystem for March 2023 below:
Launch of WEB3WAR and FUS1ON Gaming Hub
One of the biggest highlights from the last month was the version 1.0 launch of WEB3WAR and the FUS1ON Gaming Hub on March 31st.
The team at Roll1ng Thund3rz made significant and impressive progress on the development of WEB3WAR over the public beta period, bringing several new gameplay mechanics and features, as well as a complete graphics overhaul and five new high-definition maps.
With its official launch, WEB3WAR now includes the first of its blockchain-powered features - the tokenisation of weapon skins as NFTs secured by the Zilliqa blockchain. These can be purchased and traded amongst players and are automatically equippable in-game once added to the player's inventory.
A range of Founders Edition weapon skin NFTs are now available to purchase from within MARK3T - the beta marketplace component accessible from the FUS1ON Gaming Hub.
Roll1ng Thund3rz has taken a player-first approach to implementing blockchain features, automatically creating a Zilliqa wallet for each player account and integrating it into the FUS1ON Gaming Hub to make the system as accessible as possible to traditional gamers.
The future of WEB3WAR and the FUS1ON Gaming Hub is exciting, with the launch of the game's reward token, additional skins and features set to come with the first seasonal content update later this year. To find out more about the features coming to WEB3WAR later this year and the Season 1 update, read the interview with Roll1ng Thund3rz CTO and co-founder Valentin Cobelea.
WEB3WAR version 1.0 is available now to download and play for free from the official website. To learn more about the game and how to play, read our recently updated guide on getting started with WEB3WAR.
Bringing EVM compatibility to mainnet
It has been a productive month for the Zilliqa technical team, too, who have continued to work on Ethereum Virtual Machine (EVM) compatibility with the goal of launching this functionality on the Zilliqa mainnet on April 25th, 2023.
Bringing EVM to Zilliqa opens our ecosystem to the wider blockchain developer community, unlocking a new pool of developer talent and opportunity for cross-chain interoperability, and adding native support for popular wallets such as MetaMask to the Zilliqa ecosystem.
Once EVM compatibility has launched on mainnet, users will be able to transfer native ZILs using EVM-compatible wallets such as MetaMask and deploy Solidity smart contracts using popular tools such as Truffle and Hardhat.
The first full implementation of EVM compatibility coming in April 2023 will later be followed by the introduction of full interoperability between Scilla and Solidity smart contract standards. This feature will add even more functionality to the EVM components of the Zilliqa blockchain and will first be tested extensively on the testnet before it too is launched on the mainnet.
Read our interview with Zilliqa Head of Distributed System Engineering Valeriy Zamaraiev to find out more about our plans for EVM compatibility on Zilliqa.
Building digital asset partnerships with Rialto
March was a great month for digital assets on Zilliqa, with more artists and partners being onboarded onto Rialto, the curated marketplace for digital assets secured by the Zilliqa blockchain.
Dr. Death launched a number of new digital artwork NFTs which were inspired by their exhibition at Decentraland during Metaverse Fashion Week. Nine of these 12 new digital assets were available for purchase exclusively on Rialto.
Metaverse Fashion Week is a global Web3 fashion event held in Decentraland, showcasing digital fashion and artwork from high-profile fashion and luxury brands - including the likes of Dolce & Gabbana, Tommy Hilfiger, and DKNY - alongside independent artists.
To find out more about Dr. Death's showcase during the event and the NFT drop, read our full interview with Dr. Death.
Rialto is also home to digital assets which have been launched by Zilliqa's esports partners, with both Ninjas in Pyjamas and RRQ having listed digital assets for sale on the platform.
We look forward to expanding the curated selection of digital assets listed on Rialto and growing the marketplace going forward.
To find out more about our plans for Rialto and how Zilliqa aims to deliver a better way of engaging with sports and esports fans using blockchain technology, read our interview with Zilliqa Head of Business Development for Sports and Gaming Tom Fleetham.
New Zilliqa mining pools launched
This last month also saw the launch of two new Zilliqa mining pools, further strengthening the security and improving the decentralisation of the Zilliqa network.
These new pools were launched by f2pool and Poolin as dual-mining pools with Ethereum Classic, allowing miners to profit even more from the hashrate they are already committing to mining the ETC chain by simultaneously mining on Zilliqa.
If you are already an Ethereum Classic miner using one of these pools, switching over to a dual-mining pool with Zilliqa is easy and straightforward, and it allows you to make the most of your hash power and earn extra rewards for the proof-of-work you provide.
Both f2pool and Poolin launched Zilliqa mining competitions to encourage miners to begin mining on their new Zilliqa-ETC mining pools and earn prizes for the proof-of-work they contribute.
Learn more about the new Zilliqa mining pools on f2pool and Poolin in our blog post.
Continued growth for the Zilliqa ecosystem
It's been another exciting month for applications and projects across the Zilliqa ecosystem.
LunarCrush announced this month that it will be sending a treasure trove of 62 Bitcoin to the Earth's moon, which can be unlocked by the first space traveller to visit and unlock it by entering the corresponding private key, which is etched onto a Lunar Outpost MAPP Rover launching this year.
This announcement is part of LunarCrush's Nakamoto_1 initiative, an interplanetary treasure hunt that encompasses both the Earth and its moon.
XCAD has now reached 100,000 downloads for its Android mobile application and received approval for its iOS app and in-app purchases. XCAD also launched an exciting new growth campaign this month, which includes major announcements and new exchange listings, such as its recent listing on cryptocurrency exchange Bybit.
IgniteDAO has delivered even more incentives around its recently launched Torch smart contract wallet by airdropping reputation points to all users who were staking with IgniteDAO since non-custodial staking was first launched.
These reputation points can be used to obtain discounts on the powerful features within the Torch wallet, such as instant unstaking and limit orders.
Other exciting ecosystem news this month includes a new development update from Web3 game Heroes of Lowhelm, Q1 updates on TyronDAO's SSI protocol, and a presentation by Zeeves at the latest Dubai Crypto Venture Capital conference, where they presented the first Zilliqa banking project to investors and executives.
March 2023 also saw several AMA and Twitter Spaces sessions that highlighted exciting news within the Zilliqa ecosystem:
Stay tuned to our socials and subscribe to the Zilliqa blog to stay up to date with the latest news from Zilliqa.