Zilliqa Monthly Newsletter - Jul 2023
Check out the highlights from the Zilliqa ecosystem for July 2023.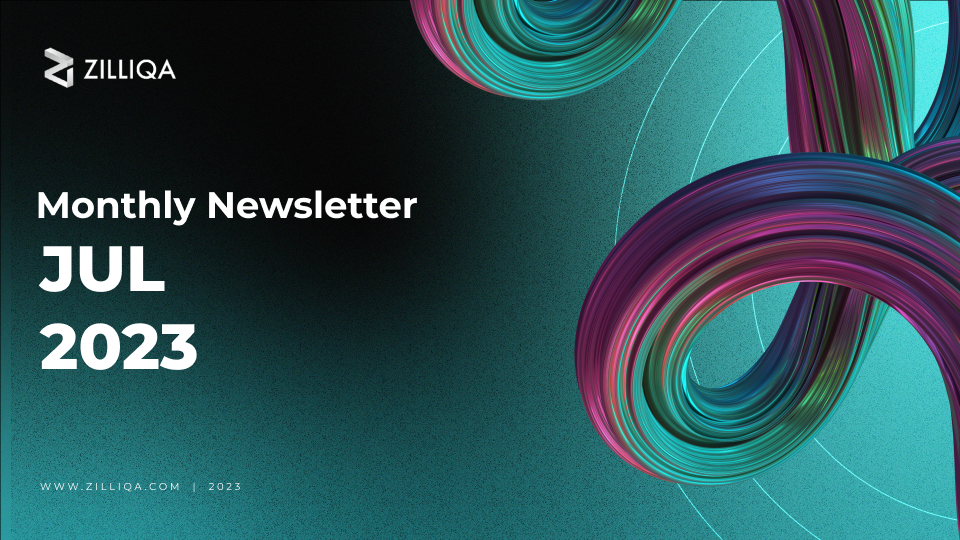 July was an important month for Zilliqa, marking the sixth anniversary since we first introduced Zilliqa to the world. We've achieved a lot during that period, but believe me when I say we are just getting started and I am beyond excited to see the development of the network and its ecosystem continuing to progress so well.

Our network has been around for a long time and is well-established in the blockchain space, and we are grateful for all the support we have received from the community over the past six years.
The Zilliqa team, past and present, has continued to innovate and embrace new approaches as this nascent industry has evolved, and without the talented people who have contributed to the network and the community, we would not be in the strong position we are in today.

The past year has been filled with exciting updates on our mission to improve the network through introducing EVM compatibility and improved interoperability, as well as building new capabilities that will lead to the deployment of a more efficient and flexible network with Zilliqa 2.0.
July saw the same continued success in terms of development, and I am pleased to see that two important proposals for securing the sustainability of the network were passed through the governance platform this month. Thank you to all the gZIL holders who continue to engage with the governance process and help us deliver exciting new functionality to the Zilliqa network.
Other highlights from this month include enhanced interoperability between Scilla and EVM contracts, making it easier than ever for existing fungible tokens on Zilliqa to introduce EVM compatibility, as well as major announcements from projects within the ecosystem such as the launch of the first-ever Zilliqa debit card by Zeeves.
Thank you all for your continued support as we continue to deliver on our vision for Zilliqa's ongoing growth and development, and stay tuned for more exciting news in the months to come.
 - Matt Dyer
 Zilliqa CEO
Check out the highlights from the Zilliqa ecosystem for July 2023 below:
Passed proposals for gZIL delegation and staking rewards adjustment
July was a landmark month for governance on Zilliqa, with a number of important proposals being passed through Snapshot after reaching 100% quorum.
The first of these was a proposal to introduce gZIL delegation, allowing gZIL holders to assign their voting power to a chosen delegate who will vote on proposals on their behalf.
This will improve engagement with the governance process while allowing holders to fully utilise the voting power of their gZIL through their delegates, even if they do not have the time to stay up to date on all new proposals.
The proposal to adjust staking rewards for improved sustainability was also passed with 100% quorum, bringing the Zilliqa network closer to its ultimate goal of reaching zero inflation by adjusting staking rewards to reduce inflation on the network.
Visit the Zilliqa governance portal to learn more about the proposals to introduce gZIL delegation and adjust staking rewards, or watch our AMA with Zilliqa CEO Matt Dyer and Head of Research Zoltan Fazekas on how gZIL holders have the ability to influence governance on the network.
Levelling up developer support
Developers are the engine of the Zilliqa ecosystem, and over the past month we have detailed new initiatives aimed at improving our communications with the developers building on the Zilliqa network.
These initiatives include a better ticketing system for Discord, allowing developers to more easily seek support for issues with their deployments, as well as ongoing work on a new devnet that will let builders try out upcoming features and test new network functionality.
The Zilliqa tech team has also begun to host regular office hours with developers in the ecosystem, giving them an opportunity to find out more about the network's technical roadmap and learn more about new capabilities and how they will affect their applications.
The first of these sessions was hosted by Zilliqa CTO Richard Watts, who fielded questions around the development of Zilliqa 2.0, the team's approach to sharding architecture, network throughput, and more.
Learn more about how Zilliqa is levelling up relations with developers in the ecosystem.
Bringing mainstream adoption to Zilliqa through Web3 entertainment
Following its spin-off as a standalone Web3 entertainment company, Roll1ng Thund3rz has continued to grow its offering and build upon its platform to attract mainstream audiences to the Zilliqa ecosystem.
The rapidly growing gaming industry is poised to be a key market for Zilliqa's growth as an increasing number of major players explore Web3 integrations for their games and platforms.
By offering a complete Web3 gaming experience built on the Zilliqa blockchain, Roll1ng Thund3rz aims to offer a one-stop solution for Web3 gaming integration while also being a key driver of transaction volume and adoption across the Zilliqa network.
Learn more about how Roll1ng Thund3rz can boost Zilliqa's growth through mainstream adoption in our interview with co-founder and CTO Valentin Cobelea.
Zeeves neobank rolls out first-ever Zilliqa debit cards
July also saw major players in the Zilliqa ecosystem making big steps towards large-scale adoption.
Zeeves, the Web3 neobank powered by the Zilliqa blockchain, began to roll out its first Zilliqa debit cards this month, allowing customers to make real-world purchases using ZIL.
These purchases can be completed even if the cardholder has a balance exclusively denoted in cryptocurrency, thanks to Zeeve's ability to instantly convert crypto balances into Euros to complete purchases at the time of sale.
This initial debit card rollout forms part of the neobank's beta stage, during which Zeeves will continue to roll out additional features and test the performance and functionality of the platform.
Read more about how Zeeves is building a powerful Web3 neobank on Zilliqa.
Improved Scilla-EVM interoperability for fungible tokens
The last month saw continued progress on EVM compatibility with the publication of ZIP-21, which outlines improved interoperability between Scilla and EVM smart contracts.
The latest mainnet upgrade introduced enhanced interoperability for fungible token contracts, allowing EVM contracts to invoke fungible token contracts written in Scilla.
This functionality, which contains a mechanism that allows ZRC-2 tokens to appear as ERC-20 tokens to other contracts, is the first phase of expanded interoperability for fungible token contracts.
In the future, this will be expanded through the introduction of a mechanism that allows ERC-20 tokens to appear as ZRC-2 tokens to smart contracts written in Scilla.
Learn more about this enhanced interoperability between Scilla and EVM contracts on the Zilliqa blog.
A growing ecosystem six years on
July marked the sixth birthday of the Zilliqa network, and while there are many exciting applications being developed in the blockchain's ecosystem, the community can look forward to even more exciting news in the months to come with continued work on EVM compatibility, new DeFi tools, and Zilliqa 2.0 in the pipeline.
Major players in the Zilliqa ecosystem continued to see impressive growth and rollouts this month, including the TyraDEX platform by Tyron, a new decentralised exchange platform that offers an integrated digital identity solution.
Major players in the Zilliqa ecosystem continued to see impressive growth and rollouts this month, including the https://twitter.com/ssiprotocol/status/1683556820353163264, a new decentralised exchange platform that offers an integrated digital identity solution.
Since the launch of its liquid staking protocol and stZIL token, Avely Finance has continued to grow, reaching a major milestone of over 500 active stZIL holders this month.
July also saw Zilliqa's Ecosystem Marketing Manager, Kevin Meyer, appear on an AMA with House of Chimera to discuss the latest developments in the Zilliqa ecosystem and the upcoming functionality being developed around EVM compatibility.
This month also saw Brinc announce its Summer 2023 cohort for its Web3 Accelerator Programme, an initiative which Zilliqa is delighted to be supporting. 25 startups were accepted into the programme out of more than 700 applicants across a range of industries, including DeFi, entertainment, gaming and more.
Stay tuned to our socials and subscribe to the Zilliqa blog to stay up to date with the latest news from Zilliqa.