How Zeeves is building a next-generation neobank on Zilliqa
Zilliqa-powered neobank Zeeves is beginning to roll out its initial batch of debit cards, allowing users to make everyday payments using ZIL.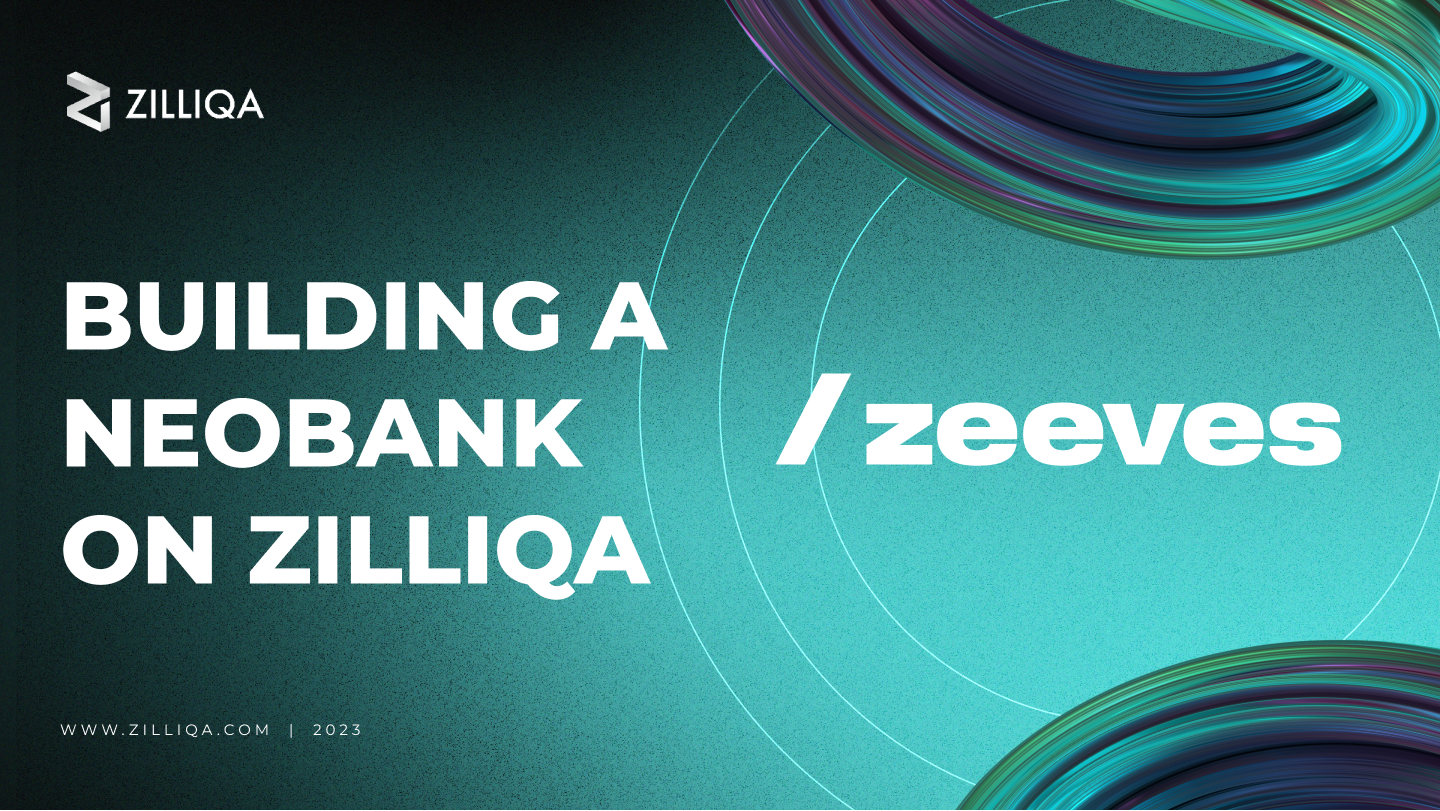 Zeeves, the Web3 neobank powered by the Zilliqa blockchain, is beginning to roll out its initial batch of debit cards, allowing users to make everyday payments using ZIL.
A neobank is a digital-only bank that operates without any physical branches. Neobanks aim to offer a more convenient and user-friendly banking experience compared to traditional banks, simplifying the account creation and transacting processes.
Neobanks can offer a range of banking services and are designed for agility and accessibility. They can also include unique features that are not offered by traditional banking platforms, such as native ZIL payments in the case of Zeeves.
The Zeeves neobank integrates fiat and crypto exchange into a single application, and with the launch of the first Zilliqa debit card, Zeeves users will also be able to make payments and withdraw cash from ATMs around the world.
This initial debit card rollout forms part of the neobank's beta stage, during which Zeeves will continue to roll out additional features and test the performance and functionality of the platform.
Head to the official Zeeves website or Telegram to participate in the beta launch of the neobank and sign up for your physical Zilliqa-powered debit card. You can read more about the concept behind the Zeeves neobank and its debit card offering here.
Zilliqa's Ecosystem Marketing Manager, Kevin Meyer, recently hosted an AMA session with Zeeves CEO Aleksandr Safonov and CTO Oleg Rubin to find out more about the platform and the launch of its debit card offering.
Check out the highlights from the AMA with Zeeves below:
Launching the first Zilliqa debit card
Oleg introduced Zeeves as an innovative new neobank built on the Zilliqa blockchain which allows users to easily convert between crypto and fiat, and through its debit card offering, make everyday payments using ZIL in their Zeeves account.
"Zeeves is a crypto neobank platform for Zilliqa. We have built a platform where all ZIL holders and those who are not yet ZIL holders can join the ecosystem and use our banking products," he said.
"They can open a bank account and issue their bank card, with which they will be able to spend crypto. We've developed a bridge between ZIL and Euro so that you can exchange smoothly in both directions from ZIL to Euro and from Euro to ZIL. You can get a bank card and you can spend your assets, and all of it is built on top of our telegram bot."
The Zeeves bank card uses Visa as a payment provider, which required the company to meet several compliance requirements before it began to roll out its new debit cards.
The company also uses an external exchange provider to swap ZIL for intermediate tokens that are natively supported for crypto payments.
"We have a banking partner in Europe. We've managed to pass the compliance requirements of Visa to issue Visa bank cards which are directly tied with crypto assets," Oleg says.
"Currently this uses either USDT or BUSD. We are able to do instant swaps between USDT or BUSD and Euro. We are using these to exchange ZIL to those intermediate crypto assets through our external exchange provider."
Now that integration with the exchange provider is completed, Zeeves has begun to roll out its first batch of debit cards to users as part of its beta launch.
Security, custody, and a crypto payment revolution
The Zeeves neobank acts as a bridge between fiat and crypto, and is subsequently required to meet compliance with regulations around certain banking services, including asset custody and KYC requirements.
However, the Zeeves wallet on Telegram remains a non-custodial wallet, meaning that users who do not use a debit card or the neobank platform can remain fully in control of their tokens.
"The Zeeves wallet itself is non-custodial, meaning that the private keys are securely stored on your device and not transmitted anywhere - you are signing crypto transactions from your device," Oleg said.
"The banking product is custodial and comprises banking assets which you deposit into the bank. You essentially deposit funds through our banking partner. And these are why all this KYC, compliance, and due diligence was required. Because when you offer a custodial platform, you need to show the regulators that it's secure, that you store users' funds and you manage users' funds safely."
Aleksandr noted that the bank account itself is based in Malta and open to residents of Europe and the European Economic Area. He said that Zeeves is considering a number of further enhancements to its neobank platform, including the possible launch of its own token and the issuance of NFTs linked to Zeeves debit cards.
"We hope that by the end of the year we might be able to onboard corporations so that those entities would also be able to open a bank account with us and manage crypto and Euro on their balances," he added.
Oleg highlighted the potential for the Zeeves neobank to expand its support for tokens and compatible wallets in future, adding support for multiple chains and allowing users to manage both custodial and non-custodial assets in a single place.
"In some ways it will be a revolution because we have developed this amazing feature with on-the-fly approvals of crypto asset transactions."
"For example, if you have no Euros in your account but you have crypto and you use your card to pay for a coffee, we immediately convert your crypto into fiat and do the settlement with our banking partner and with Visa so you can pay directly using crypto," he said.
Aleksandr and Oleg encouraged users to stay tuned to Zeeves on Twitter for more updates on debit card issuance and updates to the neobank platform as they carry out their beta launch.
To find out more about Zeeves and its new Zilliqa debit card, check out the full AMA on YouTube.