How Roll1ng Thund3rz will boost Zilliqa's growth with a fresh take on gaming
Roll1ng Thund3rz is poised to deliver a one-stop solution for Web3 entertainment while driving transaction volume and adoption across the Zilliqa network.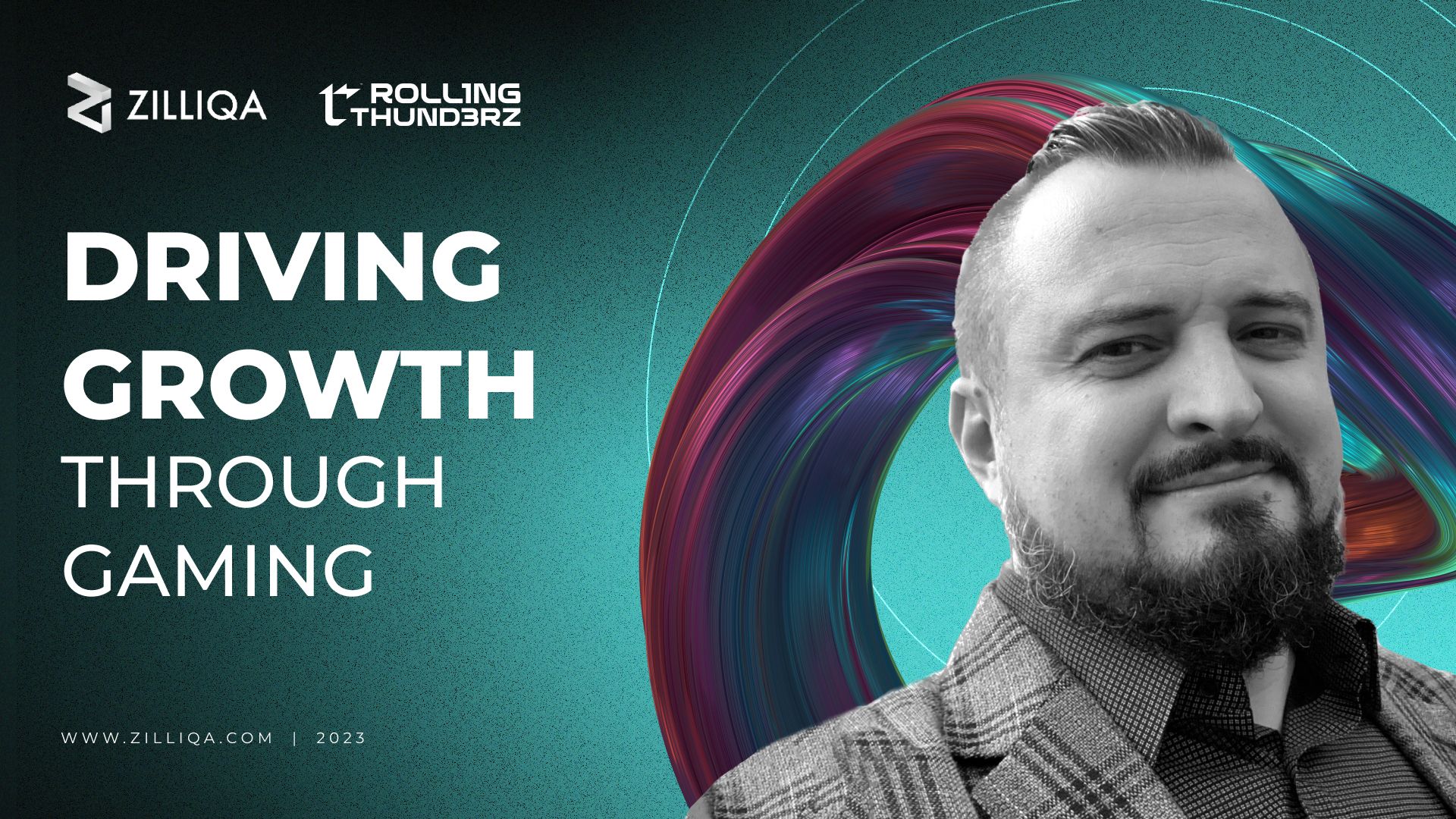 Gaming is a massive global industry that's ripe for disruption, and Web3 entertainment company Roll1ng Thund3rz aims to bring exciting new features and functionality to gamers around the world using Zilliqa's secure and scalable blockchain network.
Roll1ng Thund3rz was spun out of Zilliqa as a standalone company earlier this year as the next step in its journey towards delivering a new gaming and entertainment platform to the mainstream market. The Roll1ng Thund3rz team developed and launched free-to-play first-person shooter WEB3WAR, which combines new and exciting Web3 functionality with the fun and familiarity of fast-paced multiplayer action.
WEB3WAR offers native blockchain features that give players a new level of ownership over their cosmetics and will allow them to earn rewards for their skill, but the company's ambition stretches far beyond creating fun and innovative games. Roll1ng Thund3rz is building a complete platform for Web3 entertainment, complete with game distribution, an integrated marketplace, music streaming, and more.
The company's approach is close to that of Valve, which through Steam offers a complete integrated experience for Web2 gaming in addition to first-party titles and a marketplace for cosmetics and in-game items. Roll1ng Thund3rz aims to expand on this through the integration of Web3 features with a full suite of entertainment services, from games to music.
Blockchain technology brings exciting new capabilities to the gaming space, and the industry is poised for significant growth as more gamers, developers, and publishers explore the opportunities of Web3 gaming.
By offering a complete Web3 gaming experience built on the Zilliqa blockchain, Roll1ng Thund3rz will offer a one-stop solution for Web3 gaming integration while also being a key driver of transaction volume and adoption across the Zilliqa network.
To find out more about the potential of Roll1ng Thund3rz to achieve mainstream adoption and bridge the space between Web3 and traditional gaming, we spoke with co-founder and CTO Valentin Cobelea.
Powerful Web3 features designed for gamers
Roll1ng Thund3rz's ability to bring the mainstream gaming audience into the world of Web3 lies in its suite of applications and services, which are integrated seamlessly with the Zilliqa network.
The company has already launched the FUS1ON Gaming Hub, which offers a library of games, a marketplace for tokenised in-game items, and much more - including the launch of new entertainment features in the near future.
"We try to make it as easy as possible to sign up, start playing, and buy items on the marketplace. As a user, you don't need to know about blockchain to sign up. You just need to register with your email address in a process familiar to gamers everywhere, and your blockchain wallet will be created and managed behind the scenes," Valentin says.

"When you start up a game like WEB3WAR, you don't need to manually connect your wallet, you can just log in with the same account and your blockchain credentials are automatically imported."
This means players can simply sign up and start playing without having to worry about learning about blockchain mechanics, although these are available to those who are more familiar with the crypto space.
"All the NFTs and items available in the marketplace have real utility in the games on the FUS1ON platform. In the near future, players will also be able to earn rewards through a Skill2Earn system and withdraw that as cash," Valentin adds.
Skill2Earn is a mechanic that rewards players for their in-game performance, meaning the more skilled you are, the more rewards you will be able to earn. This system differs from play-to-earn mechanics by focussing on gameplay and providing an incentive for players to capitalise on the enjoyment of multiplayer action while also allowing Roll1ng Thund3rz to focus on balanced and enjoyable gameplay in titles like WEB3WAR.
"We chose to go with a Skill2Earn system over play-to-earn mechanics because we want to appeal to gamers, and they do the playing. We want to use Skill2Earn to let players have fun and earn from being proficient at the games we have built," Valentin says.
Roll1ng Thund3rz is currently developing its Skill2Earn system for WEB3WAR, which will allow players to earn tokens through skillful gameplay, which they can then spend in the marketplace to buy items such as cosmetic skins and seasonal content passes, withdraw, or transfer to other blockchain wallets and exchange.
The Skill2Earn system is set to launch as part of the first seasonal content update for WEB3WAR in the coming months.
"We have a huge list of items in the game mechanics that are able to be part of the Skill2Earn narrative, and all the NFTs we are implementing have utility in that they represent the customisation of items in our games, including weapons, attachments, and avatars," he adds.
Driving ecosystem growth through mainstream adoption
Valentin hopes that the FUS1ON Gaming Hub will be to the Web3 gaming space what Steam is to modern PC gaming. This approach not only opens the platform to a wide mainstream audience but also development studios and publishers looking to dive into the Web3 gaming market or easily integrate Web3 features into their games.
Roll1ng Thund3rz offers an open-source Unity3D SDK for basic integration of the Zilliqa blockchain's features into video games, but is also developing an SDK that will allow developers to integrate with the FUS1ON Gaming Hub directly, similar to Valve's approach to distribution and integration through the Steamworks SDK.
"20 years ago, Valve had one platform, one SDK, and one game," Valentin says.
"We are precisely at that level now, but soon enough Valve also became a gaming publisher because they had all the means and the customers, and we believe we can do the same with Web3 gaming and entertainment."
"We are open for any developer or studio to approach us and integrate their game with our platform. They will have access to the customers that are already playing our games and conducting transactions on the marketplace inside the FUS1ON Gaming Hub," he says.
The ambition is for the FUS1ON Gaming Hub to be the platform that studios will want to deploy their Web3 gaming projects on. Roll1ng Thund3rz has the potential to deliver as big a revolution in distribution for Web3 games as Steam was for digital game sales.
Roll1ng Thunderz's focus on attracting gamers over crypto-natives also brings a significant untapped market to the Zilliqa network, generating transaction volume and exposing the exciting applications building on the blockchain to a wide new audience.
"Our philosophy has always been to design for the player experience first and not to limit our reach only to gamers who have knowledge of cryptocurrency," Valentin says.
"We want to offer a platform that's accessible to gamers everywhere, that offers an easy sign-up process, an integrated marketplace, many games with exciting Web3 functionality, and a host of entertainment features."
"Once gamers are using the platform and playing games, they will already be helping to grow transaction volume on the Zilliqa ecosystem, and through the integration of NFTs and partnerships with other companies built on Zilliqa, they can be introduced into the world of decentralised applications and Web3 in a relatively frictionless way."
Exciting features and partnerships in the pipeline
The team at Roll1ng Thund3rz is constantly working on new features, functionality, and partnerships to grow its offering to both users and partners.
By building a unified entertainment platform with built-in distribution, token minting, fiat ramps, and a marketplace, Roll1ng Thund3rz also offers a fantastic opportunity for studios, creators, artists, and others to make money from launching artwork, games, and other products on the FUS1ON Gaming Hub and marketplace.
This new model for distribution is realised through native blockchain integration and offers a better deal for creators than traditional models thanks to its decentralised infrastructure. This can be seen by the range of partnerships the company is exploring.
"NFTs for sale on our marketplace are currently created by our developers, but we will be partnering with third-party artists to add their artwork as NFTs, which can then be used to customise your character, weapons, profile, and more in-game," Valentin says.
"In the upcoming months, we are going to launch a web-based version of the FUS1ON Hub that anyone can use from a browser with the same functionality and ability to make transactions on the marketplace."
"We are also going to incorporate external music streaming services in the Web3 space. We offer a full-fledged offering of games, music, fiat on-ramps, and so on, and that's why we are far more than just a gaming company," he adds.
Through its approach to cultivate mainstream adoption by delivering unique features powered by Web technology, Roll1ng Thund3rz is a promising vehicle for driving transaction growth and network usage on the Zilliqa network. By making its platform accessible to all, it also exposes the exciting apps within the Zilliqa ecosystem to a massive global audience of gamers, and this is made even easier through the ability to launch games, NFTs, and more on the FUS1ON Gaming Hub.
Valentin believes that Roll1ng Thund3rz can become an established platform for Web3 entertainment at a time where larger studios and companies are looking for applications that can easily integrate and distribute their products while offering support and an accessible customer onboarding experience.
Keep an eye on our socials for more updates on Roll1ng Thund3rz or visit the company's official website and download the FUS1ON Gaming Hub and start playing WEB3WAR today!