Zilliqa Monthly Newsletter - Sep 2023
Check out all the highlights from the Zilliqa ecosystem for September 2023.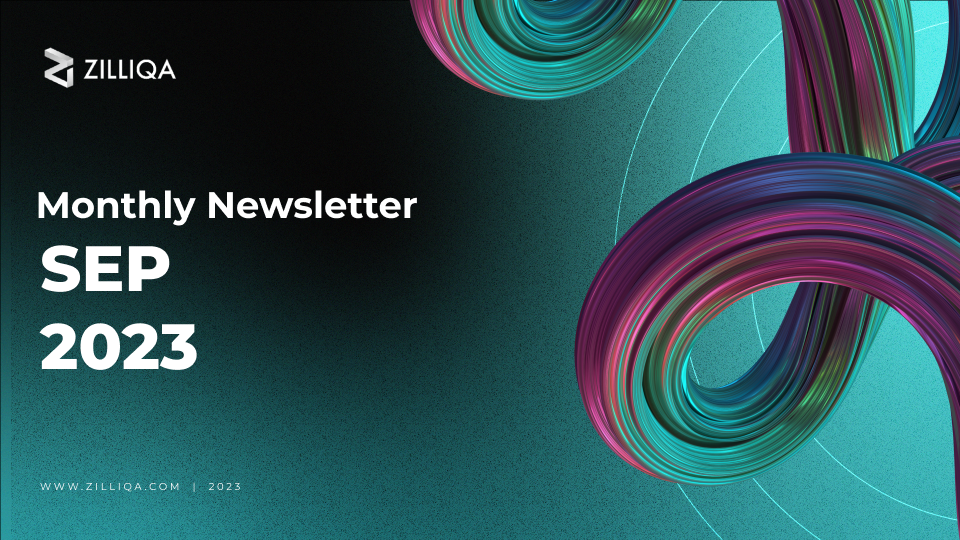 September was packed with major announcements in the Zilliqa ecosystem. From our partnership with GMEX ZERO13 on a new carbon offset platform to the relaunch of MetaMinds, I am thrilled to see extensive progress being made across all aspects of the Group as well as on the blockchain's infrastructure.
The highlight of the past month for me was the strategic alliance we announced with Google Cloud at Token2049 in Singapore. This groundbreaking collaboration demonstrates our commitment to realising the ambitions of our ventures and organisations while cementing our focus on reliability and security.
Ventures across the Zilliqa Group and the wider ecosystem of builders on the Zilliqa network are also continuing to build momentum. The launch of The Pride, a new MAD Lions loyalty programme powered by Zilliqa, underlines the capability of the Zilliqa blockchain to deliver real-world utility and positively disrupt established industries with a fresh new approach secured by a reliable and scalable network.
I am also happy to see our progress in improving the Zilliqa network's architecture continue to proceed apace, with four new proposals being submitted for voting that introduce major improvements to network operations. These proposals include the introduction of hybrid consensus - the first step in moving to Proof-of-Stake for Zilliqa 2.0.
We have many more exciting announcements to come before the end of the year, and I am grateful to the Zilliqa infrastructure team for the extraordinary work they have done, the ventures within the Group for building revolutionary new services powered by Zilliqa, and the wider Zilliqa community for their ongoing support as we continue to grow and shape the future of the Web3 world.
Stay tuned, as we have more news coming soon that we can't wait to share with you.
- Matt Dyer
Zilliqa Group CEO
Check out the highlights from the Zilliqa ecosystem for September 2023 below:
A groundbreaking strategic alliance with Google Cloud
In September, Zilliqa Group announced a strategic alliance with Google Cloud at Token2049 which will see Google operating a Staked Seed Node (SSN) on the Zilliqa network.
This landmark collaboration marks a major step towards enhancing the data availability and resilience of the Zilliqa blockchain and cementing the reliability of the network as it delivers a robust platform for powerful Web3 services and decentralised applications.
As an SSN operator on Zilliqa, Google Cloud will help validate transactions across the network and host a public archive of the blockchain's transaction history.
SSNs are a vital component of Zilliqa's architecture, offering a verifiable public record of transactions and an accessible way for users and builders to interact with the blockchain.
Read the full announcement on our strategic alliance with Google Cloud or learn more about SSNs and their role in the Zilliqa network.
Following this major announcement, we sat down with Zilliqa CTO Richard Watts to discuss what Google Cloud integration means for builders and users in the Zilliqa community, as well as upcoming changes to the protocol on the road to delivering a flexible and scalable network with Zilliqa 2.0.
Read our full interview with Richard Watts here.
Partnering with GMEX ZERO13 to build a carbon offset platform
This past month also saw us enter an exciting new partnership with GMEX ZERO13 to build a new carbon offset platform powered by the Zilliqa network.
Through the launch of a new carbon-credit token on Zilliqa called EVP, this platform will revolutionise the way consumers interact with carbon offset initiatives by allowing them to offset their carbon footprint.
This new carbon offset platform will empower consumers to have a tangible input in carbon neutrality efforts and make better-informed purchasing decisions.
Read more about our partnership with GMEX ZERO13.
To explore more of the exciting opportunities unlocked by this partnership and dive into the nuances of the carbon credit marketplace, we sat down with GMEX Group and ZERO13 Chairman and CEO Hirander Misra.
He explained the current state of carbon offset initiatives and the global carbon credit marketplace, pointing out the inefficiencies that are prime for disruption through a platform like the one being built in partnership with Zilliqa.
Read our full interview with Hirander Misra.
MAD Lions launches The Pride
Another major announcement in September was the launch of The Pride by MAD Lions, a new loyalty programme for fans of the esports team which is powered by the Zilliqa network.
The Pride offers exciting and unique fan experiences thanks to the inclusion of powerful Web3 features, providing the opportunity to earn points through their interactions which can be redeemed for a range of rewards.
Check out the full announcement of The Pride by MAD Lions.
Ahead of this launch, we also revealed a new channel called Portal, which dives into the world of builders and creators within the Zilliqa ecosystem.
This platform evolved from Zilliqa Gaming and is expanding to deliver insights and announcements from projects across a range of industries that are building on the Zilliqa network.
Metaverse venture relaunched as MetaMinds
On September 19, Zilliqa Group officially relaunched its metaverse venture as MetaMinds, a spatial web and metaverse company based in the UAE which aims to drive the evolution of the engaged Internet in a more meaningful manner.
MetaMinds is headed up by Web3 pioneer Sandra Helou, who also holds the position of GCC Lead for Zilliqa Group's newly established CEO Office.
The company will take a consultative approach to deliver innovative and tailored metaverse solutions for clients while adopting a multi-tenant architecture that enables diverse user groups to have personalised metaverse experiences while sharing the same platform infrastructure and product line.
Read more about the launch of MetaMinds.
Major updates and new partnerships for Roll1ng Thund3rz
September was also a massive month for Zilliqa's gaming and entertainment ecosystem, with Web3 entertainment company Roll1ng Thund3rz making a number of major announcements.
The company announced that it is now officially verified as a Microsoft Partner Center member, cementing its position as a trusted player in the Web3 gaming industry and paving the way for the launch of the FUS1ON Gaming Hub on the Microsoft Store.
Roll1ng Thund3rz also entered into a partnership with Nohto, a popular gaming news aggregation platform with global reach.
Valentin Cobelea, CTO and founder at Roll1ng Thund3rz, explained that this partnership will open up opportunities for traditional gamers to explore the world of Web3 gaming as well as allowing users to stay up to date with the latest news in the gaming industry.
Additionally, the last month saw the release of WEB3WAR v2.0, which marks a major milestone in the free-to-play shooter's development and brings exciting features such as an overhauled UI, HDR graphics, new high-resolution skins, and much more.
Read the full release notes for WEB3WAR v2.0.
Events and governance proposals
September was a month full of exciting announcements in the Zilliqa ecosystem, and the Zilliqa team was also kept busy attending multiple events around the world.
Zilliqa was present at a range of events starting in Seoul for Korea Blockchain Week, where long-term sentiment on Web3, and especially gaming, remains bullish. Up next was Singapore for Token2049, where we announced our strategic alliance with Google Cloud, and Ethereum Singapore, where we supported the three-day conference and hackathon while also catching up with the latest developments in the EVM ecosystem.
We hosted a Web3 Investor Breakfast with our friends at Brinc, Animoca Brands, and Fusang in Singapore, which was well attended by founders and investors. We rounded off our September world tour in New York City for ETHGlobal's events and Messari's Mainnet conference.
Development continues on the Zilliqa network as we progress towards Zilliqa 2.0, and the infrastructure team submitted a number of new proposals for voting on the Zilliqa governance portal.
These proposals encompassed a range of changes, including:
Desharding to improve cost-efficiency in the meantime before more efficient sharding infrastructure is launched.
Introduce an active reward mechanism that delivers competitive returns and manages inflation.
Introducing hybrid consensus to the network with the incorporation of SSNs.
Adding further important features related to SSNs.
If you are a gZIL holder, you can view all active proposals and have your say on these proposed changes to the network here.
Stay tuned to our socials and subscribe to the Zilliqa blog to stay up to date with the latest news from Zilliqa.