Google Cloud joins Zilliqa as Staked Seed Node operator
Google Cloud is joining the Zilliqa network as a Staked Seed Node (SSN) operator as part of a multi-year strategic alliance between Google Cloud and Zilliqa Group.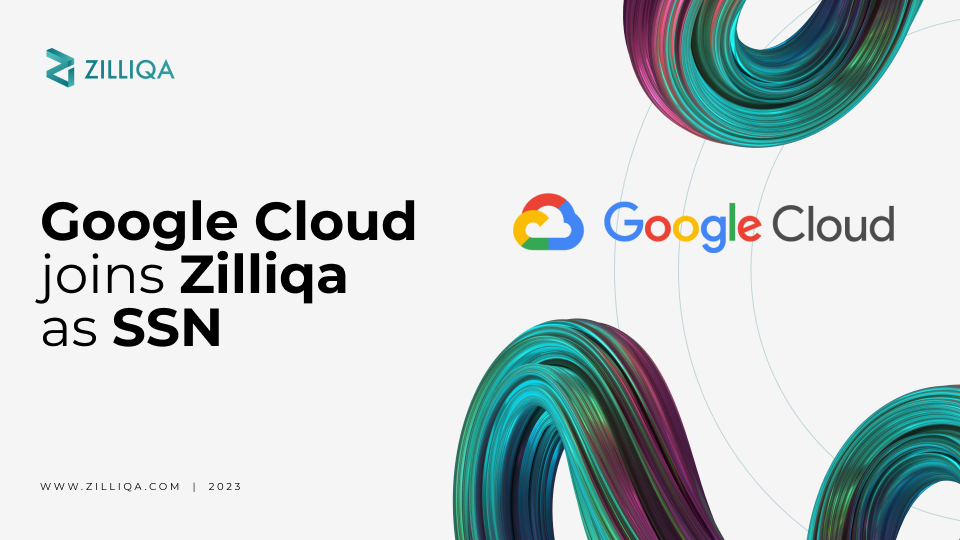 Google Cloud is joining the high-throughput, scalable Zilliqa network as a Staked Seed Node (SSN) operator as part of a multi-year strategic alliance between Google Cloud and Zilliqa Group.
At Token2049, Zilliqa Group and Google Cloud jointly announced this collaboration, which is aimed at enhancing the data availability and resilience of the Zilliqa network and ensuring that the blockchain is best positioned to offer a robust and reliable platform capable of powering a range of Web3 services and decentralised applications.
Google Cloud delivers enterprise-grade cloud services built upon Google's cutting-edge technology, enabling businesses to accelerate their digital transformation and providing tools to help developers build more sustainably.
As part of this new strategic alliance, Google Cloud will operate an SSN on the Zilliqa network, providing node infrastructure to help validate transactions across the network and hosting a public source of the blockchain's transaction history. SSNs are a crucial part of the Zilliqa network, offering a public record of verifiable transactions to users and builders on the blockchain.
Zilliqa Group CEO Matt Dyer explains that this collaboration with Google Cloud aligns with the ambition of the recently formed Zilliqa Group, as well as the technical goals of the infrastructure team as they continue to improve the blockchain protocol in preparation for Zilliqa 2.0.
"Our strategic alliance with Google Cloud is more than just a technological collaboration; it's a strategic alignment to further the ambitions of our group of ventures and revenue-generating organisations," Matt says.
"Google Cloud's infrastructure expertise, combined with their role as a staked seed node partner, underscores our commitment to excellence, both within the Zilliqa Group of companies and across the wider ecosystem. Together, we're setting the stage for a new wave of innovation and growth in the Web3 space."
James Tromans, Head of Web3 at Google Cloud, added that the technical product of this strategic alliance will be focused on improving the efficiency of the Zilliqa blockchain and supporting the network by making useful datasets available to the public.
"Google Cloud is focused on providing the foundational technology on which developers can build innovative blockchain-based products and services that will help grow the Web3 ecosystem," James says.
"With this in mind, our engineering work with Zilliqa Group will be centred around improving the scalability and resilience of the base layer to better support novel scaling solutions like sharding, as well as enhancing the availability of blockchain datasets for public inspection and analysis."
He adds that as the Asia-Pacific region is emerging as a hotbed for Web3 innovation, Google Cloud is looking forward to collaborating with more companies like Zilliqa Group with roots in the region.
Let's take a look at what the strategic alliance between Zilliqa Group and Google Cloud entails, as well as the role of Google Cloud as an SSN operator on the network.
Google Cloud to run SSN on the Zilliqa network
A Staked Seed Node (SSN) is a type of seed node, meaning that it serves requests to users and forwards transactions to lookup nodes on the Zilliqa network.
In addition to this, however, an SSN also stores a public history of all transactions on the Zilliqa network, offering an accessible and decentralised record of truth against which transactions can be verified.
SSNs can also offer a direct access point to the Zilliqa network for users and developers, allowing them to easily interact with the blockchain without having to run their own seed node.
For a full breakdown of Staked Seed Nodes and how they work, read our blog post on the topic.
By hosting a full history of transactions on the network and making this data publicly available, SSNs help to make the network more resilient and provide a source of truth against which to verify transaction records.
In joining the 28 existing SSN operators on the Zilliqa network, Google Cloud's SSN will further enhance the resilience of the blockchain by hosting a secure archive of the blockchain's history and serving requests to users and developers.
SSNs do not currently participate in consensus on the Zilliqa network, but this may be changed in future as the network shifts towards adopting Proof-of-Stake for Zilliqa 2.0. A new proposal was recently opened on the Zilliqa governance forum which proposes that a hybrid consensus mechanism be implemented on the Zilliqa blockchain.
This proposed change would allow SSNs to play a more direct role in securing the network by participating in consensus alongside existing mining nodes.
Keep an eye out for this and other exciting changes coming to the Zilliqa network as the infrastructure team works to deliver a more flexible and efficient network through the upgrade to Zilliqa 2.0.
Google Cloud as strategic cloud provider for Zilliqa
In addition to the operation of an SSN on the Zilliqa network, this strategic alliance with Google Cloud will also see Zilliqa Group adopt Google Cloud as its strategic cloud provider to improve the technical efficiency of its public-facing interfaces and internal network architecture.
For example, Zilliqa Group uses Google Kubernetes Engine (GKE) to keep its nodes running 24/7 and offer developers the ability to scale their Web3 projects to meet the demands of a range of industries, from esports and gaming to DeFi.
Zilliqa Group is also using Google Cloud's Security Command Center, a native ​security and risk management platform, and it has adopted Google Workspace to allow staff across subsidiary companies and the world to easily connect and collaborate as they work together to build the future of Web3 on a blockchain platform built to scale efficiently and effectively.
Dealing efficiently with the large database of records that underpins the Zilliqa network requires the use of effective analytics and data transparency tools. For this reason, Zilliqa Group will adopt Google Cloud's BigQuery for its node architecture to ensure that blockchain data is made easily available for public analysis.
This means that builders on the Zilliqa network will be able to query important network information such as gas fees and transaction data easily and efficiently, lowering the friction for onboarding new decentralised applications building on the blockchain.
In addition, businesses and Web3 developers in the Zilliqa ecosystem would be able to leverage data-driven insights from BigQuery when interacting with Zilliqa Group infrastructure to better understand the behaviour of their users and design features or experiences that deliver more utility and value.
Through this strategic alliance and the addition of an SSN operated by Google Cloud, Zilliqa Group cements Zilliqa's position as a scalable and efficient network that is accessible to developers and enterprise, and it offers improved end-user functionality and robust data transparency through the adoption of Google Cloud tools for its internal architecture.