Introducing Zilliqa Group: A new chapter in Zilliqa's journey
We are pleased today to announce the formation of Zilliqa Group.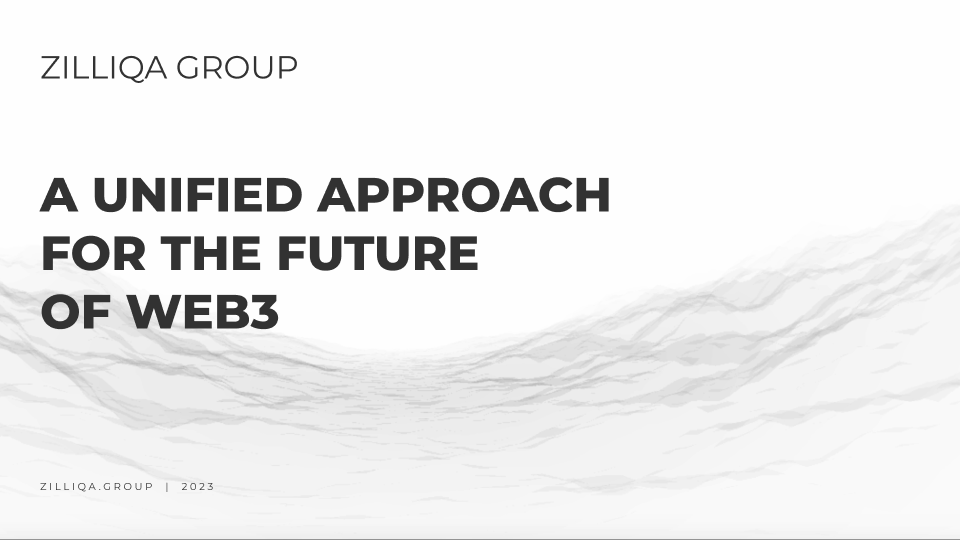 We are pleased today to announce the formation of Zilliqa Group, a unified company structure that encompasses an integrated group of businesses developing Web3 and blockchain applications on the Zilliqa network.
At the core of Zilliqa Group is the Zilliqa blockchain, which will continue to be developed by the Zilliqa technical team and provide secure, reliable, and high-performance infrastructure for the thriving ecosystem of decentralised applications on the network.
Blockchain development and operations will remain largely unchanged by this transition, which is primarily aimed at creating a new corporate structure to support exciting new use cases being built on the network.
As we transition from Zilliqa Research to Zilliqa Group, a new framework will be established that will allow companies incorporated under the group's umbrella to offer world-class services that link and build upon technology created by other elements of the new group structure.
These subsidiaries include companies such as Roll1ng Thund3rz, which was recently spun out as a standalone company after being incubated within Zilliqa.
As part of the transition to Zilliqa Group, Zilliqa is now able to establish a unique services layer for easier network integration across a range of industries, which is ideal for growing the business applications of the blockchain.
There are several exciting new ventures coming soon across the DeFi, loyalty, and spatial web verticals, and this new corporate structure provides a foundation upon which to build these services applications and incorporate them efficiently.
Zilliqa CEO Matt Dyer explains how the shift to Zilliqa Group is a visionary step for the ecosystem.
"With the inception of Zilliqa Group, we are casting a vision that goes beyond the current paradigms of blockchain technology," Matt says.
"This transition is our pledge to every developer, innovator and user out there – that we will consistently pioneer, adapt and deliver solutions that don't just meet the current demands of the market, but set new benchmarks for excellence for the entire industry."
Group Structure and CEO Office
Zilliqa Group will use a federated approach to governance through the formation of a CEO Office headed by Group CEO Matt Dyer, who will be joined by Zilliqa CTO Richard Watts and Sandra Helou, who has been appointed as GCC lead for the group.
This CEO Office will account for the day-to-day operations of Zilliqa Group and corporate affairs, while also providing room to scale further as more exciting ventures come online within the group's structure in the near future.
The transition to Zilliqa Group will be overseen by a restructured board of directors. The Zilliqa Group's board will be chaired by Mark Hemsley, who will transition over to Zilliqa Group Chairman from his previous position as Chairman of Zilliqa Research.
Mark believes that this transition will prepare the Zilliqa Group to better benefit from the innovative new use cases it is enabling in the Web3 space.
"The formation of Zilliqa Group signifies a landmark moment in our journey," Mark says.
"By integrating our range of businesses, we are not only strengthening our position in a fast-moving and competitive space, but charting a new course that will see us spearheading advancements in the Web3 and blockchain spaces for many years to come."
Zilliqa co-founder Juzar Motiwalla will retain his role as a Director on the newly-formed board for Zilliqa Group, which will also include Zilliqa co-founder Max Kantelia.
Max is a serial entrepreneur and investor with a passion for growing Zilliqa's Web3 ecosystem - playing a pivotal role in backing and building its state-of-the-art metaverse and NFT projects. His addition to the board will bring new opportunities and drive revenue growth across the Group in areas as diverse as luxury goods and corporate social responsibility.
"The expansive vision and mandate for the newly formed Zilliqa Group is one that resonates deeply with me - both personally and professionally," Max says.
"I'm excited about the opportunity to work closely alongside existing businesses within the Zilliqa ecosystem and help to grow our presence into all-new areas brimming with potential. Today marks the first step on our collective journey and I can't wait to see the results that our unified approach brings as the Zilliqa Group."
As he mentioned in a previous interview, one of Max's key focusses is the cultivation of high-performance businesses on the Zilliqa network, and this is also one of the primary benefits of the larger transition to Zilliqa Group.
By creating a new corporate structure that allows for the effective deployment of new ventures, we can more easily back and help build the Web3 applications that will boost the Zilliqa ecosystem's growth and change the world.
Check out the official Zilliqa Group website to find out more.