Zilliqa Monthly Newsletter — July 2022 Newsletter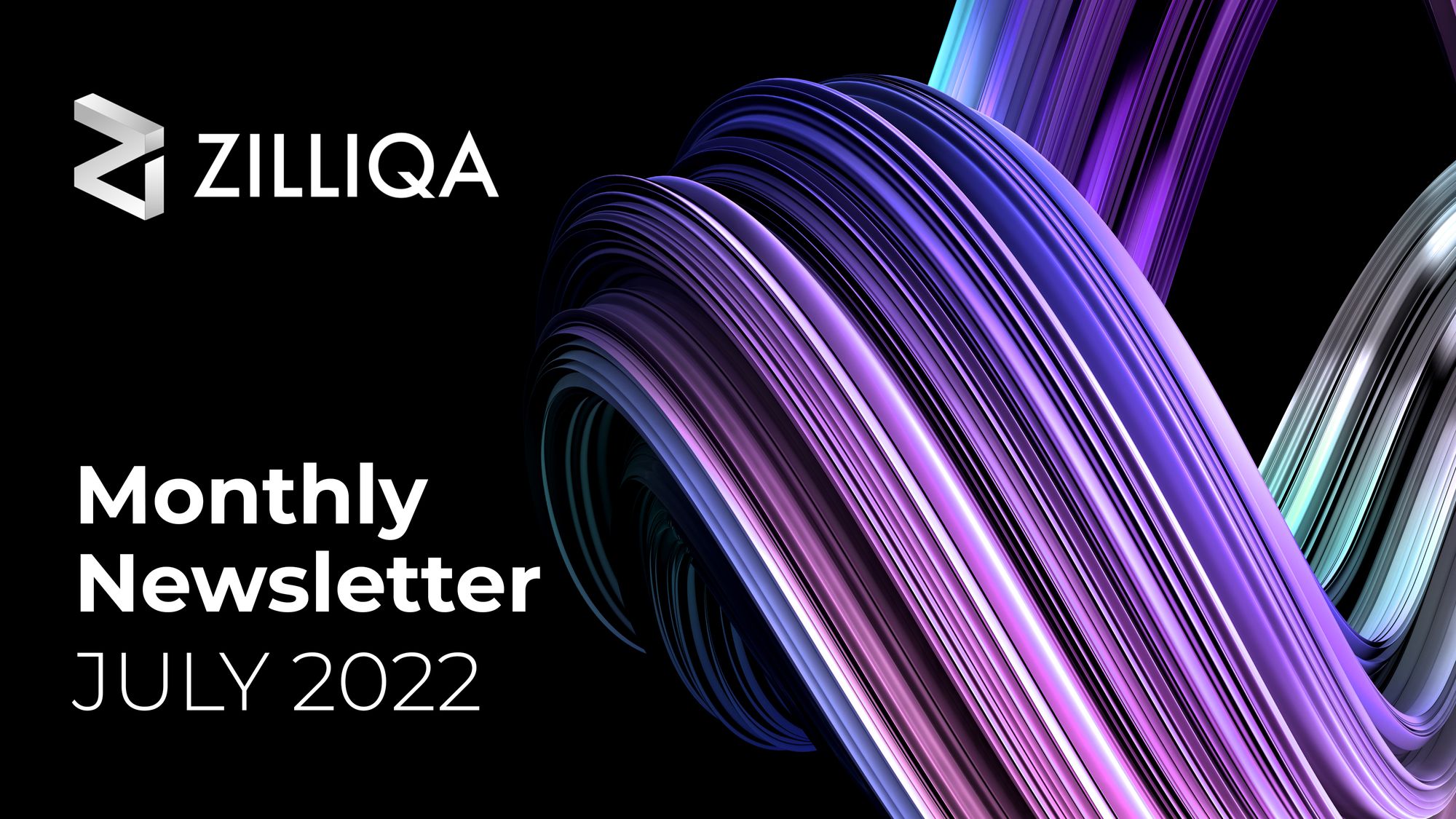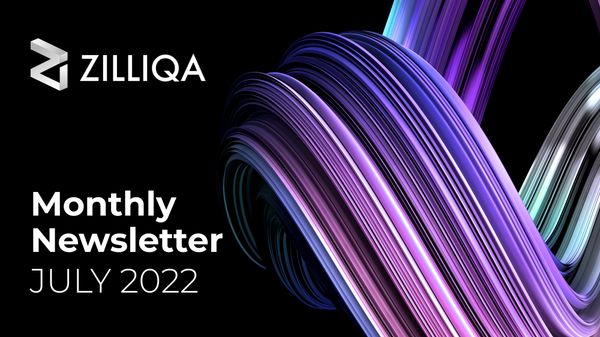 While there's uncertainty in the wider world of crypto, it's been business as usual over here at Zilliqa as the team continues to make headway on technical development and partnerships.

The one thing we're certain of, amidst this uncertainty, is that it's time to build, and there's been a lot of it happening within Zilliqa and our community.

Ignite DAO's Torch wallet has launched on testnet with community testers interacting with its features as we speak. XCAD Network continues to be at the forefront of driving mainstream adoption and just rolled out early access to their Chrome plug-in, and Avely Finance introduced a liquid staking protocol on its latest DeFi AMM Crypto Swap Exchange (Avely Swap).

That's just the teaser. Feeling excited yet?

Then let's get into the highlights of July!


Metapolis Joins Metaverse Standards Forum as a Principal Partner

Metapolis, the first Metaverse-as-a-Service platform has joined the Metaverse Standards Forum as a Principal Partner!

This enables us to share our experiences in helping brands and businesses to enter the metaverse and how the space can work towards better interoperability.

Alongside the Metaverse Standards Forum, who is actively pushing for greater standardisation and collaboration through prototyping, open-source tooling, and deployment of guidelines, we now have a hand in steering the future of this space in an impactful way!

Rialto Artist Spotlights

Rialto, the artist-first, curator-led NFT marketplace powered by Zilliqa, began introducing the individuals behind the art this month!

So far, we've had three sessions where the community could interact with each artist. They include:

• Mohammed Alattar, a digital artist based in Oman
• Leila P., a professional painter from New York City.
• Laurel Johannesson, Professor at the Alberta University of the Arts in Canada
• Lee Wagstaff, Berlin-based English artist who has done exhibitions and performance art
• Dodo Newman, a Hungarian multidisciplinary artist and author in Germany
• Mony Zakhour, Lebanese-Canadian artist and curator for the Cry Baby Gallery
• Calvin Jennings, USA-based landscape photographer

Check out some of their unique artwork here!

Gaming

Zilliqa Announces Partnership With Alien Worlds

We forged a partnership with the world's biggest blockchain game, Alien Worlds, which boasts nearly 11 million daily transactions by over 700,000 monthly active users (MAU).

Alien Worlds will elevate Zilliqa's presence in the blockchain gaming community and bring massive amounts of exposure to our upcoming first person shooter game and gaming hub. Through Zilliqa, Alien Worlds will also be able to tap into traditional gaming audiences via our partnerships with global esports leaders MAD Lions, RRQ and Ninjas in Pyjamas!

Learn more about the partnership here!

Zilliqa Unity SDK v3.1 Released

Infrastructure and tooling is key to scaling up the ecosystem and the latest release of our Zilliqa Unity SDK 3.1, features comprehensive documentation & extensive benchmarking which will help the game studios and indie developers accelerate the time it takes to build games on the Zilliqa blockchain.

View it on Github or read the blog post here!
Zilliqa Shooter Game Teaser - Map #4

Rapid development brings rapid updates. Earlier this month, our gaming team gave the community another update, the fourth map of our upcoming low poly shooter game — Construction Yard!

Construction Yard is unique for featuring both elevated positions for precision sniping, and underground areas for cover if you prefer to play it defensive.

Regardless of your playstyle, whether it's hide and snipe, run-and-gun, or defend to the end, this map makes it all possible!

Partnerships

Zilliqa Partners With WEYU NFT Ecosystem, Collaborates With Legendary Hair Stylist Sam McKnight

Zilliqa partnered with the multi-chain NFT platform, WEYU, to establish a central NFT ecosystem and marketplace! In this tie-up, the Zilliqa blockchain will be integrated into the WEYU platform, which will allow users to generate NFTs for the Zilliqa blockchain on WEYU.

The partnership is starting off strong with Zilliqa and WEYU collaborating with the legendary hair stylist Sam McKnight, who has worked with global icons from Princess Diana to Kate Moss and Lady Gaga. Sam will make his entrance into the Web3 arena with style by launching his inaugural NFT collection on WEYU on 1 August!

With Zilliqa and WEYU working hand-in-hand, we are opening the doors to many more opportunities within the creator economy, and unlocking the tremendous potential, value, and utility of NFTs by making it more accessible to all!

Get one of these exclusive NFTs for yourself here, which will be accompanied with several physical gifts as well!

You can read more about our partnership here!


Industry Recognition

Matt Dyer Joins CoinTelegraph Innovation Circle

Chief of Staff Matt Dyer accepted an invitation to join the CoinTelegraph Innovation Circle!

As part of Innovation Circle, Matt joins an exclusive community of leaders who are helping to shape the future of blockchain, cryptocurrency, Web3, NFTs and more — through the power of connections, collaboration, and thought leadership.

Find out more about the CoinTelegraph Innovation Circle here!
Zilliqa's Spotlight in NewZoo's Report

Newzoo, the world's most trusted source for analytics for games and esports, released a report with a spotlight on Zilliqa and interview with Tom Fleetham on pages 30 and 31. Tom shared how Zilliqa's partnerships with world leaders in esports gives us a powerful advantage in becoming the blockchain-of-choice for competitive gaming. He also outlined the potential that Zilliqa's Unity SDK would unlock in terms of supporting game development on our platform.

Newzoo's recognition of our achievements in this space will further propel us into mainstream visibility and bring more eyes to the game-changing things that we are building!

Check out Newzoo's report here.
Sandra Helou Recognised As A Top Blockchain Leader To Follow On LinkedIn

Sandra was recognised as a key influencer in the metaverse space in July!

Given her extensive experience on the commercial and technical aspects of the metaverse, her work in onboarding brands and businesses for Metapolis through Metaverse-as-a-Service, and never-ending advocacy of the potential of Web3 technology, she naturally belongs to the list.

This recognition will bring more attention to the insights she shares and the work that Zilliqa is doing. We're all very proud of Sandra!

View the full list of influencers here.


Ecosystem

Ignite DAO's Torch Wallet Released On Testnet

Torch, the first Zilliqa mobile smart wallet by Ignite DAO has just been launched on testnet! Community testers have already begun to interact with the wallet as it enters its final phase of development.

The Torch wallet offers many functionalities to its users. These range from farming DAO reputation points, instant un-staking and auto-staking of ZIL, setting limit orders, and more.

It brings a whole new level of sophistication to Zilliqa's DeFi ecosystem, and you can be sure that there's more to come!

XCAD Network Plug-In Goes Live - 10K+ Downloads

Great to see all the hard work at XCAD Network is paying off. The XCAD Network Plug-In is now live and operating on the Zilliqa blockchain and it has been downloaded over 10,000 times without any promotion by the Content Creators yet!

The team is progressing a controlled rollout of the plug-in which currently needs an access code to access it. Over time, more codes will go out to the community and the plan is to promote it via YouTubers in August. Remember, each download in theory is another wallet on the Zilliqa blockchain!

There are loads more plans in the pipeline at XCAD Network so watch this space!


Zilliqa Ecosystem-at-a-glance

There is simply too much going across the rest of our vast ecosystem to keep track of every single update. We've compiled some of them here for you!

ZilDuck - Biome Launch
The ZilDuck team has just launched Biome, an NFT gallery using the latest indexer technology to track all NFTs being held by an individual and exhibit them all in a virtual gallery.

Forbidden Verse - 1st NFT Sale Closed

One of our ZILHive Grantees, Forbidden Verse, concluded their first NFT sale of the Leo Clan collection within only two days of launch!

Heroes of LowHelm (HOL) Releases Sneak Peek of Alpha Version

HOL, a turn-based mobile RPG game built on Zilliqa, recently released a sneak peak of their alpha game version! The Beta version is scheduled to go live later in October.

Okimoto Conducting NFT Sale Of Samurai Collection

NFT marketplace Okimoto is about to launch the sale of their Samurai NFT collection. Proceeds will be channelled towards revamping Okimoto and to make it ZRC-6 & ZRC-7 compatible.

The platform will also introduce fiat support and refresh their UI/UX. Holders of the Samurai NFTs can earn 1.75% of all fees Okimoto generates from all future NFT trades too!

Zolar - Mission II: Phase One Set To Launch

Zolar, a Free-to-Play GameFi game centred around unique NFTs, is about to launch a new mission for players in Q3 2022.

Package Portal Integration Of Shopify Beta & Lightning Network On Track

Package Portal's integration of Shopify Beta and Lightning Network are on pace for the end of July.

This allows Shopify merchants to trigger custom surveys for completion, and Lightning Network enables customers to earn Bitcoin for answering these surveys. These steps will help Package Portal set the stage for the future of delivery analytics.

Blox SDK - Dashboard Is Now Live

The Blox SDK dashboard is live. Users can now stake their BLOX tokens, view SDK player & NFT stats, and view live token burn numbers all from one place. Blox will soon roll out their BLOX documentation, NFT marketplace and Unity SDK on the dashboard as well.

ZilBingo Launches Beta Testing

ZilBingo, an NFT Card game, just launched their beta testing with 58 community users participating. An AMA session will be held by the team soon.

Artbien Upcoming Product Launch (Zilhive funded project)

Artbien, a project supported by ZILHive, will soon launch their Art Provenance, Authentication and Archiving product within the next month. Artbien uses the Zilliqa blockchain for certificate of authenticity (COA) and the ZRC-6 standard for their NFT marketplace.

Viewblock V2 Beta Release

The V2 Beta release for Viewblock is now out. The update brings a new layout to the page and 16 different languages for internationalisation. The stats displayed for the Zilliqa ecosystem have been greatly improved in terms of variety, speed and granularity as well.


Ventures

Greenbeanz Token Investment Completed

Zilliqa finalised an investment in Greenbeanz, who participated in 2021's ZILHive Accelerator programme. Zilliqa saw potential in their P2E NFT game dynamics and the B2B CSR services opportunity.

The Greenbeanz team are experienced and they have already successfully amassed one of the largest social media followings in the Zilliqa ecosystem.

Zilliqa Funding Avely Finance (Expanding DeFi)

Zilliqa is currently funding Avely Finance - a liquid staking protocol built on the Zilliqa blockchain - with a grant. The team have been working on the project for over 6 months already and work closely with Ezil.me, the number one mining pool for ZIL. Avely Finance's strong focus on decentralisation, utility, and withdrawal speed all resonated with us at Zilliqa.

ZILHive Rebrand Completed

ZILHive recently completed a rebrand in partnership with Tribe. Each programme has been updated to strengthen support for founders and developers at every stage of their journey.

ZILHive's latest incubator kicked off on 18 July with more than 40 participants. We have our annual accelerator planned alongside the first of several hackathons, which will start in Q3 2022.

ZILHive Collaboration With Gitcoin In GR14 Hackathon  

ZILHive partnered with Gitcoin for their 'GR14' hackathon in July. ZILHive awarded $15k in prize money to three winning teams who proposed promising ideas across the following areas: soulbound tokens; decentralised stablecoins; and gaming.

Community

Ambassador Programme

The Ambassador Programme rewards have officially kicked off, recruiting trusted veteran community members. It will begin in Q3 as a "beta" test run as Zilliqa works to innovate in this area.

Rewards distribution will begin in August and refinements will be made to the programme design during Q3, with tentative opening to the public in Q4. We currently have 23 Ambassadors.


Tiago & Sandra AMA with Crypto.com

Global crypto exchange powerhouse crypto.com recently got our Head of Metaverse & NFTs Sandra Helou and Head of Community Tiago Serôdio in the hot seat for an AMA session!

Aside from fielding questions from the public, our dynamic duo discussed the growth of Zilliqa since its inception from a community and ecosystem perspective. Sandra noted that with the launch of Metapolis, Zilliqa has significantly grown its presence in Europe!

Watch the full AMA below!

Out and About

Zilliqa is raising its presence internationally and that means our calendar of events is always overflowing!

Here are some of the upcoming events which we'll be attending: