Zilliqa Monthly Newsletter — Dec 2022
We ended 2022 with a series of major announcements, including EVM compatibility on testnet. Read our highlights from December here.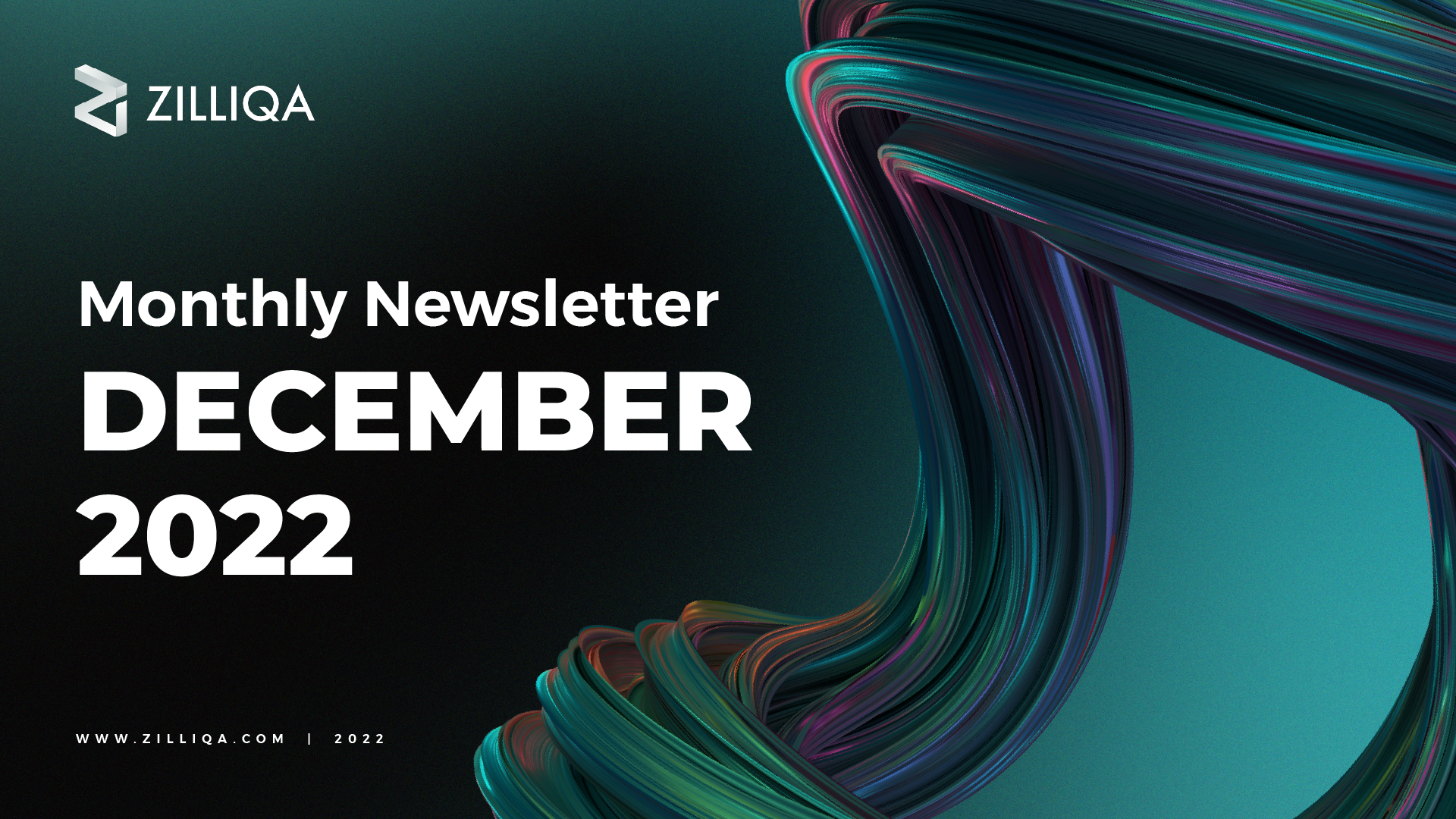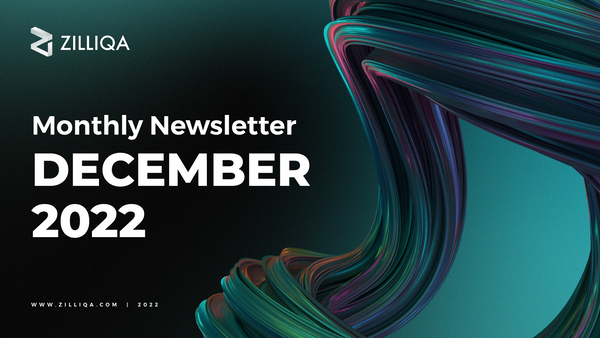 We saved the best for last.
In December we made one of our biggest announcements in 2022 — EVM compatibility is coming to Zilliqa. Having interoperability with the EVM blockchains means everyone, from developers to gamers and DeFi enthusiasts can interact with multi-chain protocols, dApps, and games seamlessly.
It was a fitting way to end the year because EVM compatibility, just like 2023, will bring forth many new opportunities and open up a plethora of possibilities for building interoperable dApps on the scalable and secure Zilliqa protocol.
For web3 music company TokenTraxx, this translates into tangible value that will support their goal of empowering artists in the music industry, and they've already taken the first step by announcing the bridging of the TRAXX token to our blockchain.
Now, let's look at the highlights of December.
General
Rollout of EVM Compatibility on Testnet
EVM compatibility is coming to Zilliqa and you will soon be able to transact seamlessly from your ZIL wallets to EVM wallets like MetaMask and Ethereum dApps!
The launch on testnet began early in the month and once it is complete, users can send and receive ZIL directly from MetaMask and use the wallet to start interacting with, and building Solidity contracts on Zilliqa.
Read about EVM compatibility here.
MetaMask is Coming to Zilliqa
One of the biggest and most significant outcomes with EVM compatibility is the ability for users to use EVM tools and wallets such as MetaMask, which will make it far easier for users to store and use their tokens across several networks without the need to use bridges or wrapped assets.
At the time of writing, MetaMask only works with the Zilliqa testnet. Once EVM compatibility has been fully tested and rolled out on Zilliqa mainnet, MetaMask will integrate and work flawlessly with the Zilliqa blockchain.
Find out how you can begin connecting your MetaMask wallet to Zilliqa testnet here.
TokenTraxx Adds Support for Zilliqa
Thanks to our work on EVM compatibility, web3 music company TokenTraxx announced that they would be bridging its TRAXX token to the Zilliqa blockchain, with other features to follow in the future.
We spoke to TokenTraxx CEO Tim Gentry, who shared how web3 can make the music industry bigger by empowering smaller artists through NFTs and tokenised communities, and why he chose to add support for Zilliqa.
Read the interview here.
Matt Dyer Shares Zilliqa's Plans for 2023
As 2023 and the new opportunities it brings descends on Zilliqa, our interim CEO Matt Dyer spoke to the community, starting with a recap of the company's highlights over 2022, from WEB3WAR to EVM compatibility, new leadership hires, and partnerships.
Matt went on to deliver his vision for Zilliqa 2.0 in 2023, which includes technical objectives such as moving to proof-of-stake, the introduction of more DeFi options such as liquid staking and new borrowing and lending protocols, and plans to ensure a steady momentum of growth through strategic investments.
Watch the full video here.
Technical
Solidity Contracts Now Deployable on Zilliqa Testnet with Truffle and Hardhat
While EVM compatibility is set to arrive on mainnet in 2023, we've already begun working to allow smart contract developers to build dApps on the Zilliqa testnet using familiar EVM programming languages like Solidity and tools like Truffle and Hardhat.
We've compiled useful resources on Truffle and Hardhat, as well as Solidity and Scilla, for both experienced developers and beginners looking to learn how to write smart contracts.
Read the article here.
Voting on SSN Commission Fees
All gZIL holders are welcome and encouraged to cast their vote regarding a potential implementation of a 4% minimum SSN commission fee by January 9th, 2023.
The aim is to enable SSNs to cover the operational costs of running reliable infrastructure, while giving them greater opportunity to differentiate themselves through community involvement, product development and marketing.
Vote here.
Ecosystem
Take a look at what's been going on within Zilliqa's vibrant ecosystem.

Xcademy Launches First YouTuber Fan Tokens & Updates Plugin to Help Users Increase Rewards
The Xcademy team have officially started the Watch2Earn movement following a groundbreaking announcement that they launched the world's first and second YouTuber fan tokens - Viruzz and Lulu - on the dXCAD DEX.
Xcademy also published a blog post on new updates arriving to their browser plug-in, which will allow users to grow their Creator Token (CT) earnings. Instead of staking XCAD, users can now buy an XCAD Egg NFT with ZIL or XCAD. There are different levels of Eggs, and the higher the level the more earnings are increased.
Tyron Introduces Text-to-Image AI for NFTs
Tyron has collaborated with Lexica.art to introduce text-to-image AI for NFTs to enable users to personalise their SSIs. Lexica.art is a search engine that uses the tech of #StableDiffusion to transform text to image with AI.
Avely Finance Launches Public Testnet
Avely Finance is working on bringing liquid staking to the Zilliqa blockchain, and following alpha testing, the team have now launched the public testnet for everyone to try out the protocol.
IgniteDAO Completes Final Testing
The team at IgniteDAO announced that they have completed mainnet testing on Torch Wallet  and have sent Version 1.0 to app stores for approval. Torch will bring a DAO reputation system, auto staking, instant unstaking, and DEX limit orders to users.
BeanTerra Started Pre-Alpha Testing
The BeanTerra game has kicked off its pre-alpha test phase for those who registered their interest previously. There is still time to register for the pre-alpha testing, and if you're interested you can sign up here.
Carbon Labs & ZilStream Launch WAVE SSN, Announce Alchemy Wallet V2
Carbon Labs and ZilStream have come together to launch the WAVE SSN. This gives individuals more options for staking their ZIL and enables them to continue building on Zilliqa.
The Carbon Labs team also announced they are working on V2 of their Alchemy wallet, which will support EVM and Zilliqa addresses. They shared a preview of Alchemy wallet and how users can use it to access multiple chains.
AMAs
Introducing Zilliqa to Japan: Matt & Valentin's AMA with OKCoinJapan
Following Zilliqa's approval to be listed on the exchange, OKCoinJapan caught up with Matt and Valentin for an AMA session.
Matt gave listeners an introduction to Zilliqa's history, the power of sharding, and why Scilla makes it easier to build on our platform. Valentin then took the audience through his vision and strategy for making Zilliqa a web3 gaming hub, as well as upcoming plans for our console launch.
Watch the full AMA here.
Gaming
WEB3WAR 2022 Roundup
We've been making tremendous progress since WEB3WAR was launched in open beta. A constant stream of new features, maps, game modes, weapons, and mechanics have been added to build out the game's offering and improve the player experience, and 2023 will be no different.
Our latest blog post rewinds the clock to track WEB3WAR's development journey and we also take a look at the game's latest achievements.
Read about it here.
What's Coming to WEB3WAR in 2023
Following the impressive progress made on WEB3WAR in 2022, we've given players a sneak peek at the exciting features and updates they can expect from the game in 2023.
Development is continuing at a rapid pace this year, and there has never been a better time to jump in and start playing!
Read more about what to expect from WEB3WAR in 2023.