Zilliqa Monthly Newsletter - Aug 2023
Check out the highlights from the Zilliqa ecosystem for August 2023.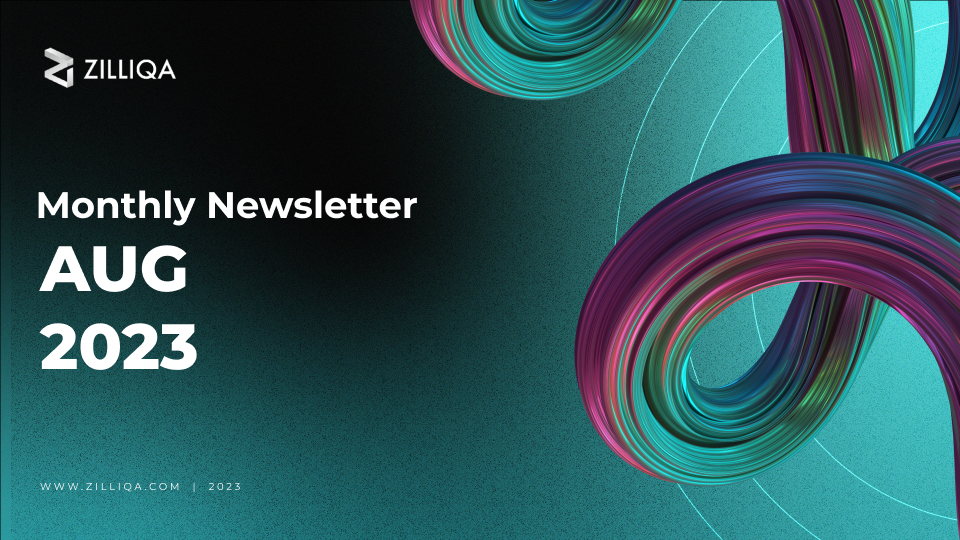 It has been an exciting and productive August for the Zilliqa ecosystem. We have seen major announcements alongside new projects and steady progress on the development of the network's core infrastructure.
The biggest highlight from the last month was the formation of Zilliqa Group, our new corporate structure that unlocks a framework for an integrated group of ventures building Web3 applications on the Zilliqa network. With the innovative and promising ventures operating under the group's umbrella, we feel this new approach will lead to a compounding effect for Zilliqa's growth and drive more transaction volume on the Zilliqa blockchain as we build out use cases that take advantage of our network's best features.
Looking ahead to all the exciting news and projects on the horizon for the Zilliqa network, I am excited to step into the newly established role of Group CEO and wish to express my gratitude and appreciation for all the team members at Zilliqa and the wider community for their support as we continue to grow and expand our ambition for the future of the network.
I'm also delighted to see continued enhancement of the blockchain network towards the technical vision of Zilliqa 2.0 alongside the proposal of a new hybrid consensus mechanism that will mark our first step towards Proof-of-Stake for Zilliqa.  I encourage everyone to discuss this proposal on the governance forum and use your gZIL to vote on the proposal if it is pushed forward.
The second half of 2023 is shaping up to be an exciting period for Zilliqa and our community, and I would like to thank the team and our amazing community of developers and users for their passion and commitment to growing the Zilliqa ecosystem.
Stay tuned to our blog and socials, we have exciting news coming in the near future that we can't wait to share with you.
- Matt Dyer
 Zilliqa CEO
Check out the highlights from the Zilliqa ecosystem for August 2023 below:
Introducing Zilliqa Group
This month saw the exciting announcement of the formation of Zilliqa Group, marking a new chapter in the company's journey towards cultivating an integrated group of businesses building Web3 applications on the Zilliqa network.
As part of this shift in corporate structure, a new framework will be established that will allow companies to be incorporated under the group's umbrella, such as Roll1ng Thund3rz - a standalone company under the Zilliqa Group structure which was spun out earlier this year..
Zilliqa Group is governed by a CEO Office that includes Group CEO Matt Dyer and Zilliqa CTO Richard Watts, as well as Sandra Helou, a Zilliqa veteran and leader in the metaverse space with a major public following who will be a significant player in driving the company's growth in her new role as group lead for the GCC region.
Read more about the formation of Zilliqa Group and how this will help to grow the ecosystem of businesses building applications on the Zilliqa blockchain.
DeFi and ZIL staking features
August was also a big month for the DeFi ecosystem on Zilliqa, with more projects beginning to  roll out tools that deliver the power of decentralised finance to the network.
We saw the introduction of TyronDEX this month, a new decentralised exchange that combines DeFi products with sovereign identity to deliver unique features and incentives for users within the TyronDAO ecosystem and beyond.
Read more about the launch of TyronDEX.
When it comes to earning rewards for staking ZIL, IgniteDAO has teased the mainnet launch of its upcoming web version of instant unstaking. This feature will allow anyone to instantly unlock and receive their staked ZIL through a browser interface for a small fee.
IgniteDAO also announced this month that it has reached almost 500 million ZIL staked, with its Torch wallet application seeing steady adoption and growth as the DAO continues to build out its smart contract wallet offering.
Avely Finance has continued to see impressive growth as more users sign up for its liquid staking protocol, which offers a way to retain flexibility while still being eligible for staking rewards thanks to the stZIL liquid staking token.
As a result of this month's continued adoption, Avely has seen steady growth on its Staked Seed Node (SSN) and its Total Value Locked (TVL) has reached almost 40 million ZIL as more users choose to stake through its protocol.
The road to Zilliqa 2.0
Those looking for more news on the development of Zilliqa 2.0 have had a lot to digest over the past month, with Zilliqa CTO Richard Watts appearing on a Twitter Spaces with House of Chimera to discuss the upcoming network overhaul.
During the event, Richard described the current state of the network, what users can expect from the more efficient and flexible Zilliqa 2.0 network, and the steps the infrastructure team is taking to implement these features.
A new proposal has also been floated on the Zilliqa Governance Forum that proposes the introduction of a hybrid consensus mechanism for the Zilliqa network which would see Staked Seed Nodes (SSNs) play an active role in the security of the blockchain.
This proposal is in line with the strategy for Zilliqa 2.0's deployment, as the overhauled network infrastructure will feature a Proof-of-Stake (PoS) consensus mechanism.
Read more about the proposal here.
While Zilliqa 2.0 is built out, EVM compatibility remains a key component of Zilliqa's development, demonstrated by the upgrade of the Scilla plugin for Hardhat this month to improve the experience of developers using EVM tools on the Zilliqa network.
Zilliqa and Roll1ng Thund3rz at Gamescom 2023
Gaming continues to remain an exciting aspect of the Zilliqa ecosystem, and this month saw the Zilliqa and Roll1ng Thund3rz teams attend Gamescom 2023 to show off WEB3WAR to the mainstream gaming sector.
Roll1ng Thund3rz is a Zilliqa Group company which has continued to go from strength to strength after it was spun out as a standalone entity earlier this year. The Web3 entertainment company serves as a prime example of the exciting ventures we aim to cultivate and grow under the Zilliqa Group.
WEB3WAR has now reached over 25,000 player accounts and the team at Roll1ng Thund3rz continues to deploy exciting new features and updates to the action-packed online shooter.
The FUS1ON Gaming Hub has also seen a number of recent updates for an improved user experience, and this month the Roll1ng Thund3rz team teased an upcoming web version of its marketplace, which will make it much easier for users to buy and trade cosmetic skin NFTs and other assets.
Check out the teaser for the web version of MARK3T.
AMAs and ecosystem news
August was a busy month for community engagement and general ecosystem news, with several live sessions featuring the Zilliqa team and a number of exciting updates from projects building on Zilliqa.
Zilliqa Head of Product Anton Agafonov sat down with Web3TV to discuss the future of the Zilliqa network and ecosystem, as well as the potential for DeFi to bring reliable growth to the network through the opportunities created by EVM compatibility.
Watch Anton speak about DeFi and Zilliqa on Web3TV.
The Zilliqa team also hosted a live AMA on Twitter with Shibui, focussing on the utility of NFTs to disrupt the film industry and create exciting new ways for fans to interact with the content they enjoy.
In other news, Coinrule - a Zilliqa portfolio company - announced this month that it has integrated Coinbase's Advanced Trade platform into its own Automated Trading platform.
LunarCrush, a major player in the Zilliqa ecosystem, also announced the launch of its Social Search beta feature, greatly expanding the functionality of its social insights platform.
Zilliqa CTO Richard Watts and Head of DevOps Mauro Medda were also on the road in San Francisco this month as they headed to various events and conducted technical meetings across a range of topics.
Stay tuned to our socials and subscribe to the Zilliqa blog to stay up to date with the latest news from Zilliqa.