Zilliqa Monthly Newsletter — March 2020
We at Zilliqa have kept our machines running as efficiently as possible while prioritising the health and well-being of our distributed team.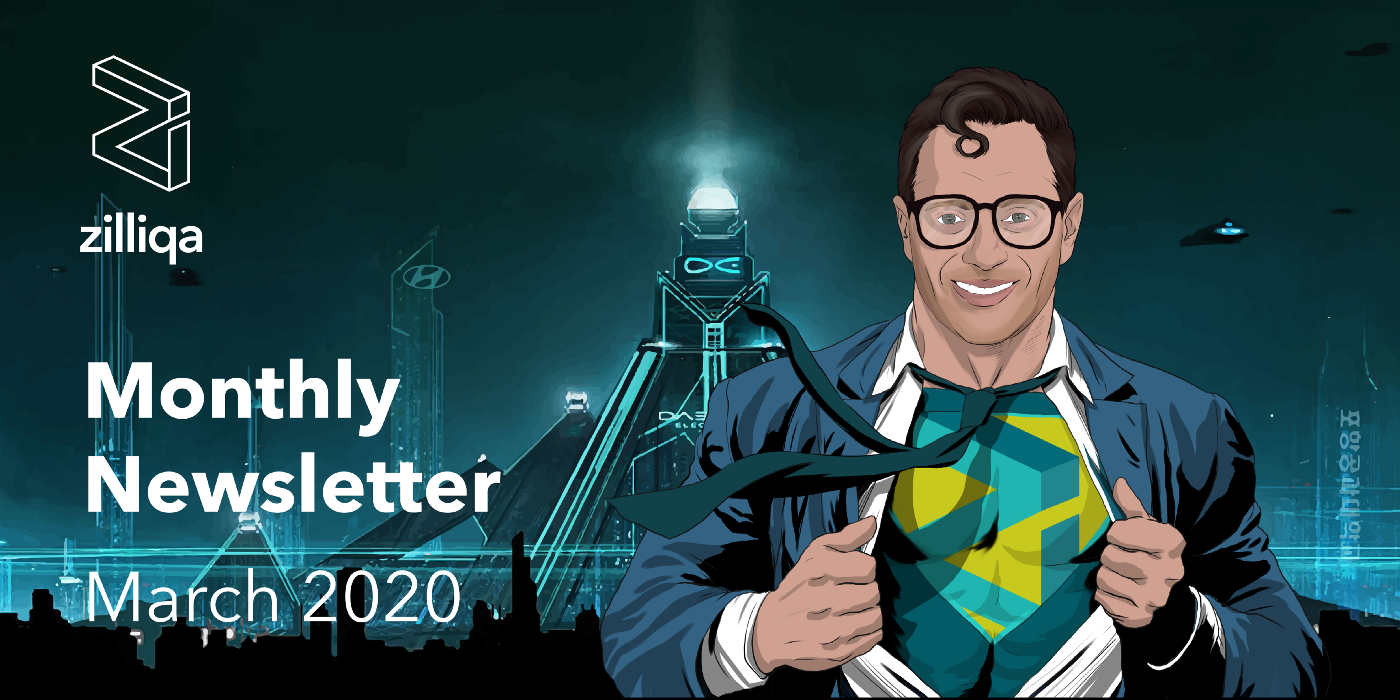 Greetings everyone,
We at Zilliqa have kept our machines running as efficiently as possible while prioritising the health and well-being of our distributed team. People are settling into their new, socially distanced routines, while making sure that our numerous projects stay on track. To this effect, March was a busy month with key developments — namely the staking proposal and DEX project — keeping the company's eyes fixed on the larger picture of decentralisation and ecosystem growth. Here's a recap.
Getting to know our new Head of Corporate Development Michael Conn
We're pleased to announce the appointment of Michael Conn, who joins Zilliqa as Head of Corporate Development. Michael will focus on fortifying Zilliqa's business capabilities through partnerships, operational management, and strategic investments. Given his 20+ years experience in entrepreneurship, financial services, blockchain and investments, we thought we'd pick his brain on the industry and in the process, give you a chance to know more about him:
How would you describe your first few days at Zilliqa?
Very exciting. Was great to get to know the members of the team and understand the awesome projects they are working on.
What are you most excited to work on in the first few months within this role?
Really looking to engage with the broader global community to help build out relationships with strategic business partners and develop corporate opportunities.
Singapore Vs. USA? Pros/Cons/Your POV on the state of competition, innovation and the start-up scene in both
It's difficult to really compare Singapore to the USA. They are both vibrant in their own right. Singapore, and Southeast Asia in general, is growing like gangbusters and has its own ecosystem of start-ups and investment funds etc., which is also helped by its relatively close proximity to other investment centers in Asia (e.g. China, HK, Japan, South Korea). Silicon Valley and other centers of excellence in California, and elsewhere in the USA and North America, have been around for quite some time and are well entrenched in the digital asset and blockchain space from both a start-up perspective, as well as funding capabilities. I feel that Zilliqa's strong regional positioning in Southeast Asia truly provides us with a competitive advantage, as we continue to grow our capabilities and ecosystem and my role's global focus will allow us to bridge the gap between Singapore, Southeast Asia and the USA.
Your views on the current investment landscape in crypto.
I believe that the macro headwinds in the global Economy (namely the Coronavirus), have severely depressed, and I would argue have over depressed the valuations in the Crypto/Digital Asset marketplace. I believe that good projects have been beaten down and treated similarly to poor ones from a valuation perspective with no true fundamental-driven rationale. All of this has created an investment opportunity for those with the ability to be thoughtful and creative.
Any must-watch trends in blockchain that people should be capitalising more on?
I think people should focus broad developments in the Open Finance/Decentralized Finance marketplace in the digital asset world, and they should pay specific focus to the continuing confluence of the traditional financial markets with those of the digital asset space.
Best advice given to you by a mentor that you'd pass down to others looking to break into financial services and crypto industry
Best advice I have ever received is to network, network, network… and then network some more. And you must be able to understand your end-goal and keep laser-beam focus on it so you can cut through the noise in order to achieve your goal.
Best moment of your professional life (so far).
The best moments of my professional career, so far, would have to be a tie between the opportunities I've had to work with super smart people in amazing places around the world such as Milano, Paris, Hong Kong, Singapore, San Francisco, New York, London, Toronto etc., taking Ether Capital public through a reverse takeover in Canada and leading a management buyout at TCW from Société Générale with Carlyle as sponsor.
Favourite vacation spot
Paris me manque.
Glad to have you on board Michael!
In the headlines: The Switcheo — Zilliqa DEX Project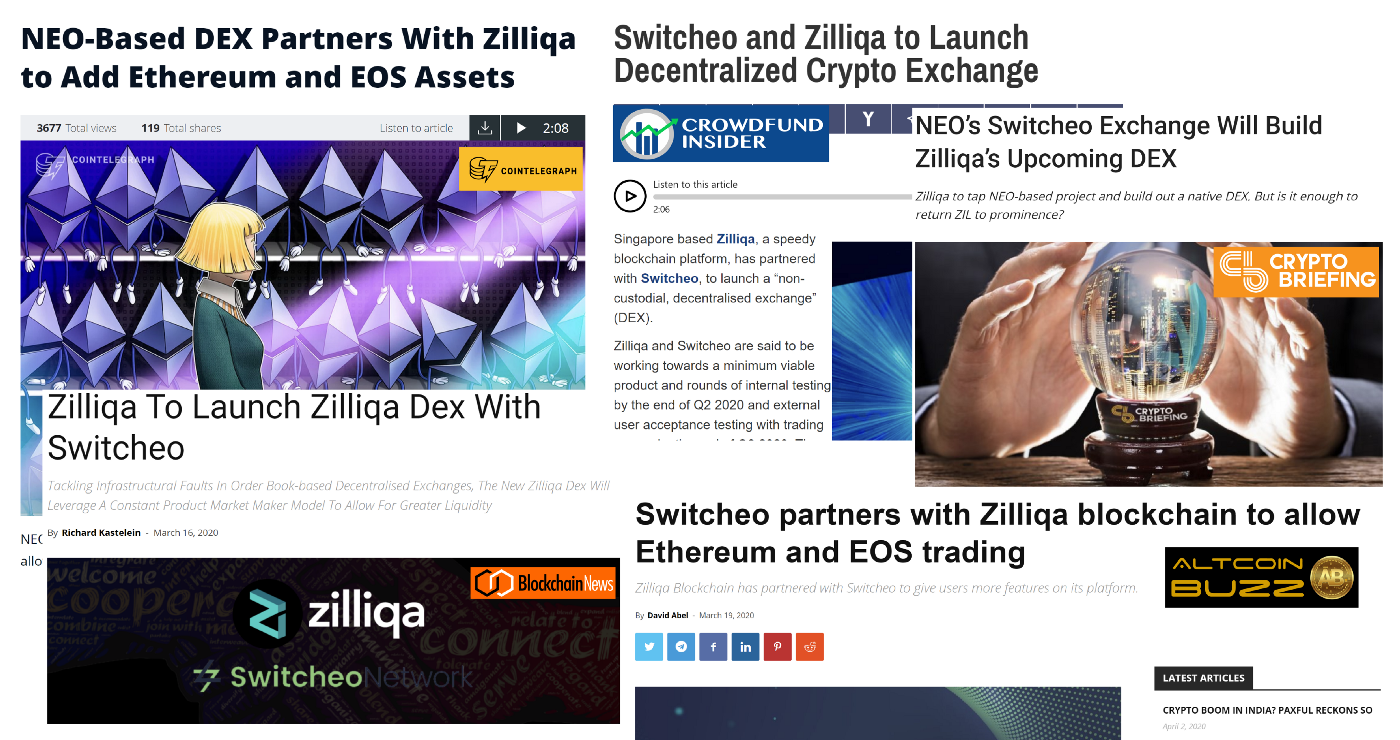 In a strategic push towards enabling the DeFi ecosystem, Zilliqa has teamed up with Switcheo to build a DEX or 'decentralised exchange,' which is a peer-to-peer marketplace to facilitate trades of digital assets without a central intermediary involved.
Currently under construction, this DEX will:
provide token holders and traders with a more transparent and secure transaction platform, and access to tap into the digital assets on the Ethereum blockchain for the first time. Essentially, you could swap $XSGD (on Zilliqa) to $DAI (on Ethereum).
support $ZIL or any Zilliqa-based tokens (such as the $XSGD)
offer convenient on-boarding and user-friendly features (with plans to later introduce an API-based mobile wallet integrations, which will enable users to swap between different assets without any infrastructural hindrances)
Enable miners to hedge their rewarded $ZIL, putting them in the liquidity pools of trading pairs on the Uniswap-like DEX
Our collaboration with Switcheo has been covered in a total of 84 media titles including The Cointelegraph, Crypto Briefing, The Blockchain News, Altcoin Buzz, Crowdfund Insider and many others. We will be speaking more about this project in some podcasts over the next few weeks.

Work is underway for implementing the technical requirements for the Staking program. These include changes that will go into Zilliqa version 6.2.0, as well as other non-protocol components such as the staking smart contract
This version is still under development, with planned updates including:
a) The aforementioned changes for staking, such as a new server instance for retrieval of raw blockchain storage data from lookup nodes
b) The addition of an accepted field inside the transaction receipt that indicates acceptance of amount transfer between smart contracts
c) An optimisation to the retrieval of historical transaction blocks during node syncing that avoids the need to load all transaction blocks into memory
d) A bug fix for retrieval of updated DS guard IP information from lookup nodes
Scilla Updates
We have now added a forall language construct to iterate over lists in the imperative part of contracts ( procedures and transitions), thereby enabling the Scilla programmer to perform operations such as updating the state based on each element of a list
We have also added a new warning in the Scilla checker to warn programmers against shadowing of names defined in an outer scope when the same name is used to define a new variable in an inner scope (such as inside a pattern match). This helps prevent bugs, especially for programmers coming from an imperative programming background (such as C++ / Solidity) and (wrongly) assume that the inner definition updates the outer variable
As an update on the Ledger app, we are happy to state that the new version that displays smart contract transaction parameters on the device (for increased security) is now up for review from the Ledger team and will soon be on the app store

Transak, the fiat on/off ramp aggregator, now offers a compliant and convenient service for anyone looking to convert Indian Rupee (INR) and/or British Pound (GBP) to $ZIL.
Zilliqa has teamed up with them to help our UK and Indian users get $ZIL even more easily.We recount the process for you step-by-step, so that you can make best use of the upcoming promotions being announced by Transak . You can't go wrong if you follow these instructions.

Staking was at the back of our minds ever since we launched our mainnet, when we knew we wanted to provide our users with maximum benefits from and incentives to hodl $ZIL and participate in our ecosystem, and further build out our seed nodes. This quarter, we've pushed it to the top of our agenda.
Now in its planning phase, we have released a "Zilliqa Improvement Proposal" on staking to the public and developers. We will gather feedback, queries, ideas and concerns via Github and Reddit to strengthen our service before it officially goes live by the end of Q2 this year.
For further information on the ZIP, please visit the FAQ section on our website: https://www.zilliqa.com/faq
Community Events & ZILHive Education Initiatives Go Virtual!

The Zilliqa Developer Bootcamp, co-hosted with The Open Nodes academy, transitioned to an e-course during general lockdown for Covid-19 and was successfully completed. 12 developers were awarded completion certificates
Our co-founder Jun Hao Tan shared his insights as a guest lecturer at a National University of Singapore (NUS) course on "Blockchain and DLT" delivered via Zoom
What is the Neo Savant IDE?
The Neo Savant IDE is an upgraded version of Savant IDE, a tool to run and call smart contracts in a simulated environment. The new version includes capabilities such as allowing deployment of smart contracts to the testnet and mainnet, and a range of tool utilities for convenience such as the unit calculator and address converter. It can be found here.
We recently concluded a NEO Savant #FungibleFriday campaign to help devs dip their toes into the simulated environment in exchange for rewards- and will continue similar campaigns in the coming months. In the meantime, watch this video to understand the process step-by-step!
In the News
Zilliqa has joined hands with blockchain internet star Ivan Liljeqvist from 'Ivan on Tech'', with whom we are producing a series of developer-focused videos diving into working on Zilliqa and withScilla. The first video of the series was recently released as an 'Introduction to building on Zilliqa. Check out the video and take the quiz to get your shot at winning some $ZIL! More here.
Our Head of Growth and Strategy Kenneth Bok spoke to CNA News 98.3 FM reporter Melanie Oliviero about the drivers and potential of digital banking in Asia and beyond. If you missed it, you can listen to the recording here. He also spoke to Business Times about the role CBDCs will play in a space heavily disrupted by digital transformation. https://bit.ly/2uTTEM2
Our Head of Marketing Colin Miles had a conversation with community content creator CM Top Dog about his journey so far with Zilliqa, how he got into the space, and the company's focus areas for the coming months. To learn more about his appointment, you can also refer to this article in Aithority.com
In the meantime, this interview with Crypto Rand is a good source if you want to know more about our key value proposition and our latest projects such as the Switcheo DEX. For more about the significance and specifics of the StraitsX/ XSGD project with Xfers, read this Altcoin Buzz article.
We're also thrilled to be featured as the blockchain infrastructure provider in Aqilliz' project exploring blockchain for Digital Out-of-Home (DOOH) advertising sector with adtech firm Moving Walls and food delivery giant Foodpanda. This is a milestone for our sister company Aqilliz, which is working towards bringing authenticity to the ad supply chain and it has been covered in over 60 news portals including CoinGeek, Decrypt, The Drum & Campaign Asia.
Happy reading and stay safe indoors!
For further information, please contact us on: