Zilliqa Monthly Newsletter - Jun 2023
Check out the highlights from the Zilliqa ecosystem for June 2023.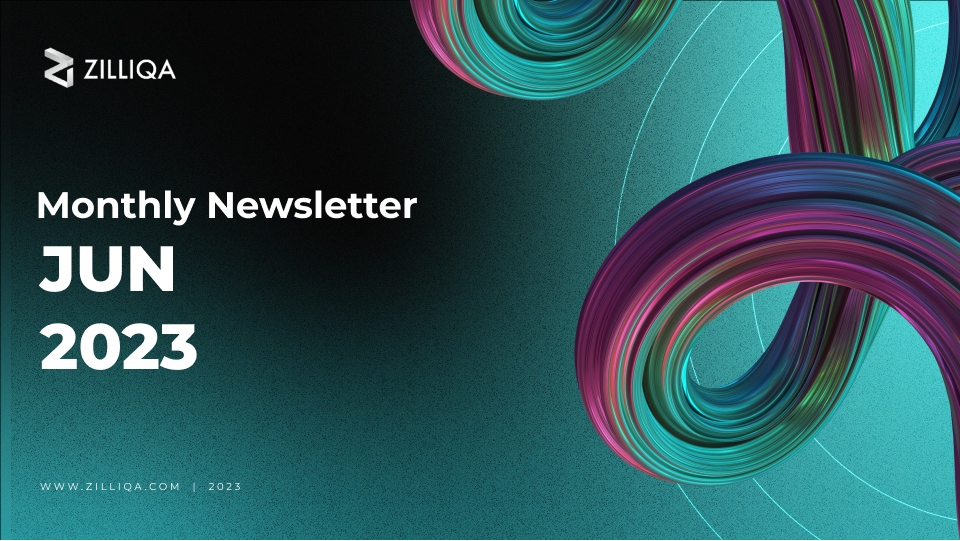 It has been an exciting June for Zilliqa. We have seen several major announcements from a network and governance perspective, and many projects within the ecosystem have made impressive progress on their applications and features.
One of the highlights from the past month was the introduction of important new proposals through the Zilliqa governance platform. The first is the introduction of gZIL delegation, which will bolster both the utility of gZIL and community participation in governance by allowing gZIL holders to delegate their voting power.
The second proposal concerns adjusting staking rewards to ensure the long-term sustainability of the Zilliqa network, with the eventual goal of reaching zero inflation ahead of the deployment of Zilliqa 2.0. This change is a major component of the move to a revised consensus model for Zilliqa 2.0 which will offer better performance and incentives to node operators.
Work on Zilliqa 2.0 continues in earnest, and the tech team has been busy building out the infrastructure needed for this overhaul of the network. The last month also saw the announcement of a mainnet network upgrade with v9.2.0. This update brings a number of exciting improvements to the network, including expanded EVM-Scilla interoperability, better developer tools, and enhanced network performance.
As always, I would like to thank the Zilliqa team for their hard work in delivering new functionality to the network, as well as the community of users and developers for their unfailing commitment and passion in growing the ecosystem of dApps and services on Zilliqa.
Stay tuned during the coming months, we have even more exciting news in the pipeline that we can't wait to share with you.
  - Matt Dyer
  Zilliqa CEO
Check out the highlights from the Zilliqa ecosystem for June 2023 below:
gZIL delegation and staking reward changes
It was a busy month for governance on Zilliqa, with the introduction of two new proposals on the Zilliqa governance forum.
The first was a proposal to adjust staking rewards for long-term sustainability by adjusting the staking annual percentage rate (APR) to approximately 8%.
This adjustment aims to reduce the inflationary characteristics of ZIL and ensure the sustainability of the Zilliqa blockchain's native token as the network moves towards a long-term goal of zero inflation and the deployment of Zilliqa 2.0.
The staking reward adjustment proposal was posted to Snapshot for official voting on June 28th.
Another proposal was submitted during the past month which reintroduced the mechanism of gZIL delegation.
By allowing gZIL holders to delegate their voting power to others, gZIL delegation aims to bolster the decision-making and governance process for the Zilliqa blockchain.
This change gives each gZIL holder a chance to influence governance decisions by granting them an easy way to participate in the voting process through a delegate they nominate or support.
The vote on gZIL delegation was reopened on June 28th and is now active on Snapshot.
Zilliqa mainnet update - v9.2.0
Another highlight from the past month was the announcement of mainnet update v9.2, which introduces a range of improvements and exciting new functionality.
One of the biggest changes in this update is the introduction of enhanced interoperability between Scilla and EVM contracts. This makes it far easier for developers to create, test, and exchange fungible tokens using ERC-20 or ZRC-2 smart contracts.
Developers can further benefit from an improved interface with advanced search and trace capabilities, as well as a new developer network where they can experiment with new features and network functionality before they are deployed to the public testnet.
In addition to the above, update v9.2 brings a number of general improvements and bug fixes to the network, as well as enhanced overall performance to ensure a faster and more efficient network for all users.
Read more about the changes deployed in mainnet upgrade v9.2 here.
Exciting NFT and DeFi announcements
June was an exciting month for DeFi applications and NFT announcements, with more exciting applications and products becoming available as the network ramps up for boosted DeFi growth thanks to improved EVM compatibility.
We partnered with Demex to launch ZIL lending and borrowing on Nitron, allowing users to lend out ZIL or use their ZIL as collateral to borrow other tokens on the platform. This partnership also saw the announcement of a ZIL-PERP market to unlock even more DeFi opportunities, as well as the launch of a trading competition.
Read more about our partnership with Demex.
TokenTraxx also minted their first ever multi-chain music and art NFT, created by Web4, which was available to purchase on a number of major networks.
Zilliqa won the launch competition by being the first blockchain to sell out the new HappyHappyJoyJoy NFTs, for which holders were awarded 1,000 zTRAXX tokens and the first five buyers had their purchase cost refunded.
This month also saw Tyron SSI Protocol tease the upcoming launch of their new TydraDEX decentralised exchange, which is set to bring exciting new DeFi opportunities to the Zilliqa network.
Showcasing the potential of Web3 gaming
Gaming continues to be a significant driver for mainstream adoption of the Zilliqa network, with WEB3WAR continuing to attract new players and add new features.
The game's June update brought a number of great new features, including a new Domination game mode, a Ruins map with day and night variants, and much more.
Check out the full release notes for WEB3WAR v1.2.0 here.
Beyond regular updates for WEB3WAR, June was a big month for Roll1ng Thund3rz, with the team heading to Web3 Gaming Week to feature WEB3WAR at the event hosted by Jump and Google Cloud.
It was fantastic to showcase the potential of WEB3WAR and Roll1ng Thund3rz's offerings at Web3 Gaming Week and meet others building in the space.
In line with its continued growth and goal of reaching a mainstream global audience, Roll1ng Thund3rz also announced this month that it was partnering with And The New, a creative digital marketing agency with expertise in the sports, entertainment, and gaming industries.
Ecosystem news and AMAs
The Zilliqa ecosystem continues to go from strength to strength, with exciting new applications launching and projects growing their footprint in the space.
June saw Avely Finance partner with Envelop to integrate the stZIL token into its platform, providing the opportunity for users to create further derivatives and unlocking more utility for the recently launched liquid staking token.
Avely Finance also launched its Zealy community in partnership with ZilPay this month, another big step towards building engagement around the Avely liquid staking protocol and its extensive utility and DeFi opportunities.
IgniteDAO's Torch smart contract wallet continued to hit new milestones in June, reaching a total of 3,250 smart wallets and 20 million ZIL being instantly unstaked through the application.
The Zilliqa team has also been busy over the past month, with Ecosystem Marketing Manager Kevin Meyer appearing on a recent AMA with Zeeves neobank to find out more about their platform and how they aim to disrupt the traditional banking industry.
Zilliqa was also present at ETH Shanghai this month, where we had the opportunity to raise the profile of the Zilliqa network in the EVM community and network with others building exciting projects in the space.
Stay tuned to our socials and subscribe to the Zilliqa blog to stay up to date with the latest news from Zilliqa.