Zilliqa Monthly Newsletter - Jan 2023
January was a strong start to an exciting 2023 for Zilliqa.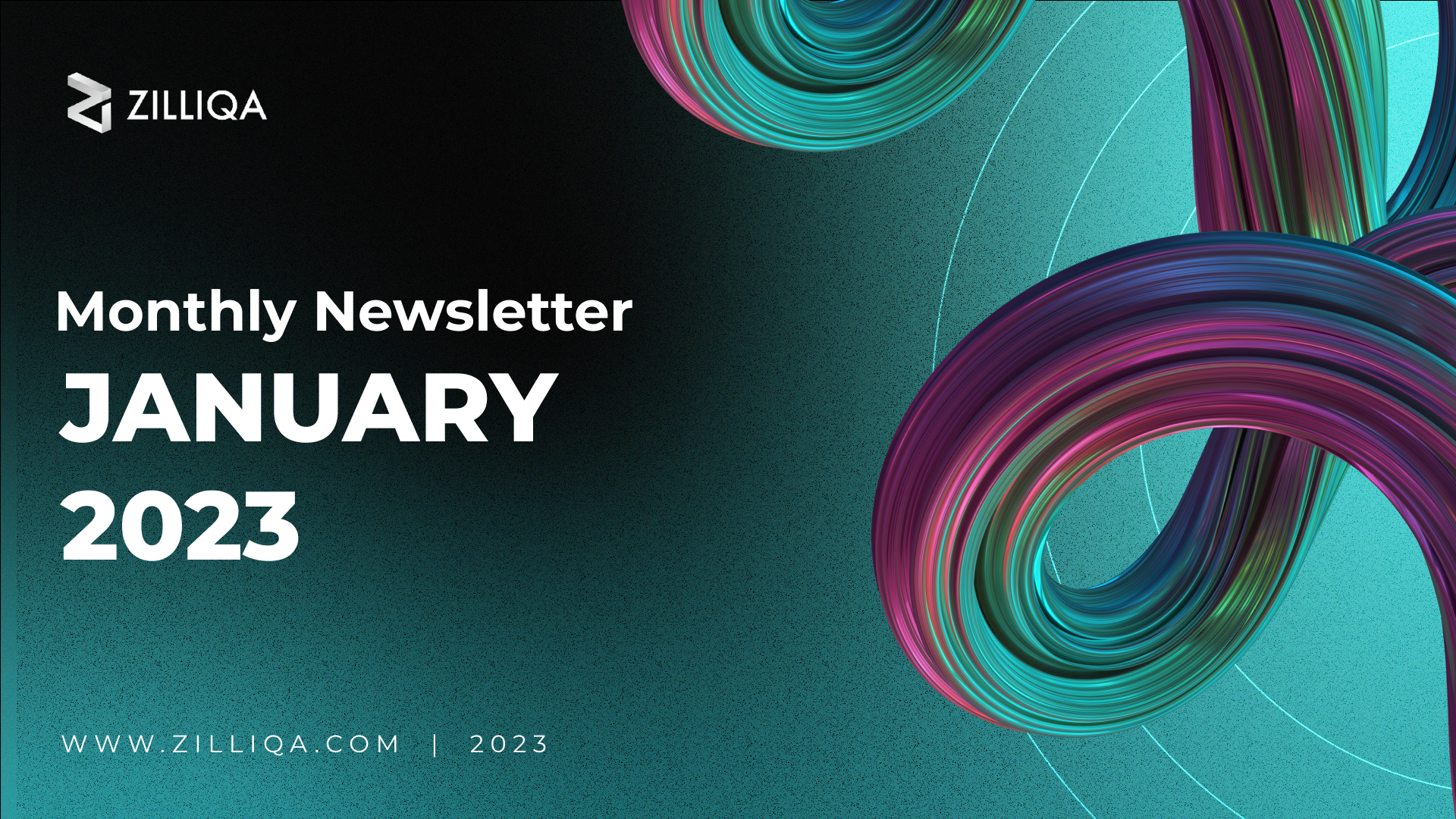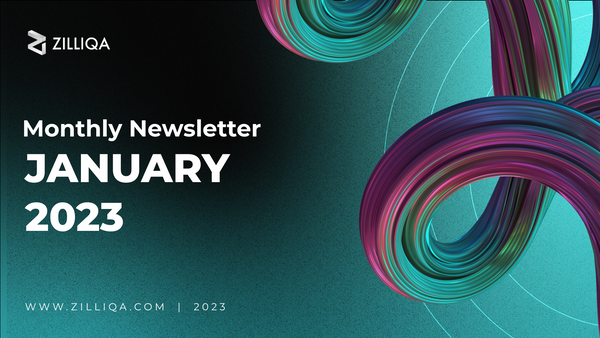 January was a strong start to an exciting 2023 for Zilliqa.
The implementation of Ethereum Virtual Machine (EVM) compatibility on testnet is progressing well, opening up the Zilliqa network to a huge pool of new developers and wallet users within the wider blockchain ecosystem.
We've outlined our plans for DeFi ecosystem growth, beginning with the announcement of the Ionise lending protocol, which will be the first EVM DeFi dApp deployed on Zilliqa.
January was also a massive month for several projects in the Zilliqa community, with the launch of IgniteDAO's Torch smart contract wallet, XCAD's new Android app, ZilPay's roadmap release, and much more.
Take a look at the highlights from January 2023 below.
General
The exciting future of DeFi on Zilliqa
Zilliqa CEO Matt Dyer outlined the strategy for building and growing DeFi on Zilliqa in 2023, beginning with the launch of Ionise, a lending and borrowing protocol coming in the near future.
Matt explained that this protocol is only the foundation of a nascent DeFi space poised for massive growth in the near future, aided by the upcoming launch of EVM compatibility on mainnet.
Read more about Zilliqa's exciting DeFi plans here.
Zilliqa at the Web3 Investor Gathering in Davos
Matt Dyer and Zilliqa Head of Investor Relations Bradley Laws attended the Web3 Investor Gathering in Davos during the World Economic Forum.
Matt appeared on the gaming panel at the event, where he offered powerful insights into the future of Web3 gaming and spoke about the need for games with real utility and value, such as WEB3WAR.
Check out photos from the event here.
Technical
Proposal to lower governance quorum
One of the biggest proposals on Zilliqa's governance platform this month was to lower the quorum to 8% in a bid to make decentralised governance effective and more efficient.
Previous votes often failed to pass due to the quorum not being met, which meant that important changes and improvements to the network could not be enacted.
This proposal aimed to resolve this by lowering the quorum requirement for voting on Snapshot to ensure active gZIL holders can participate effectively and have a say in the future of the network.

Official voting was conducted on Snapshot and the proposal has since passed, lowering the quorum required for all governance votes to 8%.
Read more about the proposal to boost governance efficiency on Zilliqa here.
Launch your own ZRC-2 token on Zilliqa
This month, we also took a look at the ZRC-2 token standard and how easy it is for users with no developer experience to create and launch their own token on the Zilliqa network.
The tutorial covers creating a testnet wallet, connecting it to the Scilla IDE, and deploying a standard ZRC-2 contract to deploy your own fungible token on the Zilliqa testnet.
Read how to create and launch your own token here.
Ecosystem
Roadmaps abounded in the Zilliqa ecosystem this month -  take a look at what's been happening in January.
XCAD Android app rollout
XCAD launched a new Android app this month and quickly reached a total of 10,000 downloads from the Play Store.
The company continued this momentum by signing three new CLOs who will be promoting XCAD and their own fan tokens to their subscribers.
XCAD gives progress update and removes access codes for plug-in and app
This month, XCAD also provided a detailed progress update on the rollout of its plug-in and Android app, as well as its ongoing growth in the watch-to-earn space.
Notably, the platform has also now removed access codes from the XCAD plug-in and mobile app for the creator area, welcoming new users to try out this functionality immediately.
IgniteDAO launches Torch wallet
January saw the launch of Torch wallet, a non-custodial, smart contract wallet created by Ignite DAO and available to download now for mobile devices.
The wallet offers unique features such as instant un-staking and reputation points, and it has seen impressive early adoption, reaching more than 1,250 signups in short order.
Pintar reveals roadmap for 2023
Pintar has published its official roadmap for 2023, detailing its plans for upcoming application launches and its perseverance despite the bear market.
The roadmap gives updates on a number of key projects, including ZilWall, Lamper, and the ZILALL DEX.
ZilPay reveals wallet roadmap and launches SSN
It was a big month for the team at ZilPay, too, who published a roadmap detailing the development of features for their wallet.
ZilPay also launched its first Staked Seed Node (SSN) in January, encouraging the Zilliqa community to become early supporters.
Tyron shares roadmap for 2023
Tyron has joined many other projects in the Zilliqa ecosystem in publishing a roadmap for 2023, which details their plans across a number of projects - from NFTs and .gZIL domains to a new SSI dApp.
Read the full roadmap here.
Avely Finance launches SSN on testnet
Avely Finance announced this month that its Staked Seed Node (SSN) became active on the Zilliqa testnet, with plans to launch on mainnet in future.
ZilSwap shares its roadmap for 2023
ZilSwap has revealed its development roadmap for the upcoming year, focussed around its key goals of mitigating user risk, adding requested features, and creating stronger support for liquidity pools.
Read the full roadmap here.
Pelenia looks back at 2022 and gives a preview of 2023
In January, Pelenia shared a blog post looking back at the past year and the current state of the project before giving users a preview of what they can expect in the year ahead.
LunarCrush announces LunarCrush Trade
LunarCrush made a splash this month with the official announcement of LunarCrush Trade, a powerful non-custodial, multi-chain, multi-asset trading tool enabling you to seamlessly trade cryptocurrencies across various blockchains.
Find out more about LunarCrush Trade here.
PackagePortal shares 2022 recap
PackagePortal released a video that looks back at the project's activity in 2022 and outlines their strategy for continued development and growth in 2023.
Watch the full video here.
AMAs
PINTU Crypto Gaming Session with Kevin Meyer and RRQ
Zilliqa Ecosystem Marketing Manager Kevin Meyer joined RRQ Co-Founder and CEO Andrian P for an in-depth AMA session hosted by PINTU.

They discussed everything from the partnership between Zilliqa and RRQ to the growth of Web3 gaming and the utility of blockchain for esports and competitive gaming.
Watch the full AMA session here.
Gaming
WEB3WAR gets massive update with new features
It was a great January for WEB3WAR players, who were treated to a major update that added a bunch of new features.
The new features added in beta v0.16 included a new progression system, overhauled loadout screen, unlockable attachments, and much more.
Check out the full release notes here.