Zilliqa Monthly Newsletter — Aug 2022 Newsletter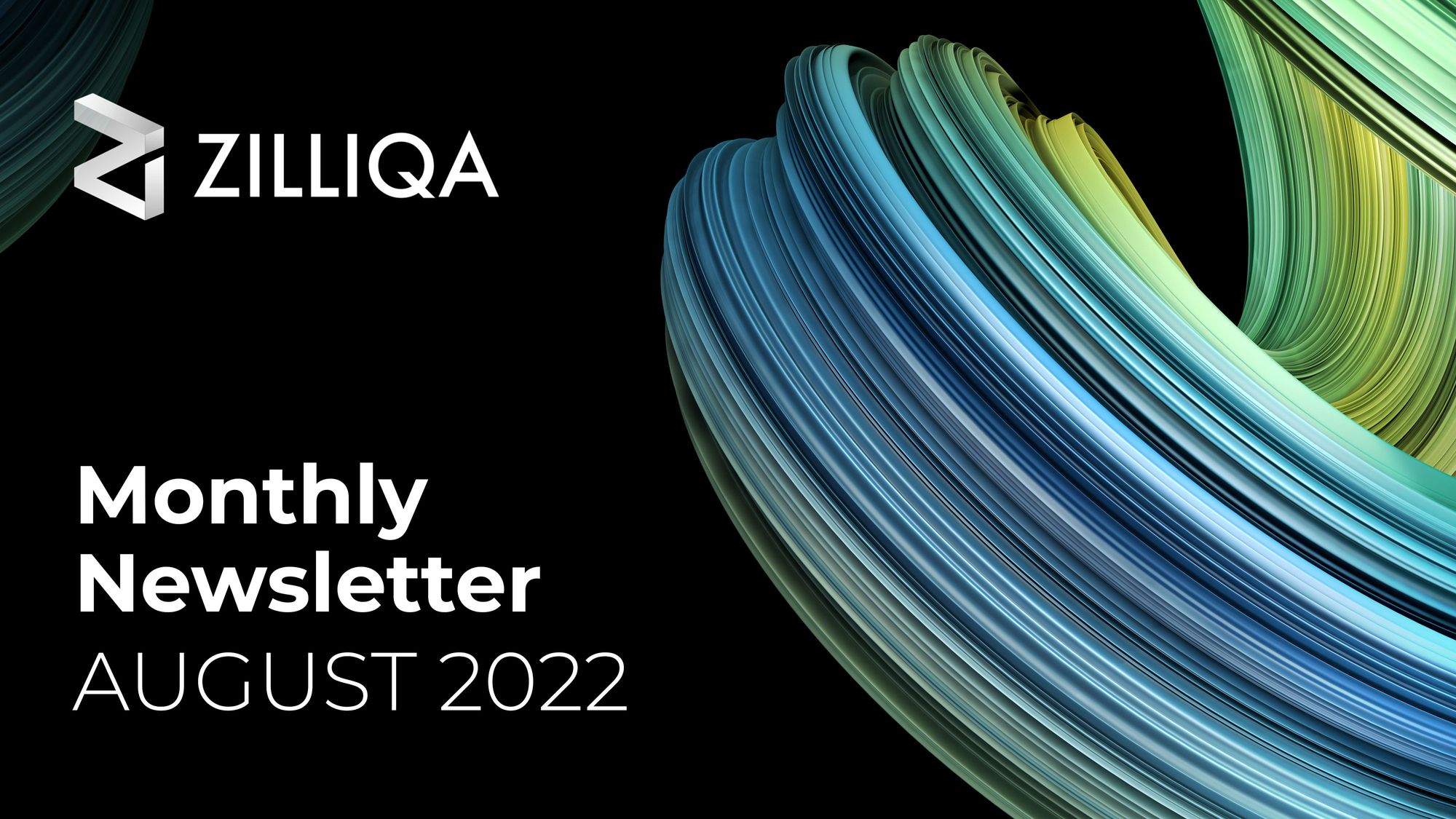 Zilliqa Monthly Newsletter — Aug 2022 Newsletter

August was a month of milestones for Zilliqa! We celebrated two very significant events, ZIL5 and hitting 40 million transactions on mainnet!

The driving force behind these accomplishments is none other than our very vibrant and supportive ecosystem, always buzzing with activity. In this month, Tyron introduced Zilliqa's first wallet with Social Recovery for staking, Soulless Citadel launched its official merch store, and Pelenia just published its white paper 2.0. We also officially announced the name of our shooter game, WEB3WAR!

The month has been action-packed and there's no other way we'd have it.

Let's get into the best of August!


Ecosystem
Zeeves To Launch Its Own NeoBank

Zeeves, which first launched as a Telegram-based wallet for Zilliqa, is on track to launch its very own NeoBank in Q3!

The NeoBank is powered by crypto-BaaS (Banking as a Service) platform Striga, and it will enable users to hold both fiat (EUR) and crypto (ZIL & all ZRC-2 tokens) within a single platform, and exchange fiat for crypto or vice versa. Think of it as a crypto version of Revolut, where you can transact and purchase more easily through either EUR or ZIL.
Learn more about the NeoBank here!

Zilliqa Ecosystem-at-a-glance

Take a look at what's been going on within Zilliqa's vibrant ecosystem!
IgniteDAO Features Upgraded
IgniteDAO has introduced FaceID, and stakers can soon expect instant unstaking and autostaking.
Tyron Launches Zilliqa's First Social Recovery Wallet For Staking

The team at Tyron have launched the ZIL Staking Wallet, which is the first of its kind for enabling Social Recovery!

Soulless Citadel - Merch Store Launched On Aug 1

Soulless Citadel's merch store has launched! The community can now buy t-shirts, mugs, hoodies, phone cases with the Soulless NFTs that they own printed on it.

DeMons Team Releases Teaser Of Upcoming DeMonverse

The amazing, high-quality audio and graphics of the DeMonverse was revealed in the DeMons team's latest teaser, and it's all powered by Metapolis!

OG The Bear Market Reward Distribution

Bear Market NFT owners can now claim their rewards for holding them. The rewards comprise 15% of platform fees earned on ARKY and 100% of royalty fees on The Bear Market NFTs.

ZilVerse To Launch NFT Gallery Viewer For Zilliqa
ZilVerse has built an interactive and immersive web-based gallery for displaying and viewing all your owned NFTs.

Heroes Of Lowhelm Released July 2022 Report
Check out the latest artwork and developments over at Heroes of Lowhelm in their July 2022 monthly report!

EnviZion Hosts Panda Director Academy Event

The first event of the Panda Director Academy was held on August 19th, and the feature preview of EnviZion appeared in this event.

Pelenia Publishes White Paper 2.0
Pelenia's new White Paper 2.0 was published, outlining several updates to the development of Pelenia and a "transparency" report covering the admin's wallets, ecosystem smart contracts, and monthly expenses.

Battle Mechs By Blox To Introduce Battle Royale Mode
The Battle Mechs game will introduce a Battle Royale mode soon, with greater customisation and environmental interactivity on the way.

The Forbidden Verse Publishes Monthly Report For August
August has been an active month for The Forbidden Verse, from partnerships to the listing of Forbidden Verse NFTs on ZilSwap. Read it all here!


Partnerships
Zilliqa Partners with Blockchain Gaming Titan Alien Worlds
Zilliqa entered a partnership with blockchain gaming titan Alien Worlds, which will see Alien Worlds pursue integration with Zilliqa blockchain via our Unity SDK. Alien Worlds will be able to tap on Zilliqa's esports partnerships as a platform to showcase innovative in-game DAOs and Player vs Player (PvP) features to a mainstream gaming audience.

This is a significant step that will help to expand Zilliqa's portfolio of competitive blockchain games ahead of our gaming hub.

More here!


General

Zilliqa Celebrates Its 5th Anniversary

We celebrated ZIL5, our 5th birthday on 4 August! It has been 5 years of building, innovating, and growth.

None of our past achievements would have been possible without the support of you, our dedicated community and developers who are constantly working to create new and value-driven dApps, wallets, DeFi protocols, NFT marketplaces and more that empower both individual users and business entities to do more.

Thank you for being a part of our journey and let's move forward together, stronger than ever!

Zilliqa Hits 40 Million Transactions On Mainnet

Just two days before ZIL5, we celebrated another equally significant milestone — 40 million transactions on our mainnet!

It's a sign of how far we've come, and reflects the hive of activity taking place throughout our diverse ecosystem.

We're also looking several steps ahead in order to grow the depth of our ecosystem and welcome more people into our community, and we will be doing so by working towards EVM compatibility as outlined in our Zilliqa 2.0 roadmap. Expect to see EVM-related developments accelerate at an increasing pace and more projects being built on Zilliqa!

Thank you all for your support, trust and confidence!

Gaming

Gamescom 2022 And WEB3WAR Name Reveal

The team made their way down to Gamescom in Cologne, Germany, and it was there that the name of our shooter was finally announced — WEB3WAR! The official WEB3WAR website also went live alongside the Discord channel, which you can find below:

http://www.w3w.game

The momentum of Zilliqa's advance into the gaming arena is fast, unstoppable, and much more is in the pipeline. More details will be announced soon!

Here are some pictures from the event:



WEB3WAR Updates

Prior to the official announcement, we kept the community updated on WEB3WAR's ongoing development and new features. Here are some of them:

We introduced new animations, a horizontal compass, a kills feed, and hit markers among others to multiplayer.

Multiplayer matches can now be played across Windows PC, iPhone, iPad and Android! This extends to cross-play and cross-progression as well.


The community got a look behind-the-scenes on how we designed the Containers Map with the full power of the Unity 3D engine behind it.

Survival Game Teasers

Even before the official reveal of WEB3WAR's name, our gaming team has already made progress on their next project. We dropped several teaser videos of our upcoming survival game in August!

Teaser 1:
Teaser 2 Abandoned Factory  
Industry Recognition

Sandra Helou's Feature In Rolling Stone Magazine

When you're good at what you do, people can't help but notice!

Metapolis Chief Commercial Officer and our former Head of Metaverse & NFT Sandra Helou was recently recognised by Rolling Stone magazine as one of the leading women shaping the future of Web3. Check out what she had to say in the article here!

Tom Fleetham's TechCrunch Commentary: How To Incorporate Web3 Gaming Into Your Web 2.0 Strategy

Tom Fleetham, our Head of Business Development, Sport & Gaming recently got his commentary featured on one of the most prominent tech publications, TechCrunch!

He tackles the topic of how Web 2.0 enterprises can capture opportunities presented by Web3 gaming, from building community awareness to designing sustainable tokenomics and business models.

TechCrunch is a great publication and gets over 11.60 million unique monthly visitors and gives great visibility and will strengthen the message and narrative around Zilliqa's gaming vision, which in turn should bring more eyes to the Zilliqa blockchain and other projects on our chain.

Read Tom's commentary at TechCrunch here!


Ventures

ZILHive Mentors

ZILHive has just introduced a new set of Incubator mentors, which includes Sandra Helou, the CCO of Metapolis!


Community

Community Ambassador Update
9 new Ambassadors were onboarded, with the total number standing of 32 as of the end of August. Work has already been initiated as Moderators on Telegram, Discord as well as W3W Discord.

Localisation Of Social Accounts
We've made significant progress over the past month in launching Social Media Localisers. Here is a list of our fresh new accounts which you can follow:


Translations are in the works pending a technical issue in our blog. The upcoming plan is to launch Social Media Raiders next month in preparation for our upcoming gaming launch (and other initiatives).

More Community Ambassador modalities are set to come in the near future.
Developer Ambassador Program launch

Starting in September, we will initiate the re-launch of the Developer Ambassador Programme. A small cohort of OG Community Developers will be hand picked to collaborate with core Zilliqa Team to build a next-in-class Dev Ambassadorship.


Out and About
Zilliqa Attending Messari Mainnet in NYC

There will be members of our team representing Zilliqa at the Messari Mainnet event down in New York in September! We'll be spreading word of all the amazing projects in development at Zilliqa, so if you're around, let us know and come say hi!

Tickets are still available here!

Asia Crypto Week & Token 2049 Conference In Singapore

We will be attending a host of events between week commencing 26 September - let us know if you will also be in Singapore and would like to meet.