Zilliqans: Get ready for 2022! It's going to be an adventure
We've been building up our team to have the best in the space — but more importantly, we're recruiting those who can think differently, come at problems from a unique perspective and help us realise our ambitions along with the wider team.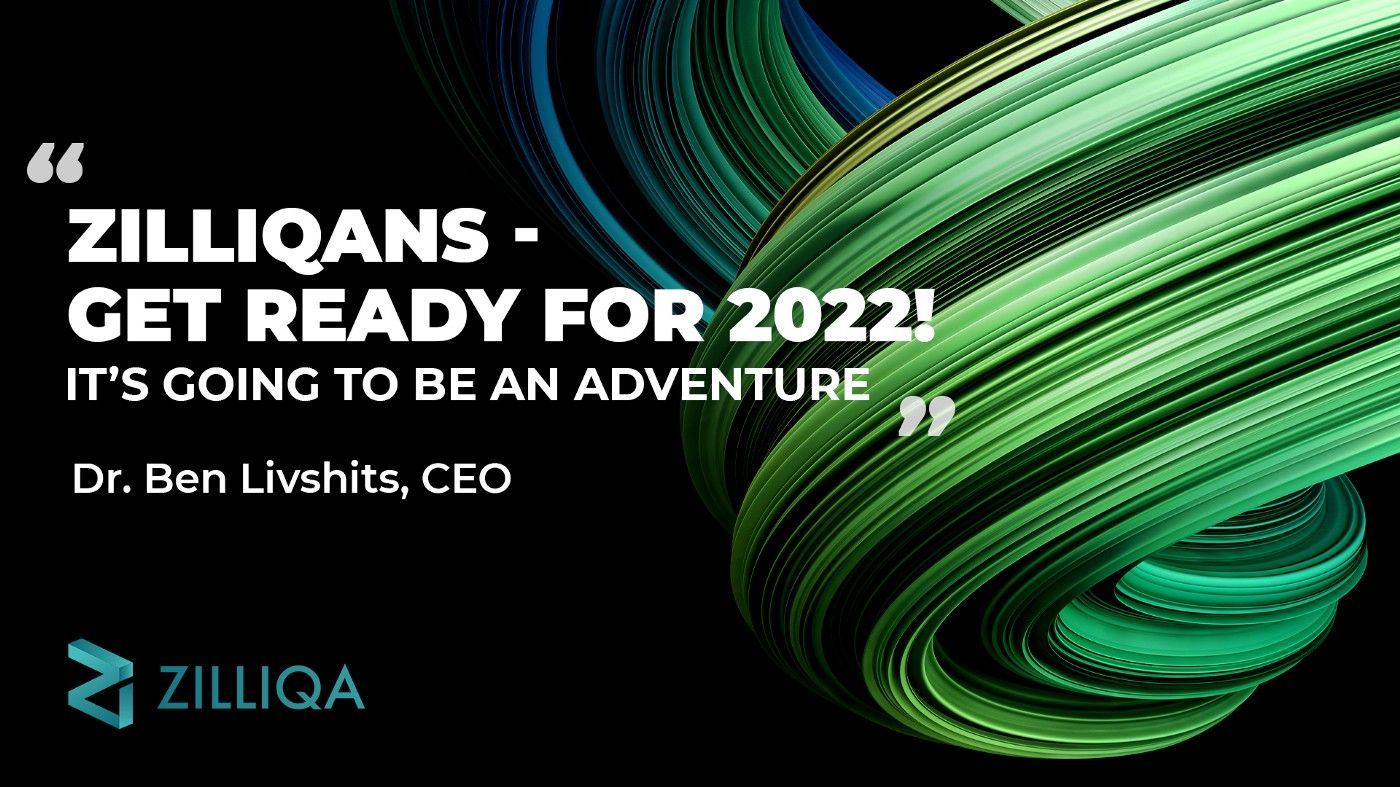 Hello Zilliqans,
The fast-paced industry, the crypto market lows and highs, and uncertainties around Covid-19 continued to create a trifecta of challenges for all this year, but we're proud to say that at Zilliqa, we weathered the storms, and kept building our ecosystem to welcome wonderful dApps that are sure to move the DeFi needle in the near future.
It is easy to lose sight of the bigger picture when one is curled up in their decentralised nooks. So as we head into 2022, let us remember where we're going, what we're working towards, applaud excellence and reset for an even brighter year.
Reflecting on Some Recent Successes
Token-wise — From 2020 to 2021, ZIL recorded a 648% increase in annual average of market cap, and our average 24-hour trading volumes rose by 189%. ZIL became more accessible to a range of people outside crypto this year. Accredited and retail investors were able to play around with DeFi on Zilliqa via instruments like the Valkyrie Trust and Binance.
Within the ecosystem — we were proud to see a user-centric application like Package Portal take over the Nasdaq billboard in Times Square to promote their Web 3 rate2earn data application. dApps like the recently-launched Pillar Protocol are sure to attract more liquidity in the future. As trends, play-to-earn and view-to-earn are gaining a powerful global user-base, and we can't wait to see what the likes of BLOX-SDK, XCAD Network and DeMons achieve.
Commercially — Zilliqa also made a concerted push into leveraging blockchain for gaming, esports, music and the creator economy industries- with the likes of UFFS and of course, Ninjas in Pyjamas, LunarCRUSH (who successfully launched their token and enjoyed some record-breaking on-chain txn volumes), and Token Traxx. We're also enormously proud to have played a role in furthering open commerce across Indonesia with the launch of the Xfers' Indonesian rupiah stablecoin.
Technically — To stay ahead of the curve in anticipation of delivering superior quality within our NFT marketplace and Metapolis platforms, we've even released a new NFT standard ZRC-6!
Team Expansion
We've been building up our team to have the best in the space — but more importantly, we're recruiting those who can think differently, come at problems from a unique perspective and help us realise our ambitions along with the wider team. So far, we've been very pleased with the quality (and quantity) of applicants across both technical and commercial positions. If you haven't applied yet, you still have as much of a shot as anyone else — check out the vacancies and keep them coming. It's really heartening to see people resonate with our pragmatic and quality-oriented approach to building a better team to continue building a better blockchain.
While we have been relatively quiet, that's not a bad thing; it's especially good to let engineers do what they are best at and build. We are taking a number of important strategic steps in scouting out some of the best partners to work with in the coming year, from partners that helps us fill some of the gaps in the Zilliqa DeFi ecosystem to some of the cryptography experts we are starting to lean on for our more advanced features and plans.
Looking Forward to a Successful 2022
Amidst what can be only described as a chaotic, creative and exciting evolution — we're still experimenting with new ways to leverage blockchain. Our NFT and Metaverse platform launches — utilising cutting edge extended reality (XR) is a clear example. Through 2022, we'll be forging partnerships that can help us deliver these tools in a seamless way — retailers, e-commerce, esports, gaming, art and culture are all in our pipeline. We're working on a renewed technical roadmap, to be released in Q1.
We're conscious that the shape of crypto is transforming constantly and new trends are emerging almost too quickly. To stay abreast of these, we're committing to becoming more data-driven in everything we do. I am confident that this will have a noticeable impact on efficiency and outcomes. But yes — I do not discount that in blockchain, one has to leave certain room for agility and quick changes in strategy when the community, industry, and ecosystem require us to do :) For a modern L1 such as Zilliqa, pursuing a single vertical is simply not an option: we need to maintain a growing momentum on many fronts. You will certainly see more related to DeFi, NFTs, and gaming in coming months.
Next year, our community engagement strategy will also be given a great deal more structure, with the Ambassador program assuming a renewed level of importance. As always, we count on your support and positive engagement to kick this into high gear and recruit the best across the globe. We are also looking for capable community managers to help us grow this initiative; please apply here.
The community, developers, development shops, and entrepreneurs will be an integral part of this. By identifying new opportunities and market gaps, we're looking for imaginative dApps to bring people into crypto and truly generate value for users. Let us move past imitating what's out there, and instead focus our energies on leapfrogging the competition.
Until 2022, Happy Holidays from myself and the entire Zilliqa team!
Best wishes,
Ben