Zilliqa Monthly Newsletter — October 2021
October was a great month filled with tons of incredible news for Zilliqa with key announcements and significant partnerships being formalised. From a new CEO, our entry into the esports arena to a Zilliqa trust being set up.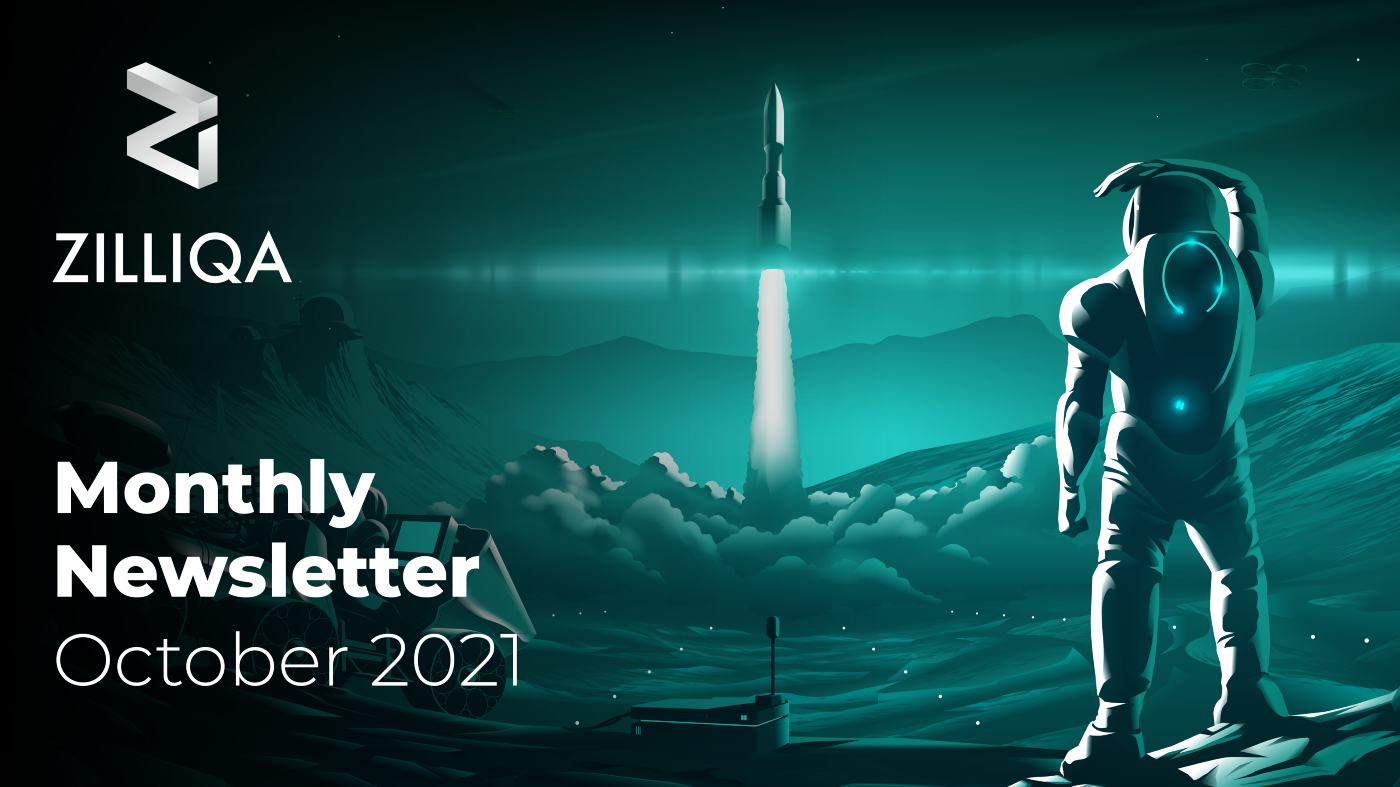 October was a great month filled with tons of incredible news for Zilliqa with key announcements and significant partnerships being formalised. From a new CEO, our entry into the esports arena to a Zilliqa trust being set up. Let's take a look back at all that went down in the Zilaverse in the past month!
Announcements and Major News
Appointment of Dr Ben Livshits as CEO of Zilliqa
We welcomed a new CEO to Zilliqa, Dr Ben Livshits. Dr Livshits is a visionary with years of experience in the tech industry under his belt. Most notably, he was the Chief Scientist at Brave, driving the research and commercialisation of the privacy-preserving Brave browser to 40 million users today. Dr Livshits will look to reinvigorate Zilliqa's commercialisation and marketing efforts as we continue to work towards becoming the Layer-1 of choice for both users and developers. Read more about his appointment here.
Liquidity Mining Begins on ZilSwap!
Following the launch of ZILBridge in late September, liquidity mining incentives were announced to encourage users to pool their assets and bootstrap liquidity for ERC20 assets on Zilswap. 45.3 million ZIL in incentives were to be distributed across 6 weeks starting from October 6th. The liquidity mining helped attract approximately $30million USD worth of ERC-20 assets to bridge over. This has also helped increased ZilSwap's TVL by $23million USD, which is approximately a 50% increase in TVL since ZilBridge went live!
Valkyrie Zilliqa Trust Announced
Valkyrie Funds, the alternative asset management firm, who also just recently got approval for the Bitcoin Strategy ETF, unveiled the Valkyrie Zilliqa Trust. The inception of such a trust allows for institutional and accredited investors to gain exposure to Zilliqa with Valkyrie acting as a custodian. To better understand what this fund means for Zilliqa, read the Twitter thread and article here.
NIP Announces Zilliqa as its Official Blockchain Partner
Our journey to becoming the choice blockchain for the growing creator economy has led us to the esports industry. We've partnered with Ninjas in Pyjamas to become their official blockchain partner with our sights set towards building utility and value for their fans with our technology. The announcement tweet thread details the whole partnership and the way forward for both us and NIP.
LunarCrush launches LUNR ZRC-2 token
As a way to provide value back to users and incentivise them for active participation in helping to grow their network, leading crypto social analytics tool LunarCrush launched their LUNR token. Learn more about the LUNR token on their website!
ZilSwap launches ARK NFT Marketplace
Last month Switcheo announced their intent to build an OpenSea-like marketplace for NFTs on Zilliqa. This month, they've launched the ZilSwap ARK NFT Marketplace! The ZilSwap ARK Marketplace for NFTs has seen tremendous growth in volume. Within a week of its launch, 1.2million ZIL of volume was achieved by ARK, showing the tremendous demand that our NFT ecosystem has. This is in addition to the other existing NFT marketplaces that Zilliqa already has including Mintable, Sparda Wallet and Okimoto.
Partnerships, Integrations and Exchange Listings
LCX Provides Compliant Token Sale Infrastructure for Zilliqa dApps
LCX, a blockchain innovator out of Liechtenstein, announced a strategic partnership with Zilliqa to facilitate a fully compliant token issuance and sale solution for issuers. This will enable for a safer, compliant and transparent token sale infrastructure for projects and businesses looking to build on Zilliqa.
MyConstant Integrates Zilliqa
MyConstant is a widely used Peer2Peer lending platform that serves over hundreds of thousands of dollars in lending and borrowing volume daily. They've just integrated Zilliqa into their services, allowing users to use Zilliqa as a collateral for borrowing other assets. Check out the announcement to learn more about what you can do on MyConstant with your ZIL!
Exchange Listing: FMFW.io
Zilliqa was also listed on FMFW, a centralised exchange offering more than 200 different digital assets for trading.
Ecosystem Project Updates
DeMons sells out their second batch of NFTs, CryptoApes, in under a minute!
DeMons released their second batch of NFTs, the CryptoApes. The CryptoApes is part of the 666 creatures set to populate their DeMonverse with its NFTs giving utility to its holders by allowing them to earn yield in the form of DMZ tokens, the native utility token of the DeMonverse.
Pillar Protocol Launches with about $900k USD in Collaterals Locked
Pillar Protocol, the algorithmic stablecoin protocol which allows for people to mint the USD pegged PIL stablecoin with ZIL as collateral launched this month. Currently, the protocol itself has $900k USD worth of collaterals locked in the protocol. The protocol also allows for gZIL staking. Click here to view a tutorial on how to use the protocol.
ZILHive Hackathon
ZILHive just concluded their Gitcoin hackathon. The hackathon titled "Zilliqa: NFTs Beyond Art: concluded with 49 project submissions with 498 participants. Good luck to all who participated and we hope to see some of these projects on our ecosystem!
IgniteDAO
IgniteDAO released part 2 of their plans and vision for the DAO which details how they intend to create utility and value to gZIL holders as a DAO through the introduction of the Torch wallet. To get a better grasp of what their plans are read the full medium article here.
Bridging of XCAD ERC20 tokens
Holders of ERC20 XCAD tokens can now bridge over their ERC20 XCAD tokens to use them on Zilliqa mainnet. For more on the docs of how to bridge the tokens, check out their tweet.
Community Updates
The Zilliqa Observer Weekly Updates with Amrit Kumar
The Zilliqa Observer hosted by Chase Raz started its weekly Zilliqa Updates session with Amrit, give it a watch if you like your weekly updates on the happenings in and about the Zilliqa ecosystem!
Forkast Interview with Max Kantelia
Co-founder of Zilliqa, Max Kantelia, had an interview with Forkast News on Luxury Brands on the blockchain and how Zilliqa intends to position itself to capture this inevitable disruption of luxury goods on the blockchain.
PolyNetwork AMA with Milan Shoukri
PolyNetwork had a telegram AMA with our VP of Partnerships and Marketing, Milan Shoukri, where they talked about the appeal of building on Zilliqa, the ZilBridge and more.
Green Zilliqa Initiative
The Green Zilliqa initiative started by one of our community members, Cameron Sajedi, has kicked off. Read more about the plans of the kickstart phase of this initiative in this blog article.
Governance Updates
Proposal for Increasing Interest Rates based on PIL Minted
A governance proposal involving the Pillar Protocol was set up. This proposal outlines the increase in borrowing interest rates for borrowing PIL depending on the total value of PIL minted. This increased interest rate will in turn lead to higher APRs for gZIL stakers on the Pillar Protocol. Read the proposal here.
Bonded gZIL
Another governance proposal was set up by zcapitalist. The gist of the proposal is to create discount bonds for gZIL that people can buy using ZRC-2 tokens such as ZIL and XSGD with the sale of these bonds going to the treasury, which will be disbursed to the gZIL stakers. Join the discussion here.
Network Stats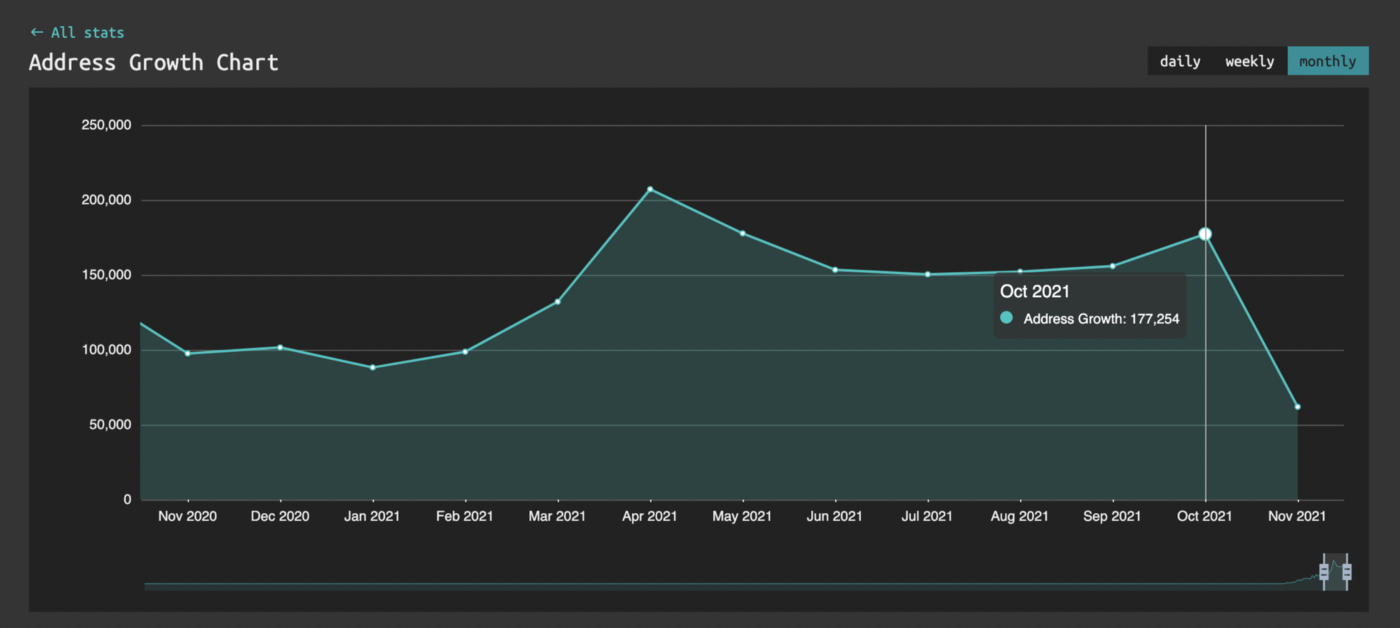 In October 2021, we saw 177k new wallet addresses created. This is a 13% increase compared to September 2021. The network saw 1.54m transactions, a slight increase from the 1.52m in September.
Language and Platform Updates
Protocol Level Updates
The Zilliqa Javascript Library v3.3.2 was released. Improvements such as a fix for .d .ts file type checking error in subscriptions package were introduced. For the full release note please visit the github page.