Zilliqa Monthly Newsletter — November 2020
We started off the month by recording 3 billion $ZIL staked just three weeks after the landmark launch of non-custodial staking, and now have over USD 100 million locked in.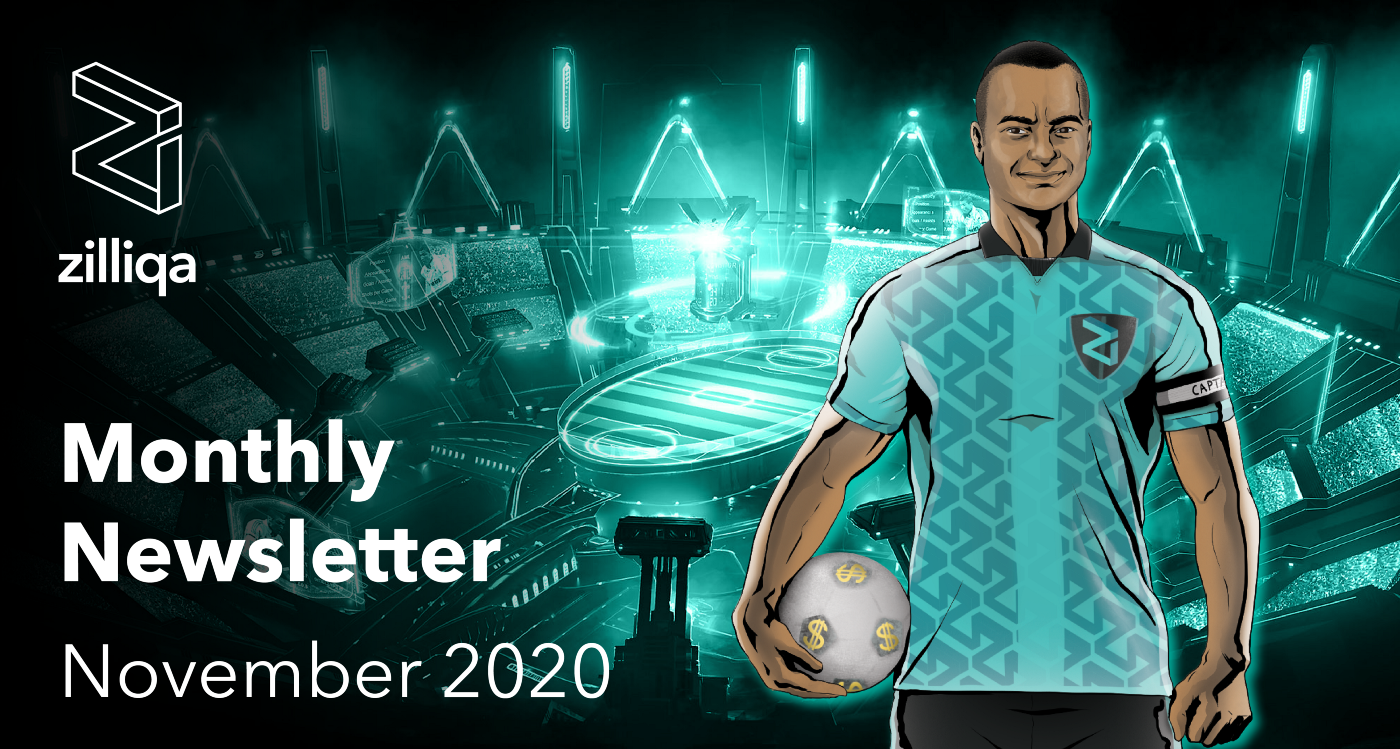 Hello friends,
From new appointments to new breakthroughs, November 2020 did not disappoint. Let's take a look at the highlights.
We started off the month by recording 3 billion $ZIL staked just three weeks after the landmark launch of non-custodial staking, and now have over USD 100 million locked in. We had hit the milestone of 8 million transactions and by month end, we hit new highs, crossing 10 million transactions. Today, over 1 million Zilliqa addresses are in existence.
On the commercial front, you've already heard that long-time Zilliqan Matt Dyer has been appointed Head of Sales & Marketing. With solid enterprise experience, he will work across the marcom and ComTech teams to accelerate Zilliqa productization and adoption worldwide — which is what 2021 will be focused on.
Technical Updates — Platform & Scilla

The tech team recently generated Zilliqa v 7.0.0 and will be upgrading the mainnet to this version on December 21. This version will include:
Improved transaction tracking using GetTransactionStatus API
New governance mechanism for miners (as outlined in ZIP-9)
Reduced blockchain data storage for miners
Migration of base OS from Ubuntu 16.04 to 18.04
Release of shard leadership to community nodes
Integration of Scilla v. 0.9.1
Speaking of Scilla, the team also fixed a critical bug in the Scilla type system that was blocking the release of external libraries and remote state reads
Listing Updates
Ecosystem Updates

Mintable App 2.0 is finally here! Additionally, their first-ever NFT DAO which has no ERC-20 but voting is facilitated via NFTs (ERC-721s) — in this case, MINT tokens. Read more about the Mintable NFT DAO here.
Contactless delivery provider Package Portal, powered by Zilliqa announced a new campaign in which people can earn PORT tokens by buying items from their merch collection.
Xcademy released a sneak peek of their project powered by Zilliqa, focused on tokenizing influencers, rewarding YouTube creators & the consumer experience.
Rankings

According to social listening expert LunarCRUSH, Zilliqa enjoyed an extremely bullish and positive November, with a weekly return of 21.85% to $0.027518, around 17.8K bullish social posts led by influencers such as @Zillacracy @CryptoWizardd @Oly245 @Crypto_Guy_UK. Thank you to our community for constantly sharing our great news and updates with the world!
Zilliqa was also listed among the "Top 10 coins by AltRank™". We were also "Coin of the Day" on 25 November when the price and other indicators soared:
Price $0.032415 +33.56%
4,408 social mentions +188.10%
7,474,522 social engagements +189.35%
128 avg hourly contributors +116.95%
An in-depth report on Zilliqa was published by cryptocurrency research group 'House of Chimera'. Take a look here.
Author & Trader Nik Patel also did a deep-dive of the company in a follow-up Coin Report which covered our developmental progress since February, $ZIL and its price-history, the community, staking & lots more. He awarded Zilliqa a 9/10 score. Read his report here.
In the News
Zilliqa President and CSO Amrit Kumar was featured in global broadcast and digital crypto media in November including Rice Crypto, CoinDesk, and the Wild West Crypto Show.
Meanwhile, a thorough report commissioned to Fundstrat Analysts on Zilliqa, and the OpFi market in ASEAN was released earlier in the month, and its findings were featured in news outlets like Ethereum World News and Altcoin Buzz.
You should also check out this community-made video by Exodus Wallet on Zilliqa.
For further information, please refer to: