Zilliqa Monthly Newsletter — May 2020
Not only have we surpassed 4 million transactions since the launch of our mainnet last year, but we've had unprecedented engagement from our community, thanks to our two big SocialPay campaigns.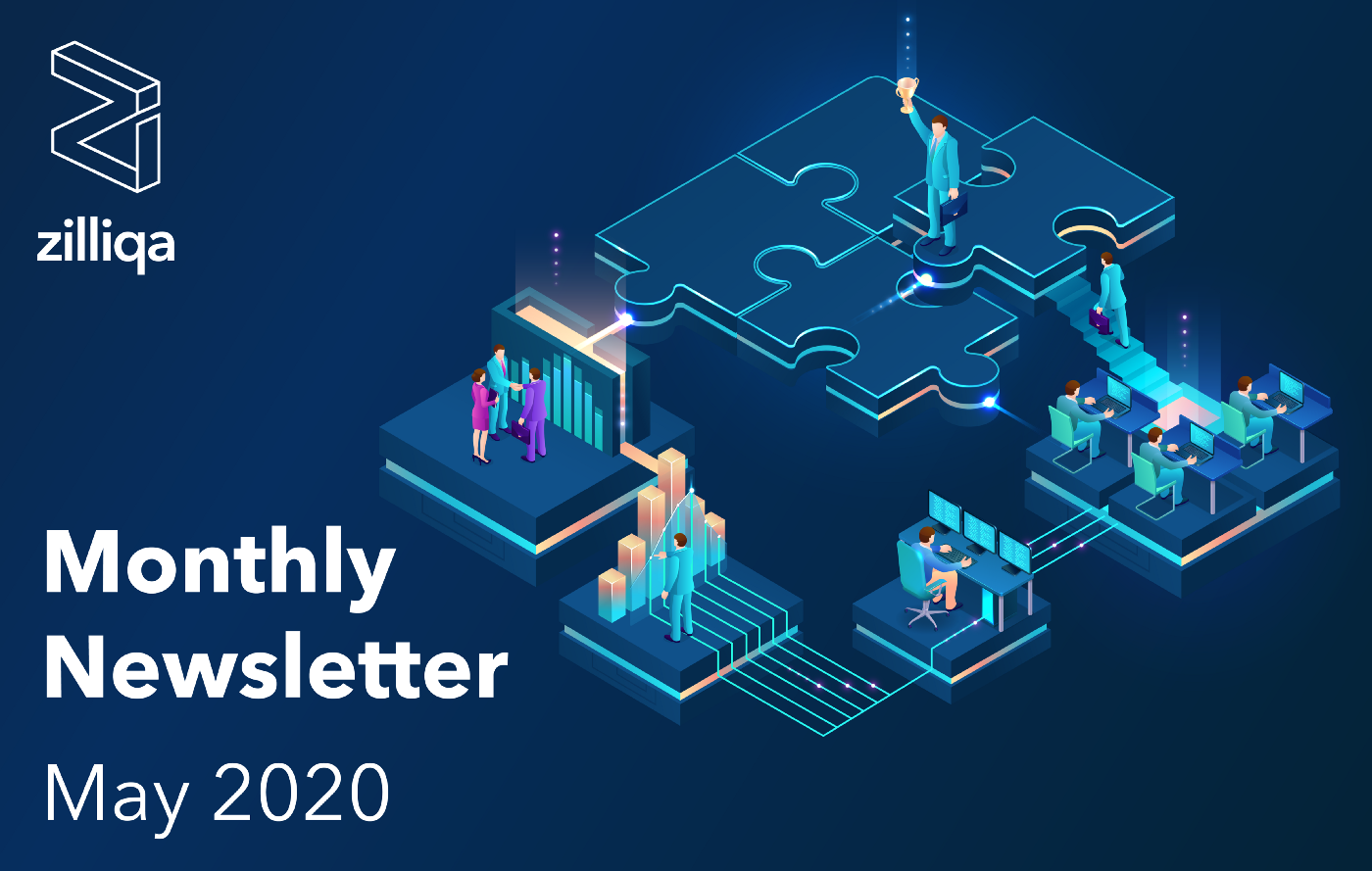 Hello world!
It's been a busy yet highly rewarding month at Zilliqa.
Not only have we surpassed 4 million transactions since the launch of our mainnet last year, but we've had unprecedented engagement from our community, thanks to our two big SocialPay campaigns.
This rewards-based model really marks the beginning of something innovative and powerful for the crypto and advertising industries, and we're excited to see how we can leverage and develop it. Furthermore, the project was a successful case study in teamwork, gathering experts from platform team, developers, and of course marketing and community managers. It took a round-the-clock effort to bring SocialPay to fruition, but together with your support…we made it happen and enjoyed resounding success.
SocialPay Marketing & CSR Campaigns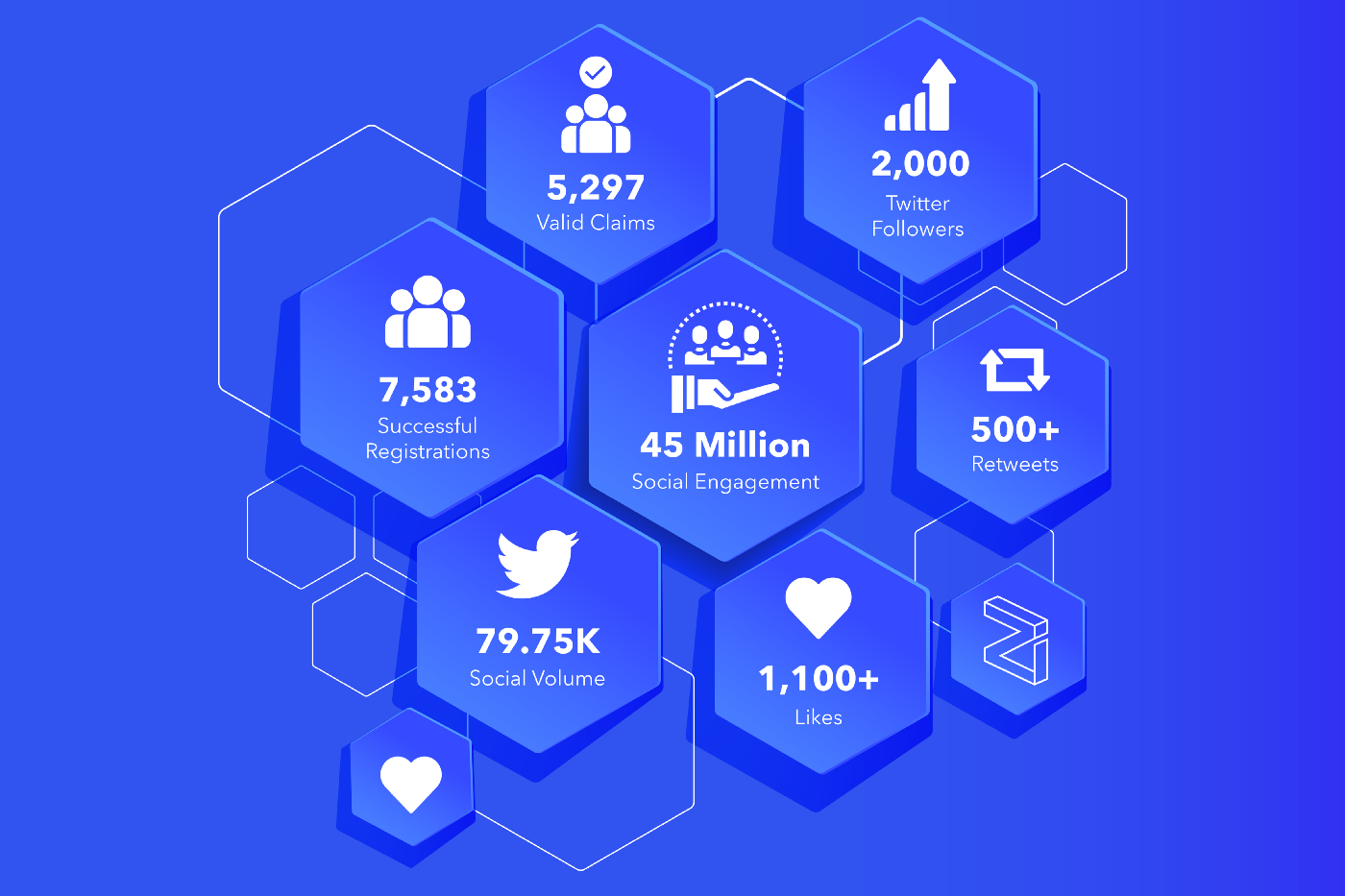 Following SocialPay's stellar preliminary campaign results (see above) — we went on to try something slightly different in our second attempt. SocialPay 2.0 was designed on a smaller scale and with Corporate Social Responsibility (CSR) in mind — given the current climate dominated by the Covid-19 pandemic.
In this second edition, we rewarded 300,000 $ZIL to 14,308 global users. We matched the same amount — 300,000 $ZIL — as our donation to Singapore Red Cross, as promised. The Twitter-focused campaign saw great success, recording over 38k mentions of #ZILCovidHeroes. Within the 26–27 May period, we also saw 1216 new wallet registrations through our bot-ler Zeeves!
Growing our Global Community

As part of our efforts to grow our global community and make sure they have access to accurate information without a language barrier (and to encourage people to have their own conversations and meet-ups), we've been encouraging and facilitating the creation of more community-run groups. In May, we oversaw creation of two groups: ZilliqaIndia and ZilliqaTurkish. As of today, we have our eyes on 12 different community groups.
We will continue to identify any hotbeds of crypto enthusiasts who want to know more Zilliqa, and support the creation and growth of groups for those regions/countries.
Ecosystem Updates

ZRC-2 ready
Non-custodial
Supports Ledger Nano
Supports staking (coming soon)
Available on iOS, Android & Chrome
Onwards & Upwards, Constant Activity

FCAS: In mid- May, data shows a 35-point increase in ZIL FCAS over a 20-day period, driven by a spike in User Activity of 65-points (11.04%). Developer Behavior and Market Maturity also went up 12-points (1.46%) and 64-points (8.84%) respectively. Zilliqa continues on a strong upward trajectory on FCAS
LunarCRUSH: This social listening platform has ranked us #1 out of 2041 altcoins 5 times in May!
Jon Farjo, Chief Product Officer, LunarCRUSH said: "$ZIL is almost breaking our charts. This shows real growth of individuals vs. just a few posting a whole lot."
3. CoinGecko: Zilliqa was named among the highly searched coin on 26th May — day of the SocialPay 2.0 campaign!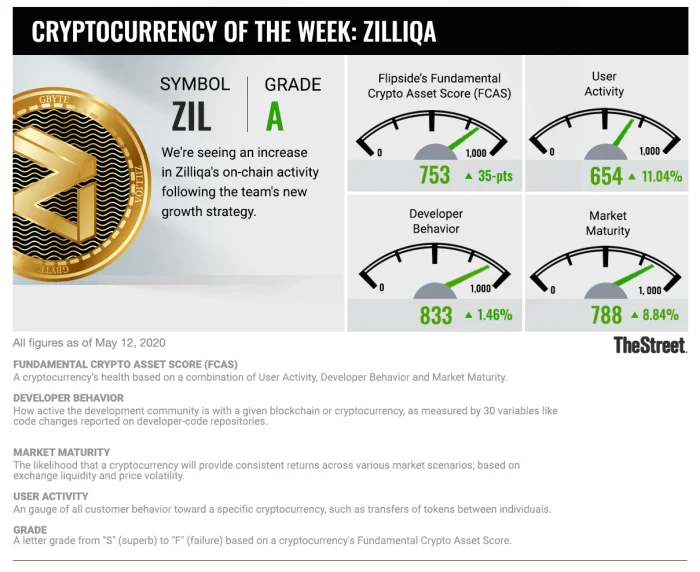 Technical Updates

Platform
Following the release of v 6.2.0, which focused on usability and staking, development is now underway on several projects that introduce significant changes to our core protocol implementation. These projects, which were briefly alluded to in the last update, are:
1. Improved visibility into the transaction pool: We will be extending the pending transaction pool to cover all cases that can lead a transaction to be rejected. This should provide end users with sufficient information to diagnose and make corrections to their transaction requests.
2. Seed node improvements: Our current seed architecture uses a push approach and relies on IP address whitelisting. We will be adding the option for pull-based data fetching together with public key whitelisting. This effectively eliminates firewall challenges faced by seed hosts, as well as enables the seed nodes to continue to work seamlessly with the mainnet regardless of IP address changes.
3. Merkle patricia trie optimisation: Our current state hashing algorithm performs linearly with the growth in state. We are exploring a faster and more space-efficient approach to generating and storing account states.
We will be updating our documentation (e.g., Zilliqa Improvement Proposals, API Docs, etc.) for details on these projects once we are close to completion on the needed work.
Ledger Updates: We worked with the Ledger team to release v 0.4.1of the Zilliqa ledger app. This release now covers display of smart contract transaction details for user confirmation, thus providing better security.
Scilla
Bug fixes have been added to the Scilla interpreter.
With the proof-of-concept Scilla compiler + VM showing promising improvements, we are now working on making it feature complete, ready for production. To start with, the monomorphization phase of the compiler is now being improved with a more precise type-flow analysis. We plan to give out more technical details of this (and other compiler phases) in a future blog post.
Staking Status Update
- Quantstamp has completed a security review; no major issues have been identified. Report of the staking contract is now public.
- Production staking contract has been deployed to the mainnet. We are in the process of onboarding staking partners (Staked seed node operators).
- It was recently confirmed that Kucoin will be one of our staking partners! More to come on this.
- Work has commenced on the non-custodial staking contract.
Zilliqa In the News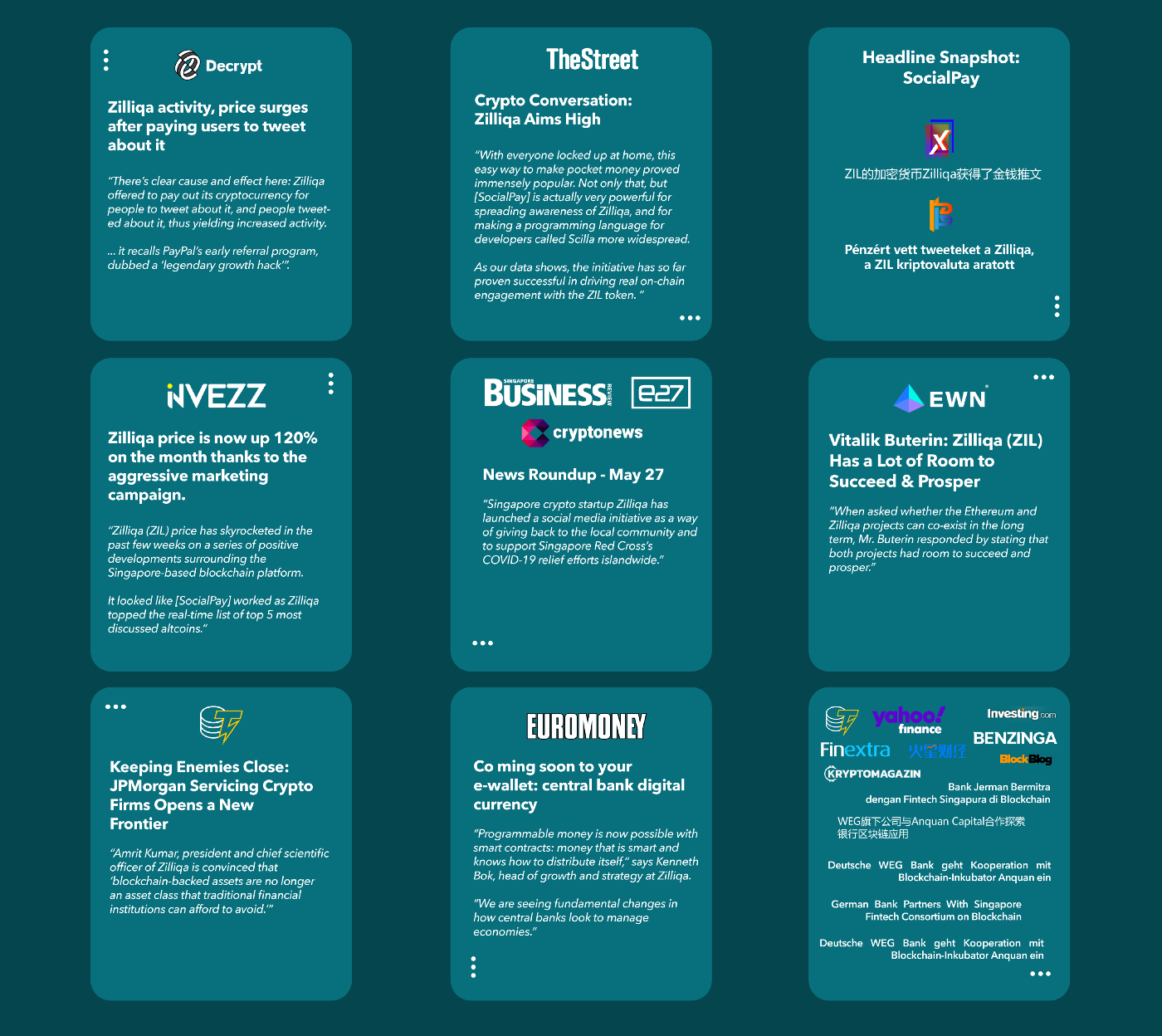 The news on Anquan's partnership with the German Bank WEG's fintech-arm Ten31 saw prominent news coverage, recording over 130 global hits across English, Asian and German media — including titles like Cointelegraph and Yahoo! Finance.
Our SocialPay campaign was recognised for its innovation and reach by Decrypt. The Street and Invezz also recapped our recent activities — including the platform's growing developer activity and the impact of SocialPay.
Our Head of Growth & Strategy Kenneth Bok spoke on the adoption and potential of Central Bank Digital Currencies with Peter Lee of EuroMoney.
In a discussion with Cointelegraph, Amrit Kumar spoke about how legacy institutions and crypto are already working together to transform global finance.
On the developer education front, Ivan On Tech has published his fourth video in collaboration with Zilliqa. This one's on Javascript Development, and has been really well received by the community. In fact, 173 people submitted responses to the quiz!
Upcoming Events:
BCNL Webinar — 9 June 2020. Calling all devs to register here.
Zilliqa will be participating in the Singapore Blockchain Week (Virtual) which takes place on 21 July 2020. Details to come!
June is going to be an exciting month too, so put on your seatbelts, and follow us on: