Zilliqa Monthly Newsletter — March 2022 Newsletter
March was a meteoric month on so many fronts. The lead up to our Metapolis early-access event was accompanied by tremendous growth in terms of our social media following and press coverage.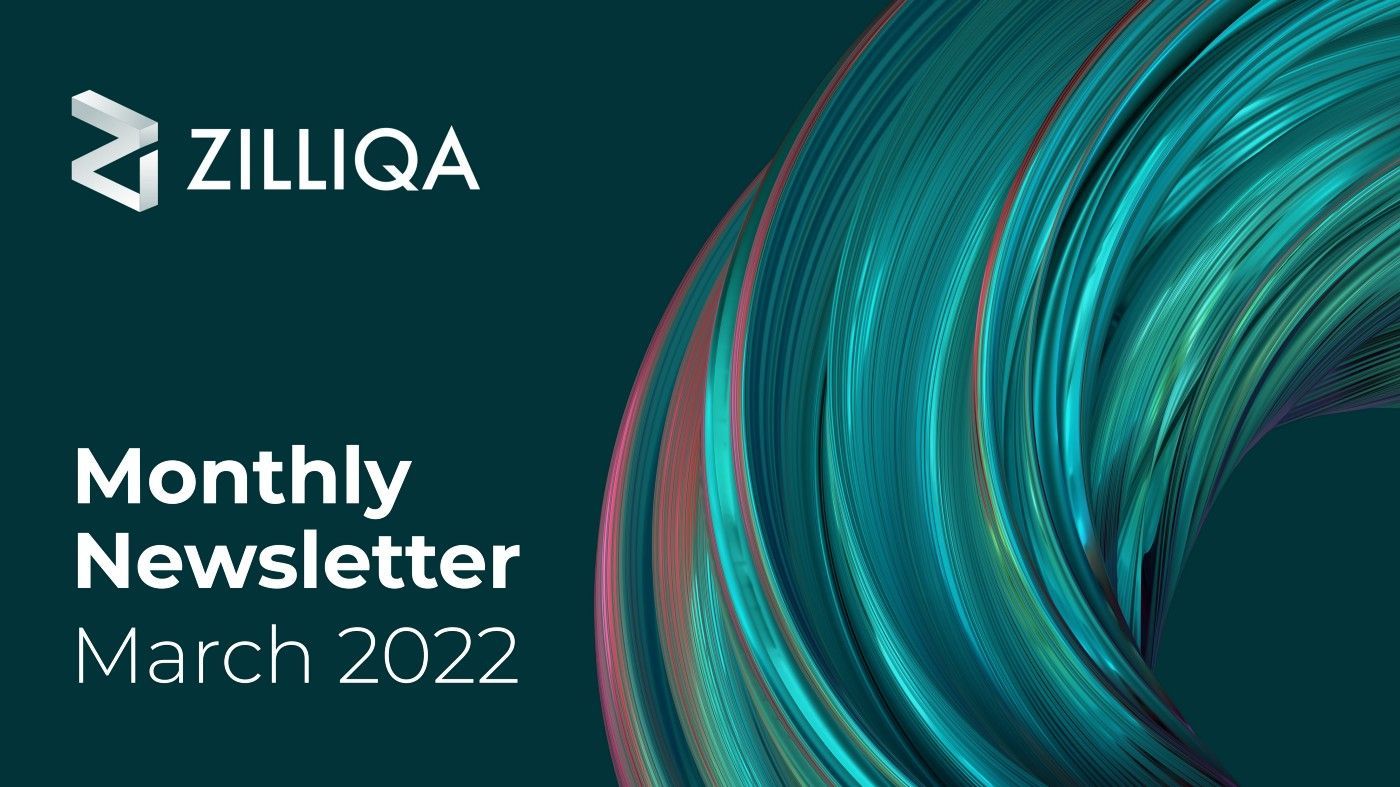 March was a meteoric month on so many fronts. The lead up to our Metapolis early-access event was accompanied by tremendous growth in terms of our social media following and press coverage.
Driving this flurry of activity were our big partnerships in the esports and digital arts industries. And there are even more ventures in the pipeline as we speak.
Make sure to tune into our Road Map: Zilliqa Vision 2022 and Beyond.
We will be unveiling core members of the team at the upcoming Road Map session. CEO Dr. Ben Livshits is set to talk about our vision of what's to come. You'll also meet some new team members who are at the helm of this resurgence.
The session will feature various developments on Zilliqa's ecosystem. Many are much closer than people realise: DeFi, P2E, metaverse and …. much more.
Watch Roadmap session here:

Now let's dive into our March 2022 recap.
Media Spotlight: Attention, Analysis, Anticipation
In the last week of March, Zilliqa was in both the Miami sun and the media spotlight. We caught the attention of top-tier industry publications including Investing.com, Nasdaq, and CoinDesk, Forkast, Cointelegraph and more.
What followed was an avalanche of attention on Zilliqa, analysis of Metapolis and the projects in our pipeline, with folks eagerly anticipating what could be next on the horizon.
Check out what the media has been saying about us!
Investing.com — Zilliqa is soaring, defying a months-long slump across the broader cryptocurrency market. The sharding pioneer's ZIL token has more than doubled in the past 24 hours after scoring a key partnership for its upcoming Metaverse as a Service (MaaS) platform, Metapolis.

CoinDesk -Metaverse-as-a-service providers like Metapolis provide required technology and infrastructure to enable users to create and maintain their own metaverses. The service providers essentially remove the high-cost entry barrier, opening doors for smaller players.

Nasdaq- Earlier this week Zilliqa announced a partnership with Agora, a global talent awards app. According to a press release, the idea is that the deal will offer new ways for content creators to engage, both through the metaverse and industries such as esports, luxury, music, health and wellness, and more.

InvestorPlace- [Metapolis] is notable because it uses development tools renown[ed] across the video game industry. These include Epic Games' Unreal Engine and Unity Engine as well as Nvidia's (NASDAQ:NVDA) Omniverse. With these tools, Zilliqa promises to create one of the most realistic-looking metaverse experiences.

CryptoSlate[…] the fact that Zilliqa is using the best non-proprietary tools in the industry suggests that the experience is going to be a true world's first.
4% Increase In Twitter Followers
In the last 5 days of March alone, the positive press coverage helped to increase our total number of Twitter followers by 4%, from 398,011 to almost 415,000! Take a look at the numbers below from Socialblade.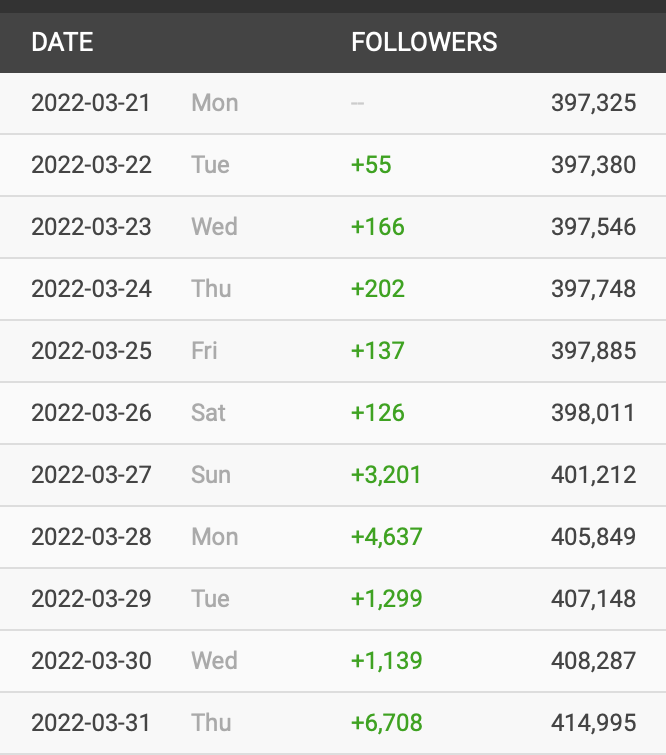 Source: Socialblade
Launch of Q4 and 2021 Annual Ecosystem Report
Our annual ecosystem report was recently published and there's so much to unpack.
The key takeaway is that we've been hitting milestone after milestone, and numbers tell the tale. Here are just some of our accomplishments:
Transaction volume up from 11,000,000 in 2020 to 30,000,000+ in 2021
6.02B ZIL staked — worth US$382M and representing 49.5% of total supply
246% increase in Twitter followers from 106,000 to 372,000
Unique wallet addresses grew from 1,170,000 in 2020 to over 3,070,000 in 2021
Click here to see the full report.
Agora Awards Partnership
We inked a partnership with Agora, one of the world's leading and most far-reaching digital art platforms. It'll see the Agora NFT World Festival being hosted on our very own metaverse, Metapolis!
That's not all. The partnership will also see the five winning art pieces listed on Rialto, Zilliqa's curated NFT marketplace.
Bringing together artists, collectors and patrons, experts, as well as everyday art lovers, Agora and its vision are perfectly aligned with ours — to empower artists and contribute to a borderless, flourishing creator economy!
Watch Agora's video on our partnership here.
New Joiners
We've been keeping HR busy this entire month. A slew of people (myself included) have joined the team at Zilliqa!
While we all come from different walks of life and possess a diverse range of skills, everyone's rallying together behind the Zilliqa flag, and putting their best foot forward in unison. We can't wait to take Zilliqa to the next level!
Launch of Z3 Wallet for China market
With accessibility comes adoption and we're glad to share that the first Zilliqa wallet for China went live this month. Our Zilliqans residing in China can now utilise various features on ZilSwap, and swap, mint and trade NFTs!
Sandra Helou spotlighted all things NFT and Metaverse
Our omnipresent (and sleep resistant) Sandra Helou continues to spread awareness of the metaverse and its potential. March saw Sandra speak with Francis Hellyer of Metaverse podcast, discussing her work on Metapolis and sharing insights on her role at Zilliqa. Later on, Sandra was invited to a women's panel on Web3, NFTs and the metaverse, hosted by WEYU Marketplace.
Check out the podcast featuring Sandra here!
Listing on Bifinity
ZIL is one step closer to being a mainstream payments option for Zilliqans. This month, Binance brought Zilliqa onboard Bifinity, its newest fiat-to-crypto payments provider connecting merchants and millions of users to the world of crypto and blockchain.
See the announcement here.
Zilliqa Green Alliance
Our newest initiative sees Zilliqa take concrete steps to build a carbon neutral chain as part of our efforts to develop a more sustainable and green future.
We're working to make this happen by tokenising carbon credits that have been purchased and retired from real-world registries. Once they are on mainnet, there are endless possibilities for buying and burning these tokenised credits.
More info on this is soon to come so keep your eyes and ears peeled! Shoutout to Cameron Sajedi and IgniteDAO for kickstarting this initiative!
MAD Lions' multi-year partnership with Zilliqa
Earlier in March, we signed a multi-year partnership with European esports organisation MAD Lions. Through this working relationship, Zilliqa will help MAD Lions to deliver captivating experiences through our Metaverse-as-a-Service, Metapolis.
The MAD Lions' community will also have something to look forward to! They will be granted access to exclusive events in the MAD Lion's metaverse, which includes viewing parties and giveaways.
Read the article here.
And that'll be it for now! April is already proving to be a whirlwind month with Metapolis, and the team is hard at work to continue growing Zilliqa's ecosystem and DeFi arms.
In the meantime, a reminder: Make sure to tune into our session Road Map: Zilliqa Vision 2022 and Beyond. On April 14th (this Thursday).RSVP here. rsvpr.com/zilliqa2022
See you then!