Zilliqa Monthly Newsletter — June 2021
June was a choppy month for the cryptosphere in general. Regardless of market conditions, Zilliqa doesn't stop building and this can be seen from the continuous developments in the ecosystem.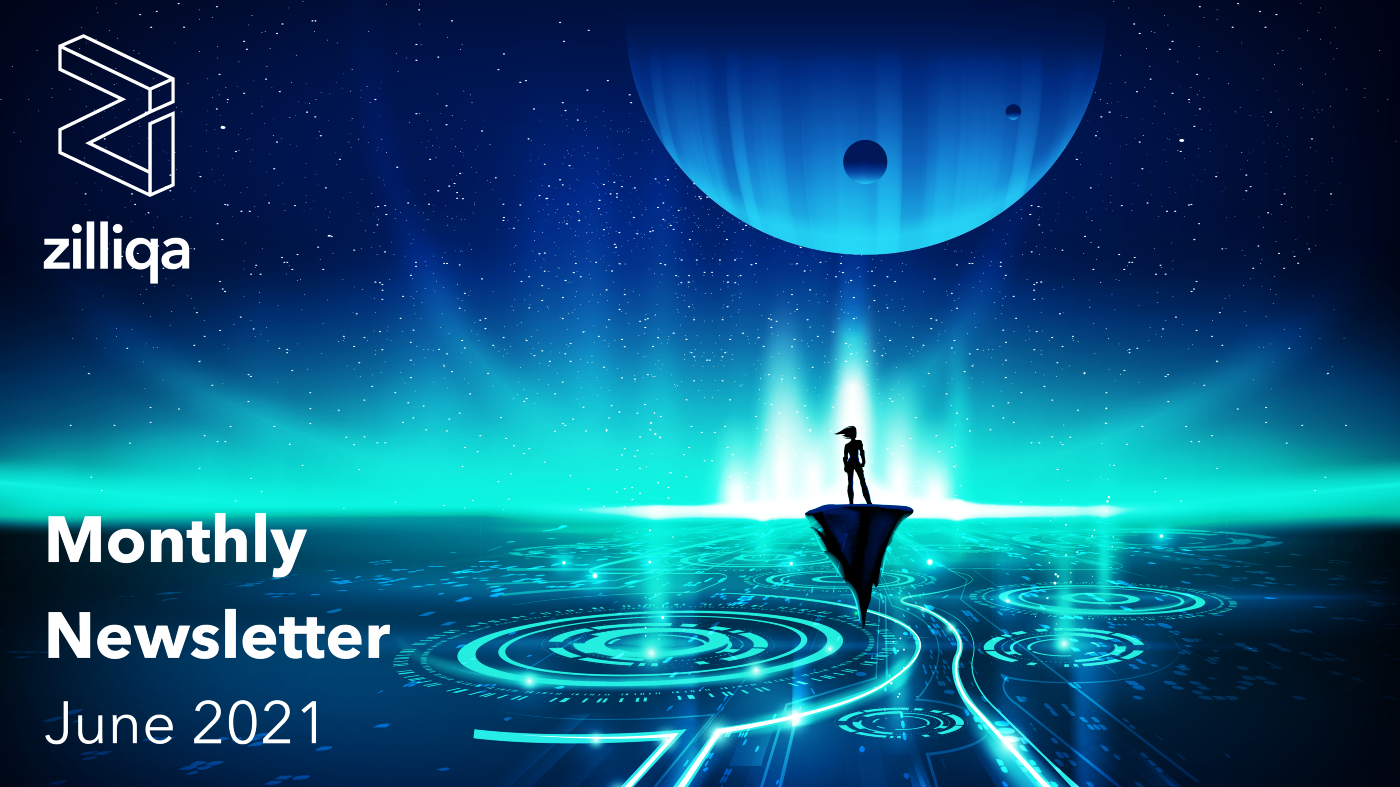 Bull or Bear, We Continue On Building Strong
June was a choppy month for the cryptosphere in general. Regardless of market conditions, Zilliqa doesn't stop building and this can be seen from the continuous developments in the ecosystem.
This monthly newsletter will highlight the key developments and progress of our continuous strive towards enabling a social economy, increasing the widespread adoption and utility of the Zilliqa blockchain.
Accomplishments from the launch of Zilliqa Football Stars
Zilliqa has officially launched its first curated NFT marketplace together with Polaris Sports! The NFT marketplace featured 10 iconic football superstars including Premier League Player of the Season, Ruben Dias and multi-time Champions League winner, Keylor Navas.
The launch of the marketplace was a successful one, with over $1.2 million worth of sales being made in less than 24 hours. We've also received press coverage from major news outlets, highlighting the room for growth of the NFT space for athletes as well as its commercial impact. Popular media outlets like Liverpool Echo, The Athletic, Insider Sport and Playknox have prominently featured the Zilliqa Football Stars launch.
Zilliqa Initial Launch Offering (ZILO)
ZILO was launched this month. The first ZILO offering — $STREAM — was oversubscribed by 1300% in just 10 minutes! The offering raised $3.6 million compared to its target raise of $342,867. ZilStream's $STREAM token is a premium membership token for ZilStream's portfolio tracking services enabling users to have exclusive access to features such as Pillar Loan tracking, detailed timeline of transactions, ZRC-2 token price alerts and more. Click here to learn more about $STREAM.
Building with Zilliqa
In June, ZILHive organised a hackathon on Gitcoin. The hackathon was centred around the theme of "Building with Zilliqa: NFTs Made Easy". With over $8,000 worth of bounties up for grabs for each category, the hackathon saw 32 applicants submitting across 4 different categories. Curious to see what the participants have built? Check out Zilliqa's Gitcoin page here!
Also, if you happen to be a developer interested in participating in future hackathons and building on Zilliqa, we have been constantly enchancing the onboarding experience of picking up Scilla as a programming language for those new to it. We've recently just revamped the Learnscilla.com website. The intuitive design and step-by-step tutorials should be able to give you a basic understanding of the language and help you to start your journey as a developer on the Zilliqa blockchain.
To further drive adoption of Scilla as a smart contract programming language of choice and our reach in educating people on blockchain, we've launched our education portal! Together with Zillacracy, we officially launched the Learnblockchain.org, a community-driven education portal that aims to educate more people on anything blockchain related. Do check it out and contribute to it!
Users should also know that they can directly access Zilliqa's RSS Feed through crypto.com's Zilliqa Price page — and get all their latest ZIL news from there! This news follows the listing of Zilliqa tokens on Crypto.com exchange in December 2020 and on Crypto.com App in August 2019. As a major player in the cryptocurrency industry, Crypto.com's listing makes it easy for users to trade ZIL tokens at true cost. Currently, Crypto.com exchange offers two trading pairs for Zilliqa, which are ZIL/USDT and ZIL/CRO.
Progress on our Chinese Market Expansion Efforts
Our expansion efforts to the Chinese market have been progressing well. We've launched a website tailored to our Chinese community with updates in Mandarin. WeChat groups have also seen a lot more engagement!
Community News

CCO Colin Miles was a guest on a VidCon featuring experts in Crypto and the NFT space. In the Panel "NFTs WTF?," they discussed the potential long-term impact NFTs have on pop-culture and its utility as a medium to empower artists and athletes. Watch it here if you've missed it!
Co-Founder Max Kantelia has also issued a challenge to Zilliqans on Twitter. With prizes worth over $30k up for grabs, Zilliqans were tasked with creating a TV commercial style video to explain why Zilliqa is the best blockchain for high quality NFTs and their market places. The challenge received some top-notch submissions from the community and is now currently in the midst of the community voting process to decide a winner. Check out the thread to view some of the awesome submissions from the community!
The market conditions did not slow down on-chain activity one bit in June, with approximately 1.5 million $ZIL burnt and 1.4 million transactions taking place on chain during the month.
Technical Updates

Platform
We have released several alpha versions of the upcoming v 8.1.0 onto the Zilliqa testnet. This version will introduce a new data structure, Merkle Patrica Trie for contract storage, which will allow us to generate Merkle Proof which is required for our upcoming interoperability bridge.
The v 8.1.0 update comes with improvements such as:
Improved historical Blockchain-Data management with compressed storage, allowing nodes for faster sync ups
Fixed 502 bad gateway errors experienced with private and public API end points
Auto Resync in Difference Scenarios which increases seed node stability
It has multiple improvements and bug fixes that would further make the platform more stable.
Scilla
We have released Scilla v 0.11.0 which includes address types and remote state reads (both introduced in v 0.10.0), and address type casts.
With address types we are now able to view addresses on the Zilliqa network not just as byte strings, but also as addresses with contents, which allows smart contracts to ask questions such as "Is there a contract at this address?" and "Is there a field f of type Uint128 at this address?".
This richer notion of addresses allows for type-safe remote state reads, i.e., smart contracts that read the state of other contracts without having to pass messages back and forth between the contracts.
An example of how to use address types and remote state reads can be found here: https://scilla.readthedocs.io/en/latest/scilla-by-example.html#a-third-example-a-simple-token-exchange
Address types and remote state reads are documented in detail here: https://scilla.readthedocs.io/en/latest/scilla-in-depth.html#addresses
Usability
Our Staking portal, Zillion, now supports changing of stake ownership from one wallet to another wallet.
We have open sourced a few dev tooling repository, namely Neo-Savant IDE, Scilla Server, Zilliqa Isolated Server and Zilliqa Isolated Server Faucet.
We have released ZilliqaJS v `3.0.0` which features batch API requests and transaction status API.
What's Ahead
Late in the month, we've announced that the public beta testing for the much anticipated PolyNetwork interoperability bridge is about to start in the month of July. This will allow for users to bridge their Ethereum assets over to the Zilliqa blockchain. We've also announced a liquidity mining program which will incentivise LPs on Zilswap for the three major assets on the Ethereum blockchain, WBTC, ETH and USDT. The incentives will amount to $3.75 million worth of $ZIL to be disbursed weekly. Refer to this blogpost for the Bridge launch plans explained in greater detail and follow us on our social media platforms to stay in the loop for further updates on the official launch.
There will also be a scheduled mainnet maintenance in July. We will keep you posted on the time and date of the maintenance. It will mainly be focused on the bridge and bugs fixes if any.
We hope you're looking forward to July as much as we are because this will mark the milestone that you've waited months for!
For further information, please refer to: