Zilliqa Monthly Newsletter: July 2020 'Special Edition' featuring ZIL-3 Highlights
Last week, Zilliqa successfully hosted its first-ever virtual town hall to mark the occasion of its third anniversary, celebrate key milestones with our partners and spotlight our community, whose engagement has been invaluable to our growth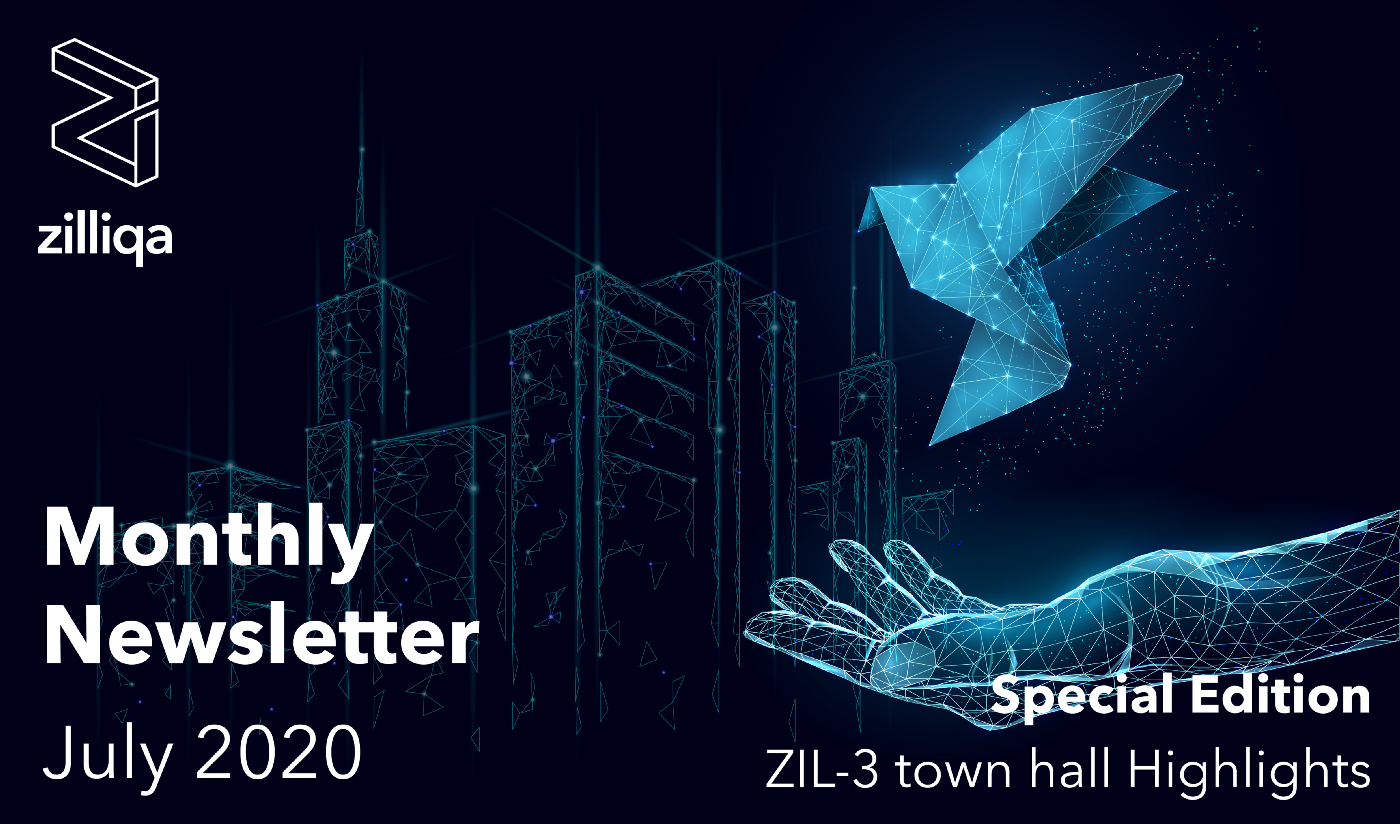 Last week, Zilliqa successfully hosted its first-ever virtual town hall to mark the occasion of its third anniversary, celebrate key milestones with our partners and spotlight our community, whose engagement has been invaluable to our growth into a stronger, bigger, more diverse and innovative company over the years.
The 2-hour event was moderated by award-winning presenter and journalist Angie Lau (CEO and Founder, Forkast News) and featured Changpeng Zhao, CEO of Binance as our Guest of Honour. To catch the lovely discussion we had with CZ, hear our co-founders' recount their journey over the last three years, and to hear from Zillacracy, watch the event via Youtube. Across Zoom, YouTube and the BOLT app, the event has been viewed around 5000 times, and counting!
Social listening site LunarCRUSH utilised the ZIL-3 occasion to share some key highlights of recent our campaigns. They reported a massive upward trajectory with our social media activity, noting a +2,537.9% in the social volume over the last 6 months, nearly half a billion social engagements, with 73% of the mentions and posts being bullish in sentiment. The third edition of SocialPay, combined with the ZIL-3 event promotions culminated in explosive excitement across social media and resulted in us being named LunarCrush's "Coin of the Day" on 31 July. We were truly honoured!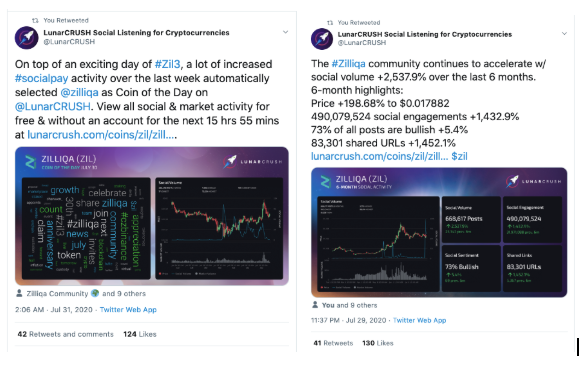 Breaking down the Zilliqa Tokenomics
There are significant changes underway within Zilliqa's Tokenomics landscape, which were explained during the event. We break them down for you below.
These changes were initiated to expand the platform's capabilities in absorbing newly minted tokens, which the current token economy is unable to do. We will be remedying this by restructuring some mechanisms to create an 'active circular economy' on-chain. This economy will be fortified by three pillars:
Better Staking mechanisms: The change the block reward split from 95% (miners) — 5% (staking nodes) to 60% (miners) — 40% (staking nodes) will mean more rewards will be available for delegators and hence more $ZIL can be staked creating a deeper sink for $ZIL. This will also help maintain a healthy annual yield from staking. In order to compensate for the loss to the miners, the proposal is to increase the block reward by 40%. With the new block reward split in favor of staking nodes and counter increase in inflation (to favor miners), the actual mining reward per epoch will go down by only 12%. Overall, these changes make more $ZIL available for staking. Even if 80% of the supply gets staked in the next 1 year, these changes will ensure that the yield will remain a healthy ~6%.
Options to recycle gas paid to the network: We'll create a system whereby the gas fees paid to the network will not go to miners directly but instead will be pooled in a special address (0x0) from where all mining rewards originate.
Driving stablecoin liquidity to the Zilliqa network with ZilSwap: We plan to launch ZilSwap, an automated market maker (AMM) decentralised exchange in Q3 2020, together with our partner, Switcheo. That will enable us to set up incentivised liquidity pools for ZIL/XSGD, ZIL/zBUSD and ZIL/IDR, and drive up the ZRC2 token transactions in the network. Hence, more gas fees will be spent and "burn" as a result when this Open Finance (OpFi) ecosystem expands. This approach is ultimately aimed at driving up the demand for $ZIL as a medium of exchange and allowing $ZIL to accrue value as adoption increases.
Zilliqa also utilised this opportunity to introduce Zilliqa Capital Pte. Ltd. — a 50–200 mn USD investment fund to help our best ecosystem partners take their PoC's off the board and scale it up into a successful venture. This will be the perfect vehicle to accelerate promising projects within the ZILHive ecosystem and enrich the OpFi infrastructure globally, with a special emphasis on ASEAN and India. The funds for Zilliqa Capital - which will be headed by Michael Conn, Head of Corporate Development at Zilliqa — are to be raised in two phases: the first will be a private fundraising round, and the second will be a security token offering (STO) for the public. We will share more details on this new entity in Q3 this year — stay tuned!
Key partner updates from ZIL-3
We are delighted to announce that we are working with Onchain Custodian to secure our network and ecosystem assets. Onchain will lend its institutional-grade security and insured custody services to digital assets built on Zilliqa such as ZIL and ZRC-2 tokens. They will start by bringing greater security to the XSGD, a Singapore dollar-backed stablecoin launched in collaboration with Xfers, the leading fintech payments platform for digital businesses. This news was covered across significant crypto publications such as Finextra, CrowdFund Insider, Crypto Reporter — to name a few.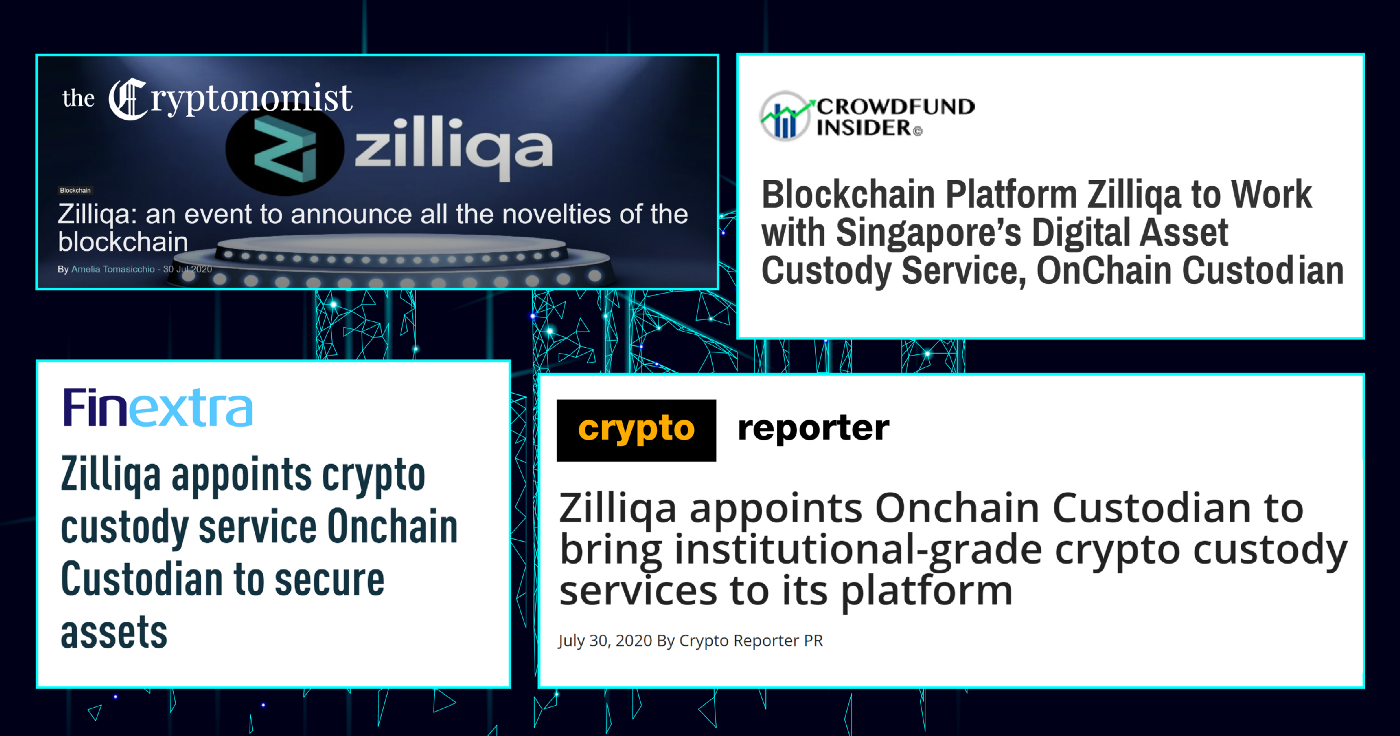 Zilliqans have been engaging with our first-ever NFT Contest on twitter all weekend! We're excited to get your support. Zilliqa has issued 4 limited-edition NFT cards themed "DeFi City", each of which have a value corresponding to an item on our merch store. The 40 lucky winners (who were announced this week) are in for a treat as they enjoy this gamified campaign where they could either trade, redeem for awesome merch, or hold onto it over the 2-week contest, which is the first of its kind by Zilliqa! More here
We are collaborating with Xcademy to build an incentive-based economy leveraging the blockchain.
Our ecosystem partner Unstoppable Domains also hosted a twitter giveaway for an exclusive domain name: 3.zil
Mintable launched their first-ever NFT marketplace on Zilliqa where people can monetise their digital creations of art and collectibles via a secure and reliable platform. Mintable are hosting a trading contest to mark the launch; with 120,000 ZIL up for grabs on the Mintable marketplace. Want to participate and list your store on Mintable? More here. Currently, Mintable has seen 50 stores created and about 530 NFTs listed for sales — out of which around 15 stores have entered the contest!
UFFS (Ultimate Franchise Fantasy Sports), a blockchain based fantasy sports game, is set to transition to the Zilliqa blockchain. More details to be revealed by Q4 2020!
If you're able to catch the event on Youtube, please take a few moments to fill out our feedback form. This will help us plan an event more enriching event experience for you the next time!
The Pre Zil-3 July Recap
Earlier this month, we crossed 6 million transactions on the chain. We also upgraded the mainnet to version 6.3.0
Zilliqa secured an overall "Excellent" rank of #29 on Blocknomy Rankings
We launched a new version of the Neo Savant IDE, which features ZilPay wallet integration for contract deployment, UI enhancements and is linked to Devex (our new dev explorer tool).
On the developer education front, our experts hosted a successful 4-hour Scilla workshop as part of the Singapore Blockchain Week. You can watch it here. We also continued with the Binance "Learn and Earn" series with attractive 10K ZIL giveaways.
Staking with Zilliqa continues to go strong via Kucoin and Binance Savings. The latest deals can be found on the Zilliqa website homepage.
You might have heard that Binance is bringing the BUSD stablecoin onto the Zilliqa network, in an effort to foster greater interoperability across the Zilliqa and Ethereum ecosystems, and enable developers to benefit from low-cost dapp development. We are collaborating with Switcheo to build an interoperability bridge between Ethereum and the Zilliqa chain, which will allow users to move ERC-20 BUSD to the Zilliqa chain. This bridge is under development, with BUSD set to go live in Q4 of 2020. More here.
Zilliqa's announcements and leaders have been featured across crypto and mainstream fintech press this month. Listen to Amrit Kumar talk about the latest in Zilliqa on The Blockchain Show podcast, and find out all about ZILHive's projects in this comprehensive Asia Blockchain Review article.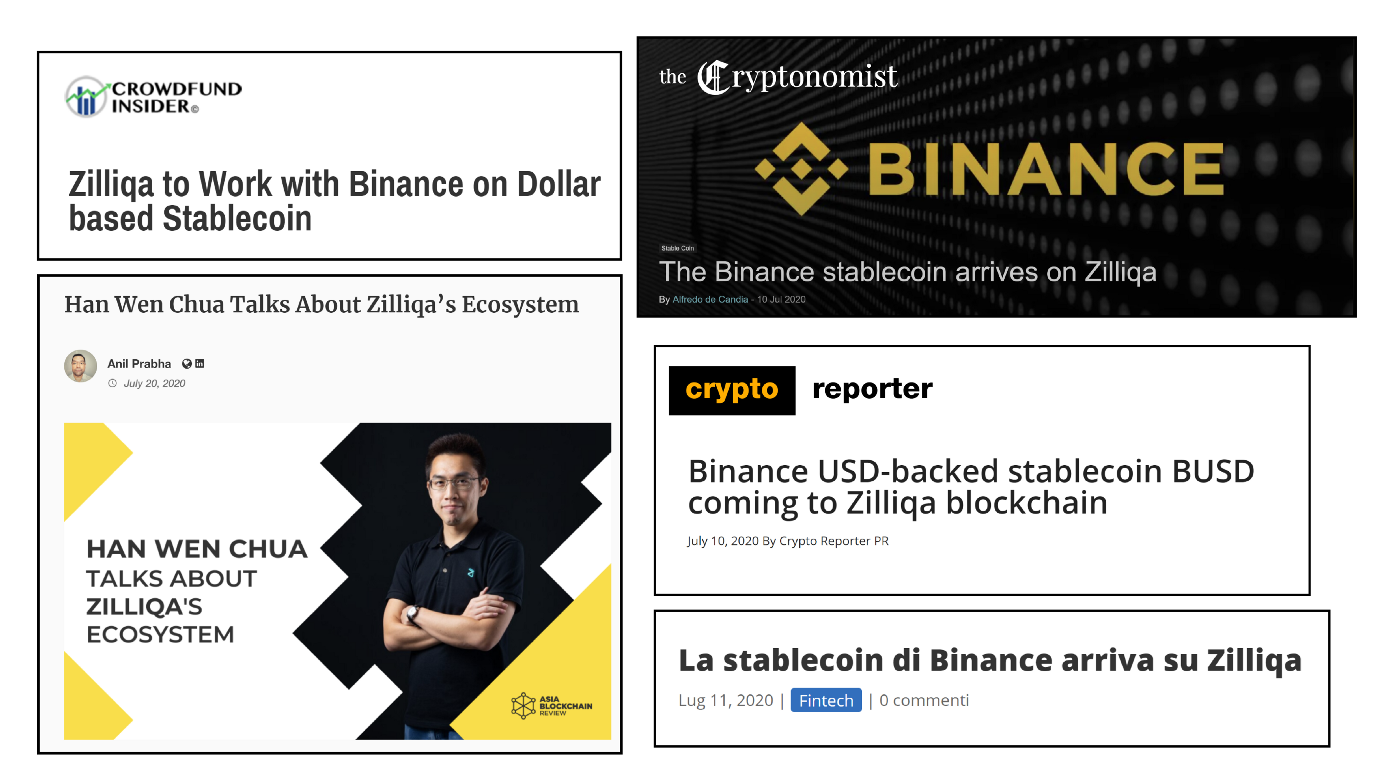 Follow us on: