Zilliqa Monthly Newsletter — January 2022
Recording steady growth in its ecosystem and with new leadership at the helm, Zilliqa began 2022 on a strong note.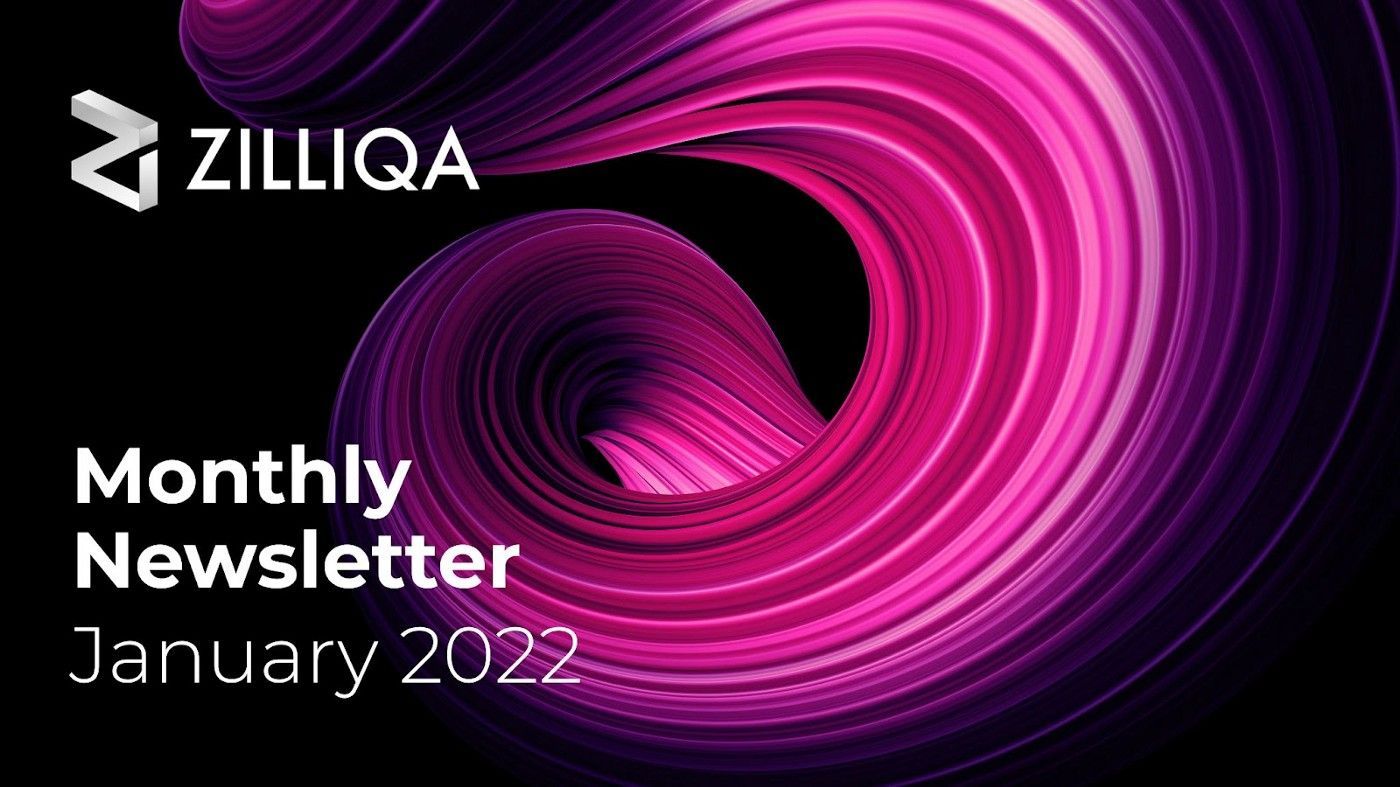 Hello all,
Recording steady growth in its ecosystem and with new leadership at the helm, Zilliqa began 2022 on a strong note. The ZILHive 2021/2022 accelerator demo day, our new ZRC-6 NFT standard and launches from projects like Beanterra and Heroes of Lowhelm, all played an integral role in this growth and in generating consistent community engagement.
Behind-the-scenes, everyone from marketing, dev to the platform teams are putting an incredible amount of work into building Metapolis into the ultimate XR experience for all users — rivalling the best-of-the-best in the market and superseding hype with value-driven, utility-based digital experiences [*We assume you've already seen the wonderful teasers :)].
In the spotlight: Events and Interviews
Metapolis and Zilliqa City Roadmap
…and speaking of amazing functionalities, we've released the roadmaps for both our upcoming metaverse, Metapolis as well as our special zone within the metaverse called 'Zilliqa City'. It's full of exciting features such as fully customisable avatars and environments and a Play-to-Earn questing system. These roadmaps will definitely be of interest to creators looking to build on Metapolis as well as community members eager to participate and Check out the videos below for more details.
The Ultimate "Creator Token Standard" is here!
The Metapolis launch phases, detailed above, will be strengthened by the implementation of our new NFT token standard — the ZRC-6, which was finalised recently thanks to public feedback from our community! ZRC-6 will enable greater functionalities for NFTs on our blockchain. They will help Zilliqa NFTs be more energy-efficient and also allow creators to receive different forms of royalties in their NFTs — providing flexibility and creativity for those minting on our blockchain.
Ecosystem Project Updates
GameFi projects launching on Zilliqa
The GameFi space on our blockchain saw two new entrants in the month of January. We've seen two promising projects launching their ILOs and NFT mints.
TokenTraxx TGE date announced
Our partner TokenTraxx has announced its Token Generation Event (TGE) date as 14 March 2022. TokenTraxx is a revolutionary NFT marketplace built by musicians with years of industry expertise under their belts. The platform aims to take the power back for music lovers, extracting more from the value chain for consumers, curators and creators. TokenTraxx's TGE will take place on Ethereum but the token will eventually be bridged over to Zilliqa and the dApp will be powered by Zilliqa. For more details on the TGE, read their press release here.
Carbon Token's CarbSwap Launch Process
We're proud to share that another project in our ecosystem plans to launch their DEX soon! Carbon Token, which is a project building a suite of Web3 solutions from DEXes to L2 Scaling solutions, has detailed their CarbSwap launch in this blog article.
We're excited to see new DeFi protocols launching within our ecosystem, giving users a wider array of options on how to maximise their assets on our blockchain. Make sure to follow Carbon to stay updated on their launch timelines!
.. and additional good news — there is also an on-chain limit order DEX coming to Zilliqa, which is being developed by the Pintar Team. It is currently on testnet. Check out zilall.com for more information!
Huobi SSN is now live!
Huobi now runs an SSN for Zilliqa. Huobi has joined our family of SSNs, running their own nodes to allow their users to stake with them — in turn, enhancing the accessibility of our staking options to centralised exchange users.
Language and Platform Updates
New Scilla features in the works to help developers!
Platform Updates
We are currently in the midst of preparations for the next release of the Zilliqa core (v 8.2.0), which will mainly include bug fixes and improvements around data syncing and network communication.
The availability of Zilliqa Research-operated seed nodes is also something we are addressing in the core protocol. These nodes service blockchain data requests from both our public API and community-owned nodes. Until now, these seed nodes have been associated with their static IPs, in a similar way miner nodes are identified upon joining the mainnet. By integrating a DNS service around the seed nodes, dynamic IP changes (as well as seed scaling to adjust to real-time traffic) will now be visible to other nodes in the network.
Network Stats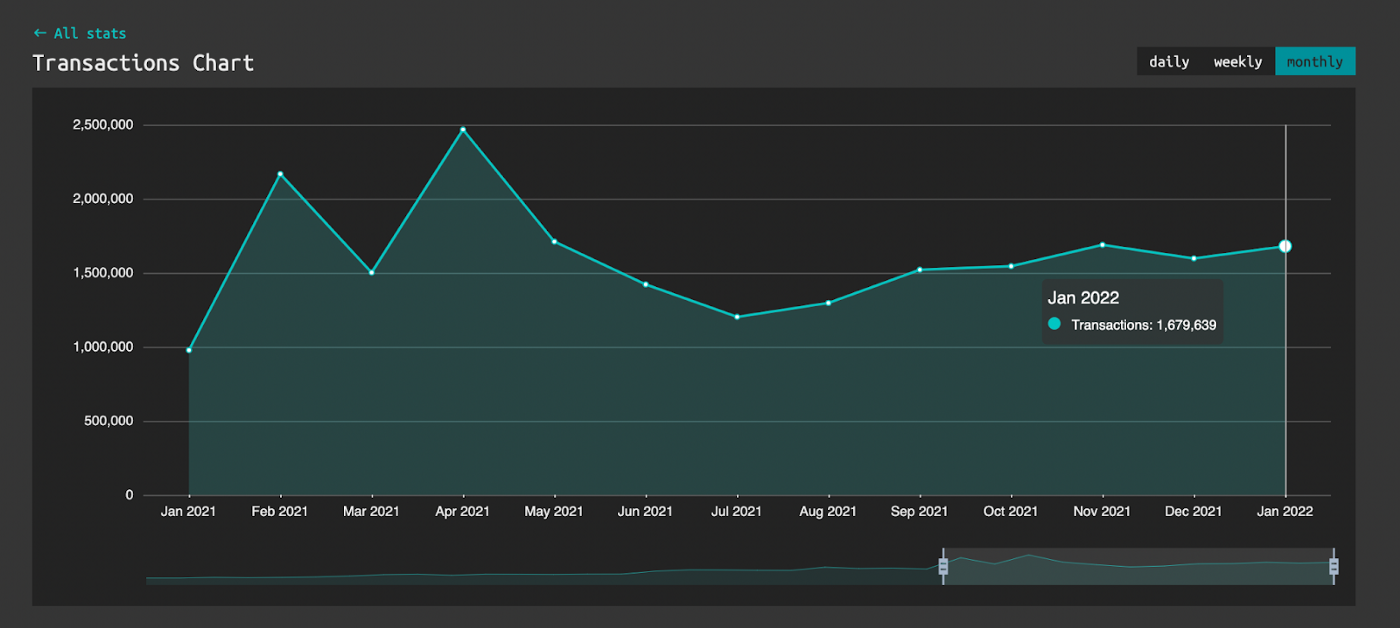 In January, we recorded an increase in transactions made compared to December. The network saw a growth of 82,000 transactions (an approximate 5% growth vs December 2021). This could be attributed to another XCAD's new DEX in our ecosystem, which became the DEX with the highest total value locked a mere month into their launch.
Another token that is driving up on-chain activity in our ecosystem is LunarCrush's LUNR token. Launched in November 2021, the LUNR token grew to approximately 52,000 holders, with about 560,000 transactions being made on the token. With more dApps being launched soon such as Carbon's CarbSwap, we can't wait to see our network activity grow in the months to come.
Looking ahead
2022 kicked off on a solid note, and now we turn our attention and energies to the big goals we've got for the upcoming months. As we march towards our goal of being the layer-1 metaverse platform-of-choice for brands and creators, Zilliqans can also expect a detailed tech roadmap this Q1. Keep an eye out on our social media accounts and blog as we continue to reveal exciting updates across partnerships, launches, events, community strategy, hiring and more!
For further information, please refer to: