Zilliqa Monthly Newsletter — August 2021
We're currently locking in a massive volume of transactions, over US$1B — across all our dApps.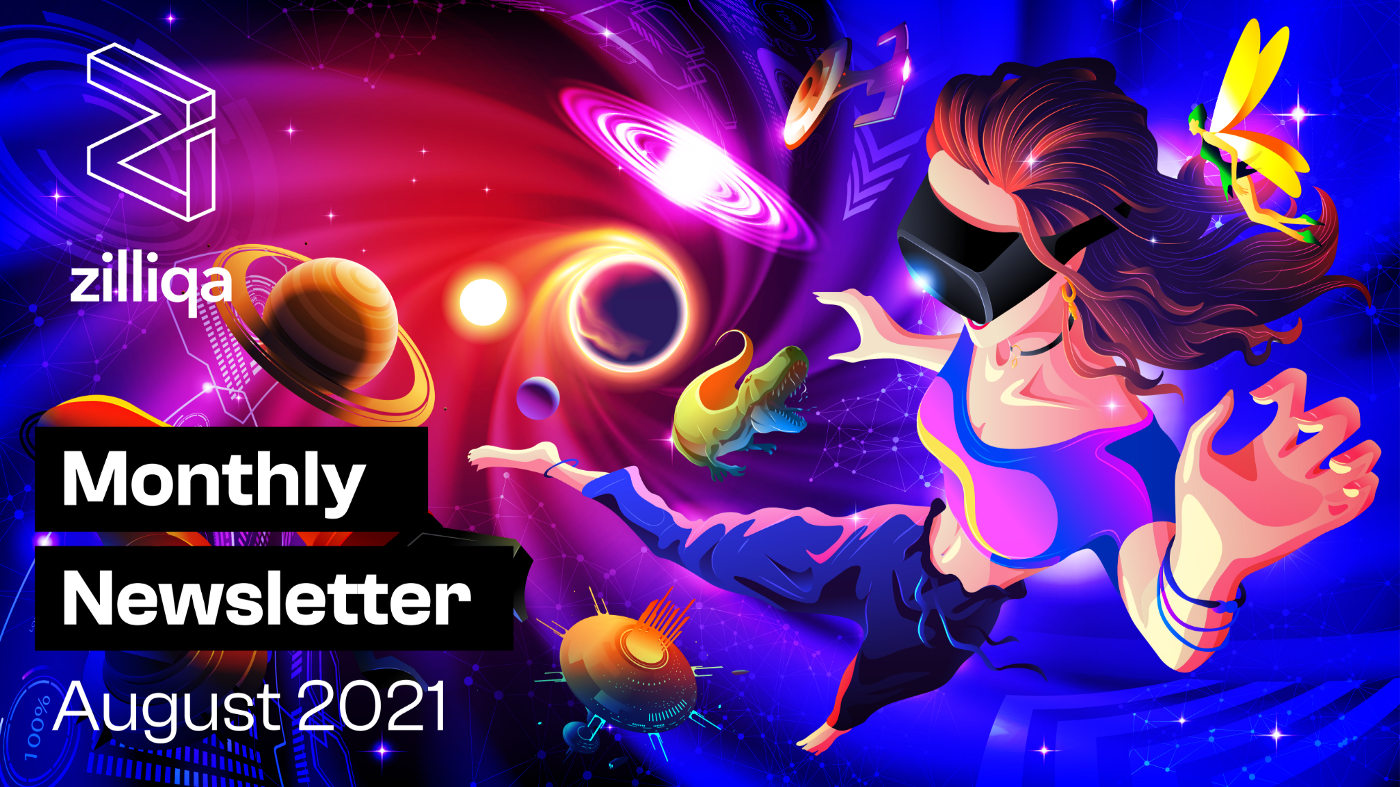 Greetings to all Zilliqa fam, friends and fans! August wasn't just hot weather-wise, but also smokin' in terms of ecosystem and tech developments.
First off — we know that everyone is eager to use the bridge. It's coming up soon, so fasten your seatbelts ahead of all the cross-chain action. All our tech upgrades have been done with the aim of making this bridge usable, secure — and something you can really enjoy and benefit from!
The mainnet upgrade to v. 8.1.0 on 30th August was a strategic part of this. We implemented some key features that will help during Zilbridge roll-out, including Merkle Patricia tree data structure for contract storage and Contract proof API needed for PolyNet relayers Improvements. Details here for those who speak tech. Additionally as of today, we've completed work on the multi-token reward distributor for ZILSwap pools, and hardening of bridge contracts. With PolyNetwork back to running at full speed again, final auditing is also in the works.
Moving on — the Q2 Ecosystem Growth Report was released in August as well. Highlights: We're currently locking in a massive volume of transactions, over US$1B — across all our dApps. We'd be ranked #11 on DeFi Pulse based on these numbers! Now among the top 15 layer-1 platforms in terms of txn, our protocol averages 45,000 txn per day and the onchain txn volume was around 42 billion ZIL by end of Q2. Special round of thanks to those who went from HODLing to using. As always, we're working on making ZIL more accessible to institutions and the US and China markets. We spoke about this at ZIL-4 if you want to know more.
Meanwhile, ZILHive unveiled its 2021–2022 cohort of ZILHive Accelerator projects.They are an impressive bunch, showing us how diverse blockchain applications can be — from risk prediction and combating fraud, to social impact, the possibilities seem limitless.
Zooming in a bit, let's chat about BLOX which enables gamers to tokenise in-game assets in the form of NFTs. Enjoying a record-breaking token launch on ZILO, they were oversubscribed by 558% and raised US$3.8M! 25% of the equivalent in $ZWAP was burnt. Such milestones keep us all bullish about the gaming sector! Next up in the fundraising and metaverse realm is DeMons, which will also go public via ZILO on 6th September. Sales for their rare 666 monsters will begin soon after.
With the Covid-19 situation having improved in several countries, I'm thrilled that our community is jumping back into real-life engagement-mode. A special shout-out to Brian Ahimbisibwe, who hosted a very successful Zilliqan meet-up in Uganda and educated attendees/potential devs on recent use cases. If you're interested in hosting regional/local meetings or becoming an ambassador, reach out to us at [email protected]
Closer to Singapore — we're also localising/translating our updates for the extensive Chinese community. With the Chinese-language dev portal up-and-running, we're a small step closer to becoming more accessible and visible in China. Local devs can now access and consume Scilla documents with ease.
Exciting things are happening in the Zilaverse. #PoweredByZIL sessions, led by Sandra H, has given us a platform to have informed but informal discussions with founders and teams of projects built on zilliqa — such as DeMons, BLOX, Sparda and CoralApp. We will be continuing with these conversations in the coming months. In September, you can expect the launch of the creator fund identity and the expansion of the zilaverse team. This will include the development of an in-house production and content studio to strengthen our digital brand identity and develop a user-centric approach to seamless integrations for current and new users. You should also keep an eye out for some more generative NFT projects!
With so many things 'coming to life' (virtually) in the next two months, we count on your support as always.
Cheers from the Zilliqa team!