Zilliqa Announces NextID as Official Digital Certification Provider; NextCert™ to feature in Education & Marketing Campaigns
We are pleased to share that Zilliqa has partnered with NextID, the Singapore-based digital identity management specialist. As our official blockchain-verifiable certification issuance provider, NextID's web-based certificate and collectible issuance service NextCert™ will be utilised across ZILHive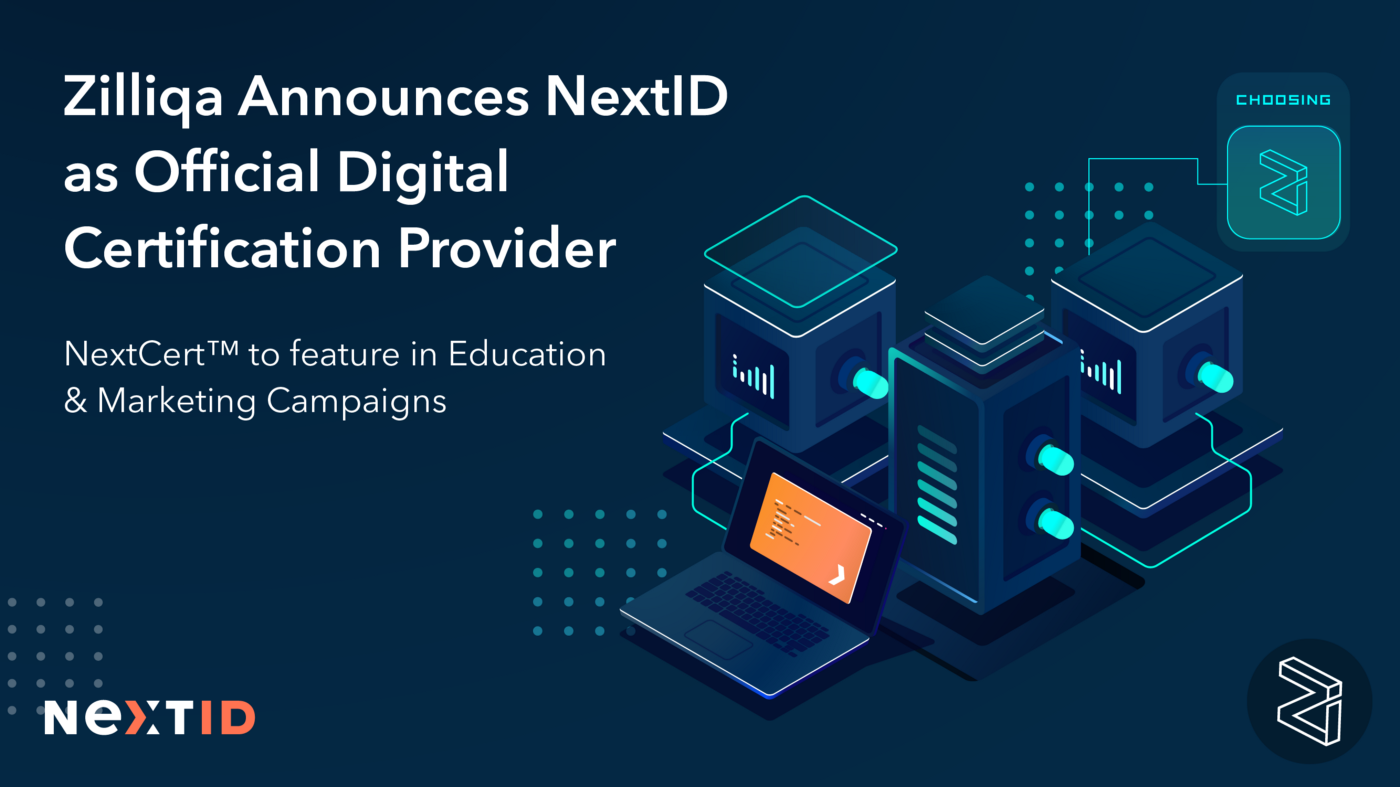 NextID's blockchain- verifiable certificates will incentivise engagement and formalise Zilliqa's skill development courses
Zilliqa to join NextID's global network of trusted verifiers under the W3C Verifiable Credentials and DID specifications
We are pleased to share that Zilliqa has partnered with NextID, the Singapore-based digital identity management specialist. As our official blockchain-verifiable certification issuance provider, NextID's web-based certificate and collectible issuance service NextCert™ will be utilised across ZILHive educational workshops with IHLs (Institutions of Higher Learning), vocational courses and upcoming marketing or fundraising campaigns.
An evangelist of the W3C's Verifiable Credentials and DID standards, NextID promotes adoption of decentralised identity using open standards. Identity attributes, so-called 'decentralised identifiers' are signed with public keys and anchored to the blockchain. Claims about individual achievements take the form of attestations, created by an issuer and granted to one or more recipients. These attestations are also encrypted and anchored to the blockchain. Together, these mechanisms provide proof of identity, ownership and authorship for myriad business use cases.
NextID's certificate issuance application known as NextCert™ enables issuers to routinely publish attestations in the form of digital certificates. These are produced in batch, at a reduced gas rate, making it a cost-effective option for those looking to migrate to digital certificates. The new service is implemented using open standards and is available today as a cloud-based service. NextID uses MTCS Level 3 cloud security certification, which is the standard for Singapore government data. NextCert ™ is in the process of obtaining ISO 27001 certification for information security, and SOC 2/3 service process standards.
Bill Claxton, Founder and CEO, NextID said: "Cryptography alone is not enough to build trust in certificates and credentials. It will take broad adoption by enterprises who require general purpose verification tools. We're pleased that Zilliqa is now an adopter, and look forward to working together on extending the reach of certificate verification technology. Our team is fully committed to providing digital certificate issuance services which are anchored to the Zilliqa blockchain."
Earlier this year, Zilliqa collaborated with NextID in our Social Pay-based fundraiser for the Singapore Red Cross. Our participants were able to nominate a Covid Hero/heroine, who would receive customised Certificates of Appreciation, secured and stored on the blockchain. This campaign used OpenCerts, the Singapore's government preferred format for credential verification. As we look ahead to prioritising and advocating for continuous upskilling, Zilliqa is keen to embed a layer of trust into our initiatives with NextID's product.
Colin Miles, Chief Commercial Officer, Zilliqa said: "When it comes to making key hiring or business decisions at a time where fraud and scams are rampant, it is imperative that top-notch credentials be verifiable. In such cases, third party validation of critical data provides an added metric for reliability of quality and source. Very soon, we will see industries, recruiters and auditors demanding universally-recognised digital certificate standards. We're excited to welcome NextID as a strategic partner, and integrate their open-source certs into current and upcoming Zilliqa and ZILHive projects."
Clearly, both NextID and Zilliqa see tremendous potential in the blockchain-powered digital identity sector, and here are just couple of reasons why:
The social distancing and lockdown protocols during Covid-19 have made it all the more evident that the models of work and education will significantly change. Subsequently, we will witness a surge in the digitised learning and MOOC markets as well, followed by an increasing demand for digital, tamper-proof credential and certifications. These could make education more affordable and accessible, while optimising admin and HR functions
According to Allied Market Research, the global blockchain identity management market was valued at approximately $107 million in 2018 and is expected to hit $11.46 billion by 2026, with an expected 79.2% CAGR within this period
Given NextID's shared vision of creating a more transparent and accessible network of data for users, they are the perfect partner of choice for Zilliqa as we enrich our ecosystem and add solid applications to our Layer-2 and OpFi ecosystem. In addition to making blockchain-powered certs more mainstream, Zilliqa and NextID look forward to exploring other synergies and commercial opportunities in the digital identity market.