Upskill Yourselves with the newly-launched LearnBlockchain website!
For too long, our industry has been plagued by information assymetry. This barrier directly affects widespread adoption and usability. We wanted to play a role in changing this.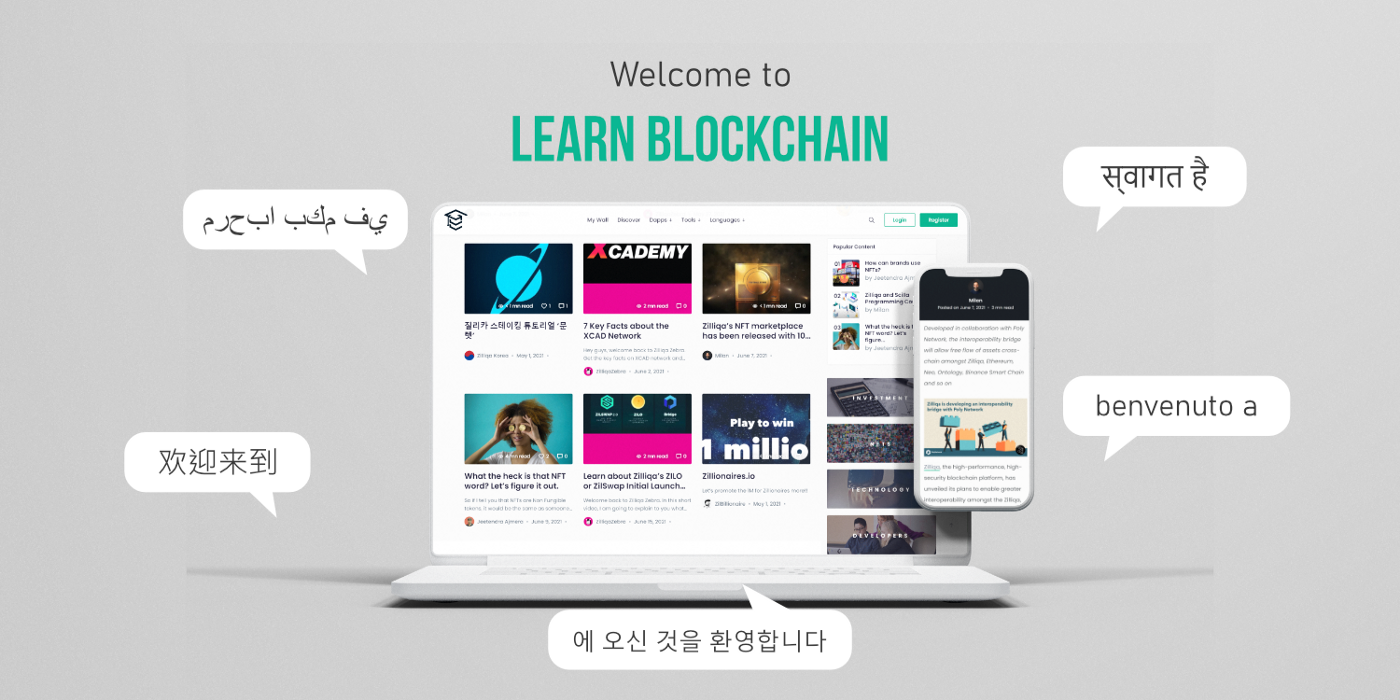 Community-driven education and teaching portal on all things blockchain, crypto and Zilliqa is now LIVE; You decide what content works and which lessons you love
Inviting your technical and non-technical contributions in multiple languages!
Hi, Aloha, Namaste, 你好, Hola, مرحبا , Bonjour, Selamat, Ciao, Привет.
Don't you agree that knowledge should be freely available and accessible so that everyone can benefit, and they in turn can benefit society? We certainly think that should be the case for something as decentralised and open-source as blockchain.
For too long, our industry has been plagued by information assymetry. This barrier directly affects widespread adoption and usability. We wanted to play a role in changing this. Never having forgotten Zilliqa's academic roots, we wanted to give back to all of you by way of free, useful and practical awareness and skill-building resources. One channel, you already know, is LearnScilla — for the more technically-minded.
We're glad to unveil the other platform, Learn Blockchain today! Here's what makes Learn Blockchain special:
Blockchain can't be about the few. It has to be about everyone. Learn Blockchain aims to rectify this through free and decentralised education. Although sponsored and built by Zilliqa, this platform is community-driven. It will be managed by Zillacracy and Zilliqans who have accumulated knowledge on a wide range of topics
You get to decide what the best explanations are, what you'd like to learn more about and the best explanations — for all technical and non-technical topics
Content of every kind is welcome. The basics of blockchain are crucial for those who are novices. However, feel free to dig deeper! We'd love to see well-rounded, analytical pieces that not only describe but analyse the impact of dApps or concepts. Make them insightful, thought-provoking, and full of data — and we'll make sure to highlight them on the website!
We suggest topics that can stir up debate and discussion! Here are some examples:
Why do we need to think about breaking down traditional institutional structures? Is DeFi today truly decentralised?
How can social tokens and the creator economy redefine digital intellectual property over the next decade?
How can you make your $ZIL work for you? Tips to get the best out of staking and DEX's
10 tips to safely secure your digital assets — online and offline!
A comprehensive review of Zillion/of the ZIL-ETH Bridge
A visualisation of Zilliqa's speed and strength vis-a-vis other top protocols (GIFs/Videos)
Tokenomics 101 — What you need to know to create your own token!
From the barter economy to the blockchain: What the micro-economy of tokens has taught us about network and community behaviour
Blockchain regulation: A bird's eye view of its global uptake and progress across countries
Scilla vs. Solidity: A beginner's guide to the functional programming fundamentals
And tons more!
Incentives: We value your time, effort and expertise — and will reward those who create the most engaging, conceptually creative videos, thought-provoking or informational content. We will also cross-post the best submissions across our official social media platforms. Your moment in the spotlight might be just around the corner!
For this launch Zilliqa & Zillacracy will select the top 3 winners and reward them with:
$500 in ZIL and 3 merch items
$300 in ZIL and 2 merch items
$200 in ZIL and 1 merch item
After this 3 week period we would like to continue with events to reward community members that produce the best content on the platform.
Let the learning and knowledge-exchange begin!
********
For further information, please refer to: