The Zilliqa Ambassadors Programme Has Launched!
Zilliqa's Ambassadors Programme is taking off! Having an ambassadors programme was something that the community have asked for as this is what can potentially increase our network effect exponentially.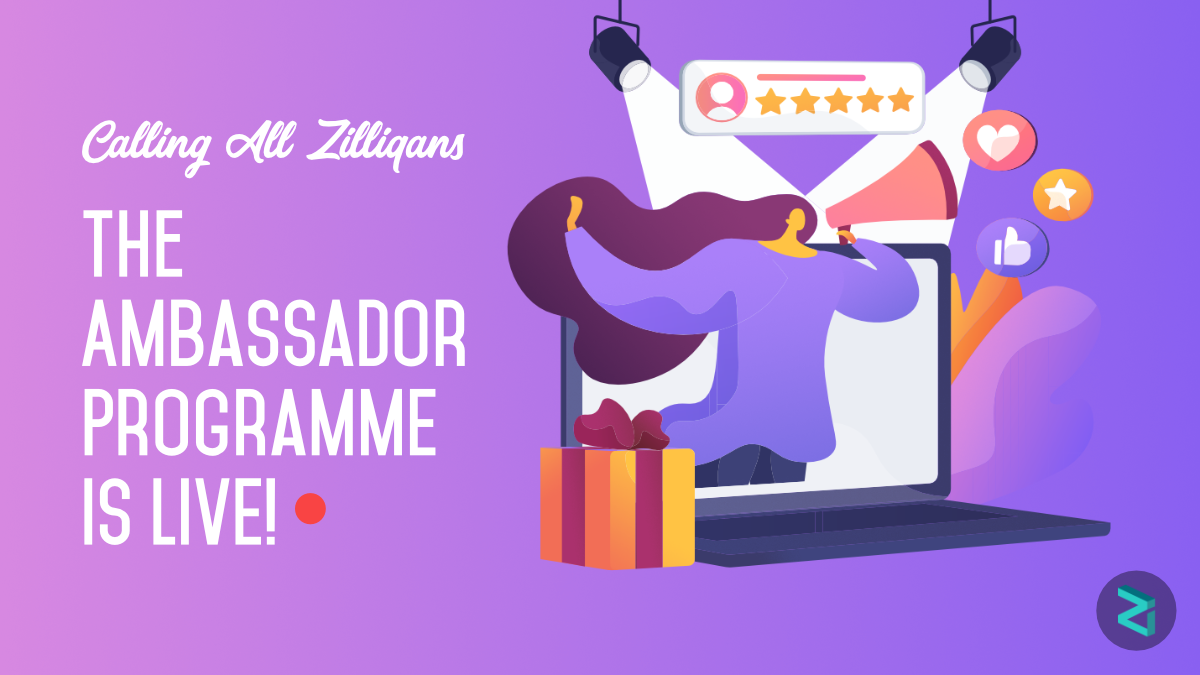 Click HERE for the Sign-up form
Invite Link to Zilliqa's Discord (Where the programme will be managed and run): https://discord.gg/XMRE9tt
Zilliqa's Ambassadors Programme is taking off! Having an ambassadors programme was something that the community have asked for as this is what can potentially increase our network effect exponentially.
From today, you can sign up to become a Zilliqa ambassador and get incentivised for your work to help grow and nurture Zilliqa's blossoming ecosystem.
What is the Zilliqa Ambassadors Programme?
Zilliqa Ambassadors Programme is a community empowerment initiative, designed to incentivise and develop community leadership amongst Zilliqans. The ambassadors programme also carries the spirit of decentralisation across the Zilliqa ecosystem, incentivising Zilliqans for championing Zilliqa's cause.
Active sharing of knowledge as a developer or community manager is essential in helping Zilliqa to accelerate our rate of growth and adoption at maximum ZILocity!
Who Are the Ambassadors?
Zilliqa is honoured to have active and committed members of the community who consistently engage and assist with our efforts. Ambassadors are Zilliqans that go the extra mile to proliferate both technical and non-technical information about our platform, spreading the word of Zilliqa to more developers and the larger crypto community. From podcasts, written content, developer blogs, translations to community management and meetups, ambassadors can help in a multitude of ways!
The inception of the Ambassador Programme is Zilliqa's way of rewarding and showing gratitude to these key pillars of our community and developer network growth.
Why Become an Ambassador?
Free Swag! — Let the world know you're an Ambassador of Zilliqa! We will send you exclusive merchandise upon acceptance into the program so you can flex your mark of a Zilliqan Ambassador.
Network Effect — Increase your personal network effect! Work, network and bond with equally passionate members of the community.
Direct Support from Zilliqa — Collaborate with core team members as we ensure that we provide you the necessary support required. We're also able to help fund your local community meetings and developer workshops
Incentivisation — Get incentivised for your hard work in helping to grow Zilliqa's network in the crypto space! $ZIL incentives will be given out for completing bounties related to growing the community
The Two Types of Ambassadors
There are two types of roles an ambassador could take on:
Developer Ambassadors
Community Engagement Ambassadors
Roles of Ambassadors
For developer ambassadors, your role is to be an advocate of the Scilla smart contract language. This could be achieved through blog posts, educational content or videos explaining Scilla-related topics. Managing your local community's developer Discord can also help us spread awareness about Scilla's value proposition. The goal here is to reach and educate as many people as you can about #BUIDLing on Zilliqa. Eventually, you can post content on our educational portal, which will also give you further incentives!
Community Engagement Ambassadors will be crucial in helping Zilliqans understand the good word of Zilliqa. You will act as the foundation of engagement, helping to translate and produce content (written or video form) in either English or your native language. We will also provide you with the necessary funding and support to host and organise local community meet ups if you want to. The goal is to educate the community on the utility of $ZIL, its dApps and forge an inclusive and helpful community.
The list of bounties and incentives for doing each bounties will be released on the ambassador's Discord category in the Zilliqa Official Discord channel.
Onboarding for Ambassadors
After the team approves your application for the ambassadors program, you will be onboarded through a call with the core team, helping you to better understand what's going on internally within the team. This will help you gain a better understanding of the role you can play in helping with Zilliqa's growth.
Future Plans for Ambassadors Programme
This launch of the ambassadors programme is an early-phase launch. We have plans to further encourage participation when our education portal, which we're working on together with Zillacracy, is up in about a month's time. The portal will allow contributors to earn extra incentives through participation in contests such as content creator of the week, article of the week and more.
The end goal is really to have a consolidated hub for all things educational regarding Zilliqa. Making it easier for developers and prospective community members to navigate.
This program is an iterative one and we will gather community feedback as we continue improving it along the way.
Happy contributing Zilliqans!