Switcheo — Zilliqa bridge will be a game-changer for BUILDers & HODlers!
Blockchain protocols are increasing by the day, bringing with them a promise for greater inclusion, cost-efficient financial transactions, and a simpler and more accountable version of peer-to-peer commerce.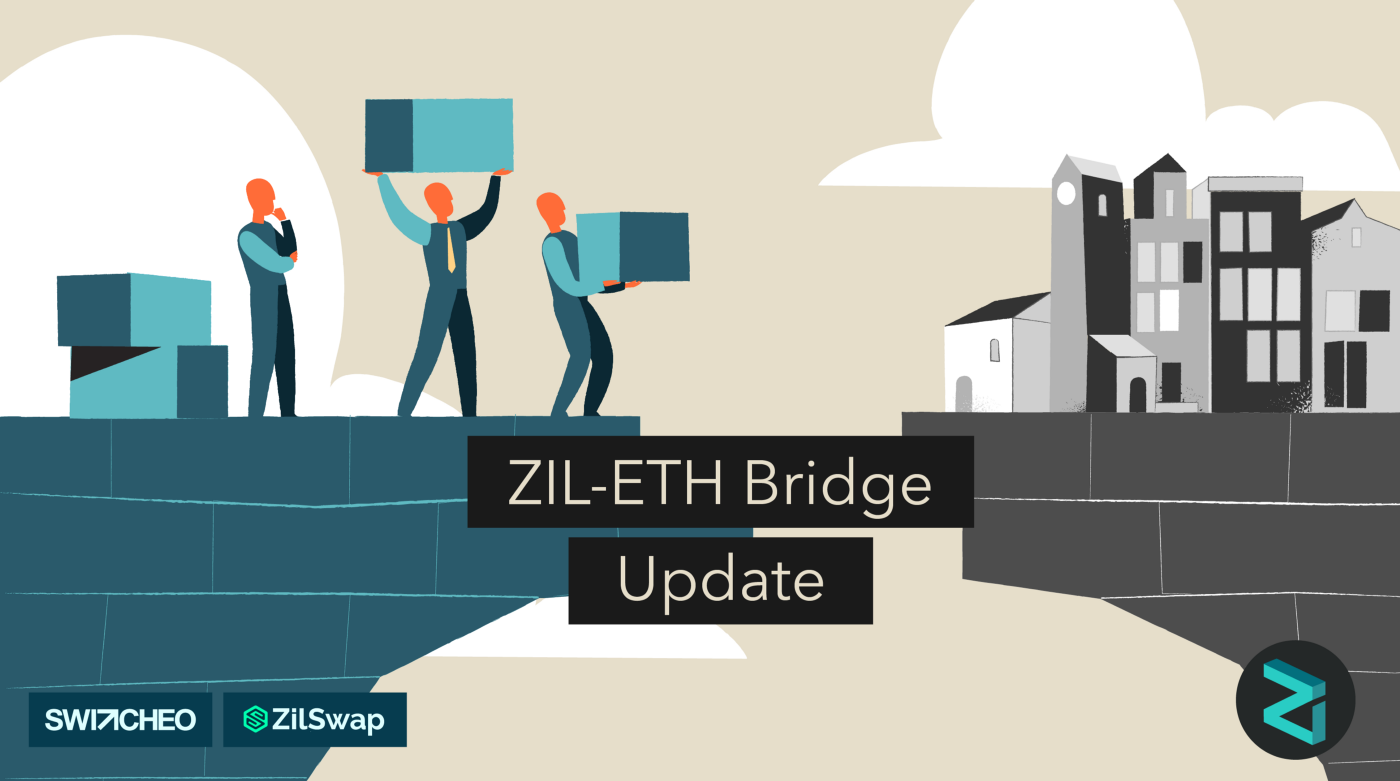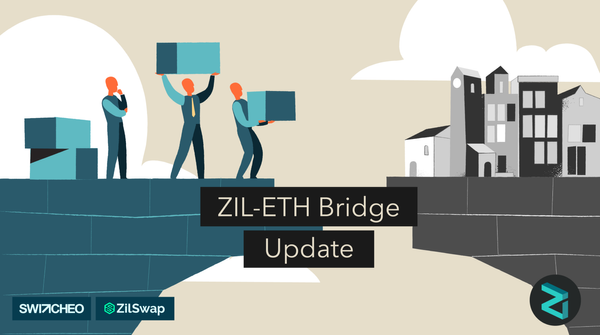 What you need to know about our interoperability project and why it's crucial to true DeFi
TL;DR
Testnet is expected to go live for beta testing in about 10 days. Stay tuned for the exact date!
A new incentive mechanism for mainnet liquidity providers for cross-chain assets.
Sneak peeks of bridge UI/UX.
Work on ERC20 ZIL token swap to start after bridge mainnet launch.
Greetings all,
Blockchain protocols are increasing by the day, bringing with them a promise for greater inclusion, cost-efficient financial transactions, and a simpler and more accountable version of peer-to-peer commerce.
But these protocols don't always speak the same language in the sense that their consensus mechanisms or their block structures could be completely different. These differences turn blockchains into isolated islands of dapps, tokens, and ecosystems creating barriers and unneeded complexities for users. In order to promote widespread adoption, interoperability between protocols has emerged as a critical and hot topic in the blockchain world.
Today, we're going to tell you all about how the Zilliqa, Switcheo and Polynetwork teams are enabling interoperability, and the myriad ways in which it will help you — whether you are a token holder, a dApp creator, a blockchain enthusiast or just looking to learn more about our ecosystem. We will also recap our partnerships, outline how this project will be rolled out, and what you can expect in the coming months.
What is interoperability?
Blockchain interoperability enables different blockchains to seamlessly communicate with one another and facilitate transactions across different blockchains. Imagine builders on Ethereum and Zilliqa's blockchains (and numerous others) being able to transfer data and transactions across other chains quickly and efficiently — being compatible with other chains without reprogramming their entire dApp!
Why does it matter?
Currently, a vast majority of blockchains operate in silos. This means that many blockchains can only read, transact, and access data within a singular blockchain. This limits blockchain user experience and hinders user adoption. Without interoperability, we have individual ecosystems where users and developers have to choose which blockchain to interact with. Once they choose a blockchain, they are limited to using its features and offerings. Not the most decentralised environment to build on right? No blockchain should be an island — and working alone doesn't end well. We need to stay connected to different protocols so ideas, dApps and users can travel across platforms conveniently.
With interoperability, users and developers can seamlessly transact with multiple blockchains and benefit from those cross-chain ecosystems, application offerings in areas like decentralised finance (DeFi), gaming, supply chain logistics, etc. The list goes on. Interoperability creates the ability for users and developers to not be stuck having to choose one blockchain over another, but rather, they can benefit from multiple chains being able to interlink.
Ultimately, interoperability creates a more beneficial and friction-free experience for users and developers. It is an important driver of future crypto adoption and use.
How does this benefit Zilliqa token holders and developers?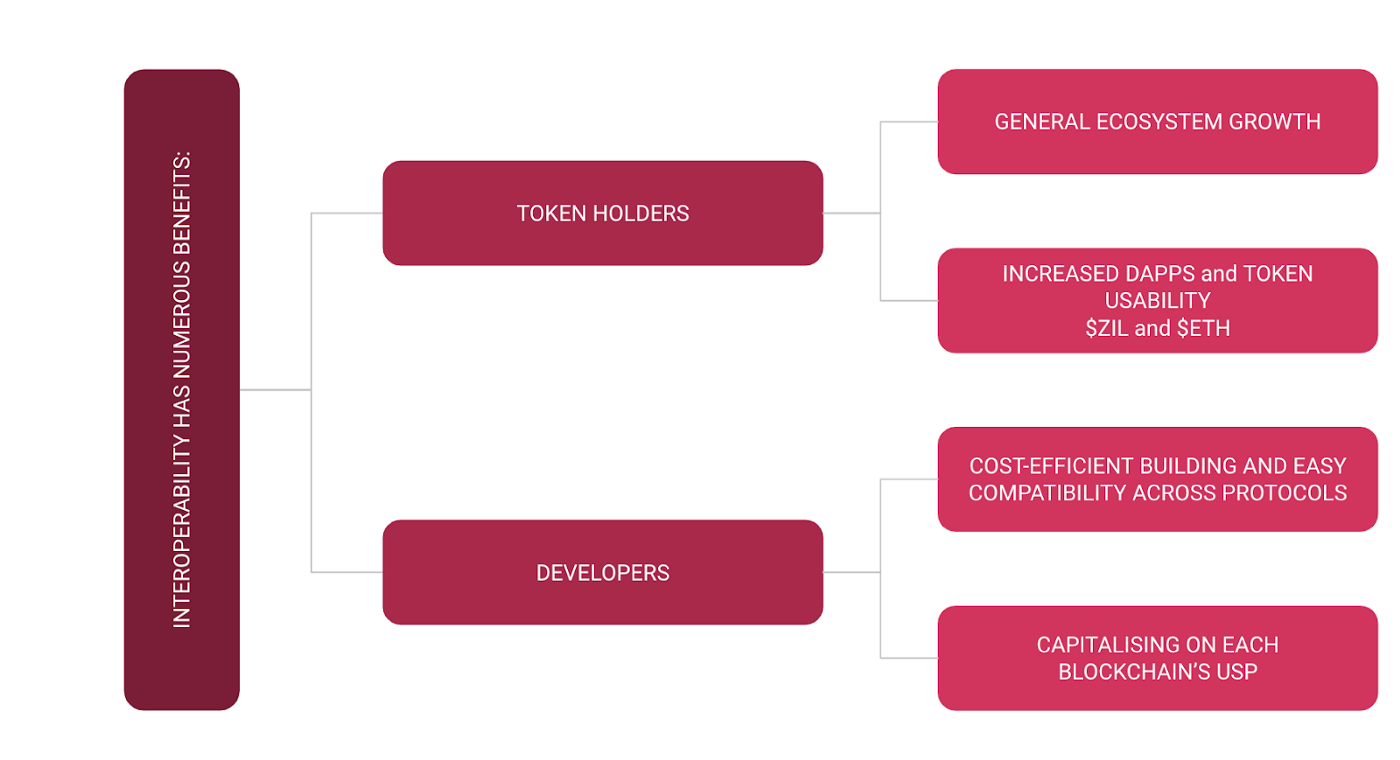 Interoperability provides a smoother user and developer experience and will likely attract more users and developers, in turn leading to more growth in the long run. It only allows for more avenues of adoption and growth
Developers can benefit from building on Zilliqa, known for its affordable gas fees or ability to scale. At the same time, their products developed on one-chain can be used by other crypto communities on another chain — making Zilliqa almost ubiquitous whilst promoting usability.
These builders will be able to leverage Zilliqa scalability, our Scilla-powered security, our speed, our competitive txn fees and lots more. At the same time, they can easily attract users from other protocols without creating information or procedural barriers for the users. That's the beauty of an interoperable system!
Now that we've got a handle on why it's crucial, let's move on to how we're actualising this goal: Our world-class partners.
What is PolyNetwork and why use it for Zilliqa's interoperability?
PolyNetwork is a cross-chain interoperability protocol that helps bridge multiple chains and build the next-gen internet infrastructure. PolyNetwork is helping us standardise cross-chain interoperability, which in turn will create a better user and developer experience.
PolyNetwork has worked on interoperability with several major protocols (pictured below). So you can imagine how standardising interoperability procedures with such a partner will be powerful and impactful for Zilliqa!

The bridge in partnership with Switcheo
Switcheo is a top-notch blockchain team that builds decentralised protocols to disrupt traditional finance and grow the wider crypto DeFi ecosystem and global adoption. Switcheo is a key partner for us, and we've worked with them for a couple years now. Switcheo successfully launched the first DEX on Zilliqa, ZilSwap. As our partner on this project, Switcheo is helping us implement this interoperability bridge protocol. Having a collaborator, we are excited for this continued collaboration with Switcheo as we work towards a common goal of bringing more options of blockchain interoperability and DeFi/OpFi to the world.
The Larger Picture: What you can expect in 6–12 months
Seamless movement of tokens across Ethereum and Zilliqa
One can build dapps on Zilliqa that tap into dApps on other chains.
Zilliqa's existing ecosystem partners can trade on other chains e.g: ZWAP token could be traded on Switcheo DEMEX in the near future!
dApps such as ZilSwap will bring more users, liquidity and assets to trade. Pillar Protocol would have more lending assets (i.e., BTC and ETH).
More developers will build on Zilliqa. We can also expect more DEXes and other DeFi products to pop up on the scene.
To sum up — the bridge will augment our partners' concerted efforts to push DeFi into the mainstream.
Phases of the Bridge Project:
Ethereum-Zilliqa Bridge Implementation
The bridge project is a tripartite collaboration between the Zilliqa, Switcheo and the PolyNetwork teams. It consisted of several sub-projects that required involvement of the compiler team, the core system team and the applications development team. As a result, the project went through 5 phases:
✅ Phase 1 [Completed by Zilliqa and PolyNet team]: In this phase, we scoped the entire project, and agreed on the broader architecture and added all the necessary primitives and components. Below is a non-exhaustive list of sub-projects we undertook and completed in this phase:
Ideate and architect the bridge
Add necessary primitives in the smart contract language
Add necessary primitives in the core protocol
Write the bridge contracts in Solidity and Scilla to lock and mint tokens
Develop the Zilliqa-PolyNet relayer
Connect Zilliqa devnet to Ethereum Ropsten
Extensive internal end-to-end testing
Contract audit
Develop necessary SDKs
By the end of the first phase, we were able to test an end-to-end cross-chain-like transaction. We then progressed to the next phase of development.
✅ Phase 2 [Completed by the Switcheo and Zilliqa team]: At this juncture, we had everything we needed to collaborate with the Switcheo team to get cross-chain support between Zilliqa and Switcheo. The Switcheo core team did a lot of the heavy lifting in completing the following sub-projects:
Integrating Zilliqa with Switcheo TradeHub
Governance proposal on TradeHub
Connect Zilliqa community testnet with Ethereum Ropsten and Switcheo TradeHub devnet
End-to-end testing
Bridge UI design in ZilSwap
By the end of the second phase, we had the UI design for the bridge. The bridge UI will be a part of ZilSwap. This will make ZilSwap a one-stop portal for users to move their assets from Ethereum to Zilliqa and then put these assets in ZilSwap liquidity pools to earn yield. Here is a sneak peek of some of the UI flow: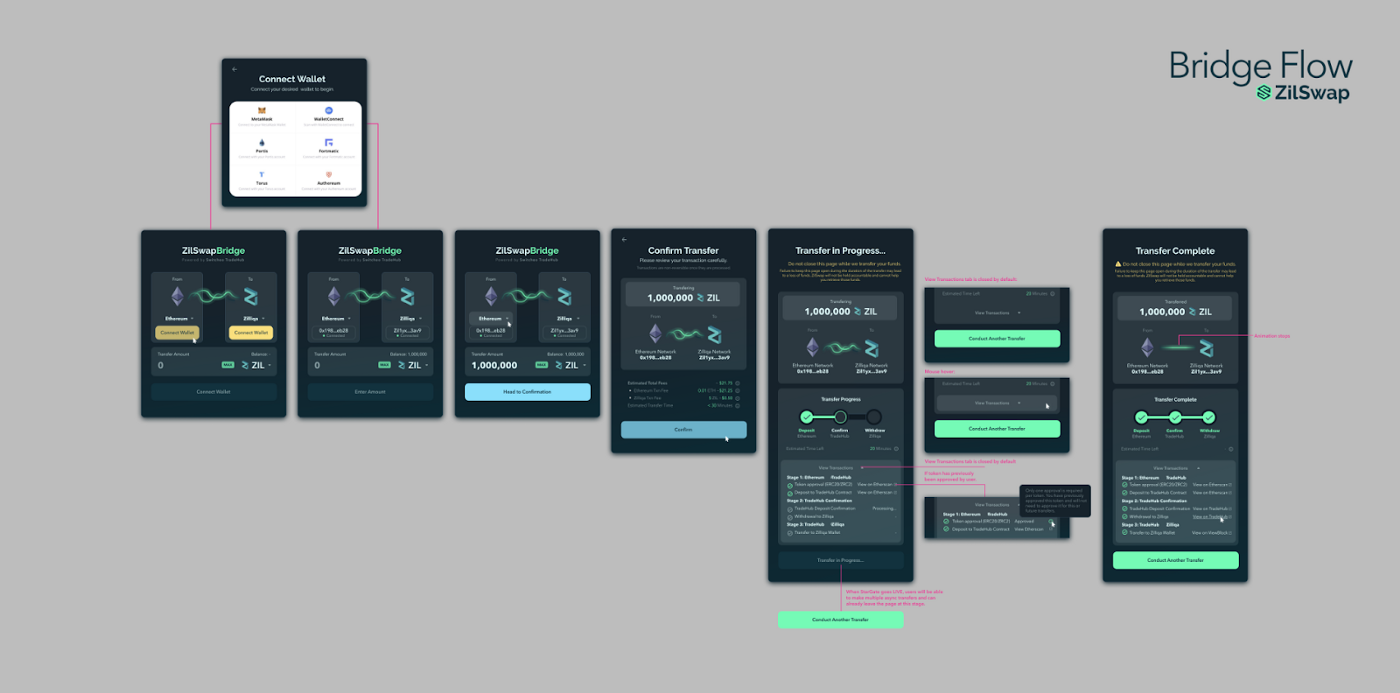 🚧 Phase 3: [Ongoing collaboration between Switcheo and Zilliqa]: We are currently working on connecting the UI with the smart contracts and are giving final touches to the UI. We have also been working on an incentive structure to encourage token holders to move their ETH-based assets from Ethereum to Zilliqa. The more assets get moved from Ethereum to Zilliqa and then onto ZilSwap, the more liquidity we will have on the DEX, which will drive more traders and therefore more transaction volume on the network. We therefore came up with a competitive incentive mechanism to help bootstrap the initial liquidity (more on that; keep reading!).
Mainnet Incentive Mechanism: Even though any ERC20 asset can be brought over from Ethereum to Zilliqa via the bridge, we have initially identified three key assets that will be crucial for the Zilliqa ecosystem — namely WBTC, ETH and USDT. The rationale behind the choice of these assets might be quite apparent: these assets are in the hands of most crypto users and have the most liquidity and trading volume. Moreover, bringing USDT over will also bring the first USD-backed stablecoin on ZilSwap. WBTC and ETH could also be later used as a collateral in the Pillar Protocol and will become important assets for our DeFi ecosystem.
We target to lock a total value of USD 60 million in assets and with this goal we have set aside USD 3.75 million worth of ZIL as an incentive for those who move any of the three assets over to ZilSwap. These ZIL rewards will be distributed for a total of 6 weeks and in order to earn these rewards a user must move WBTC or ETH or USDT (ERC20) from Ethereum to Zilliqa and then add them to the respective pool on ZILSwap. Distribution of ZIL rewards to the liquidity providers will follow a similar model to ZWAP distribution (weekly disbursement) based on their liquidity and other factors such as the duration.
If the target TVL of USD 60 million is hit, then the APR that the LPs will receive will be 50% (annualised). For early LPs, the APY could be much higher. So, get your assets ready and don't miss the higher yield for early birds!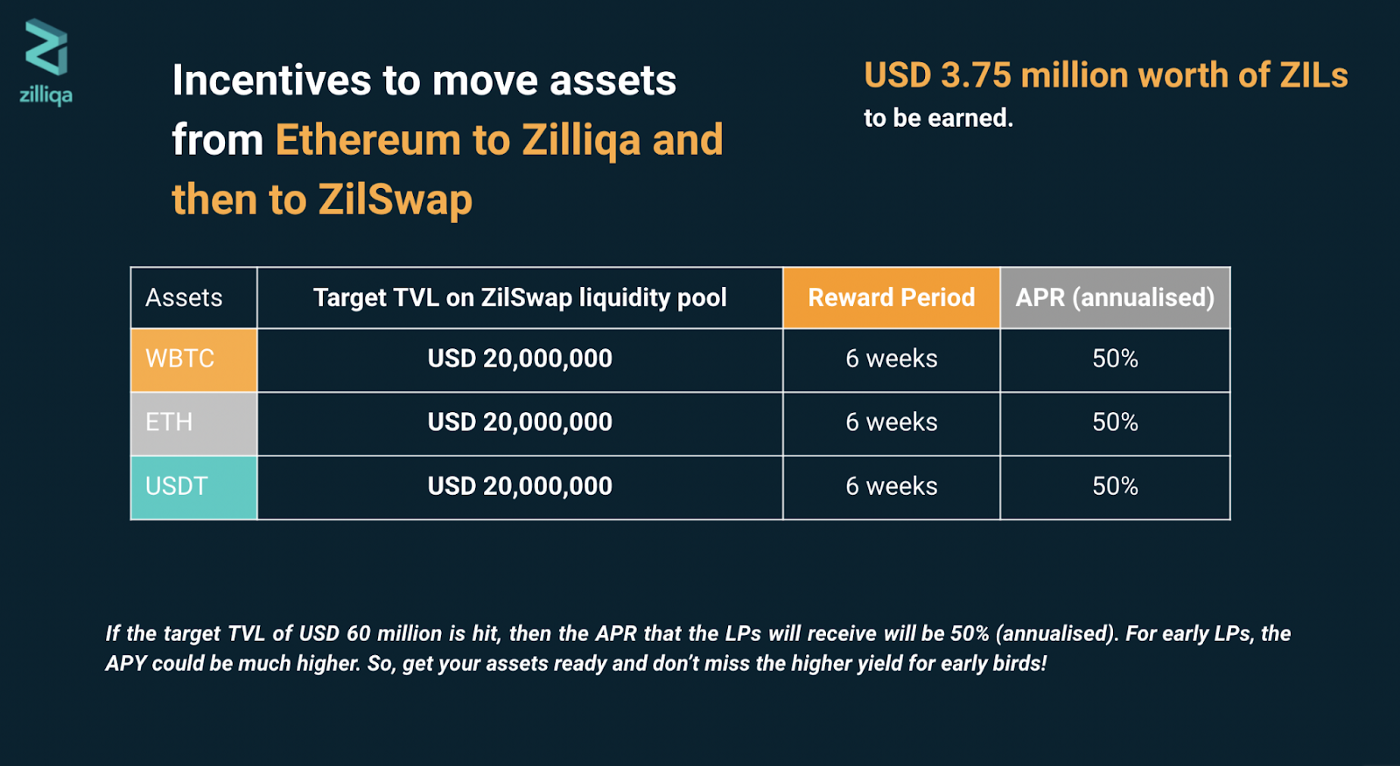 PS: In order to incorporate this incentive mechanism, the ZilSwap team will have to re-architect their ZWAP reward disbursement tool to allow the system to reward ZWAP and any other ZRC-2 token (and ZIL) for any of the pools on ZilSwap. This new design will also help other pools, where the token team wishes to supplement ZWAP rewards with their own tokens.
Currently, the plan is to integrate this new system 2–3 weeks after the mainnet bridge release. The system will however distribute rewards retroactively, so even if there will be no rewards in the first few weeks after the mainnet launch, the rewards will be retroactively distributed once the new reward distributor is up and ready.
🚧 Phase 4: [Collaboration between the Zilliqa Community, the Switcheo and the Zilliqa team]: In this phase, we open up the bridge for the community to test and play around with. We expect the testnet version to be up for public beta testing in about 10 days.
Our goal with the public beta testing will be to:
Test safety and UI/UX: We want the maximum possible users to test the bridge to ensure it is secure, friction-free, robust and responds well to community traffic. It is also important that all users find the bridge intuitive and easy-to-use.
Community feedback: We will be inviting feedback on the interface, usability and technology. We will work simultaneously to ensure that the most relevant feedback is actioned ahead of the mainnet launch. The 'upgrade and continuous improvement' practices will continue well after the launch. After all: improvements can always be made!
The community will be given incentives to participate in the public beta testing. More details on this will be released in the coming days. Stay tuned!
We estimate the public beta testing to last for about two weeks but it may require extra time if any major UI/UX or security issue gets reported by the community that needs more time to fix.
As soon as the community, the Switcheo/ZilSwap team and the Zilliqa team are all happy with the testnet release, then, we will launch the bridge on the mainnet.
🔜 Phase 5: [What next?]: The bridge will allow assets of type WBTC, ETH and USDT and the likes to be moved from Ethereum to Zilliqa. A common characteristic of assets that can be moved using this bridge is that they do not currently exist on the Zilliqa chain. However, you could imagine other types of assets such as XSGD that have been issued on both Zilliqa and Ethereum. What about those? Will this bridge and the accompanying infrastructure allow moving of such assets from one chain to another?
While we can leverage parts of this bridge, some extra work will be required to enable cross-chain transfer of those assets. In essence, this will involve writing new cross-chain contracts and potentially a new UI. We encourage community developers to take a stab at it. We will make all our source code public which will make it easier for the community to adapt the code for such tokens. What is exciting about this is that it will be the basis for future ability to enable more cross-chain/multi-chain assets to benefit from this bridge over time.
Token swap for ERC20 ZIL to mainnet ZIL: The same applies for those who did not swap their ERC20 ZILs to mainnet ZILs in 2019. More work will be required to enable token swap. After the mainnet launch, we will be focusing on making this unique process possible. We look forward to fulfilling our promise to those community members who could not partake in the initial token swap.
Conclusion
We hope you enjoyed this update. This is only the start of Zilliqa's interoperability mission. We look forward to the coming months and years of increased user adoption by enhancing the abilities users and developers have to leverage the Zilliqa blockchain and ecosystem.
Following the testnet release, we plan to host an AMA on Reddit to any queries you may have. Stay tuned for more details!