Non-custodial Staking to be Released on the Zilliqa mainnet on 14 October
Staking on mainnet is being built to give each of you a smooth, simplified and secure experience. This is made possible not just by our brilliant tech team, but also in large part due to your engagement.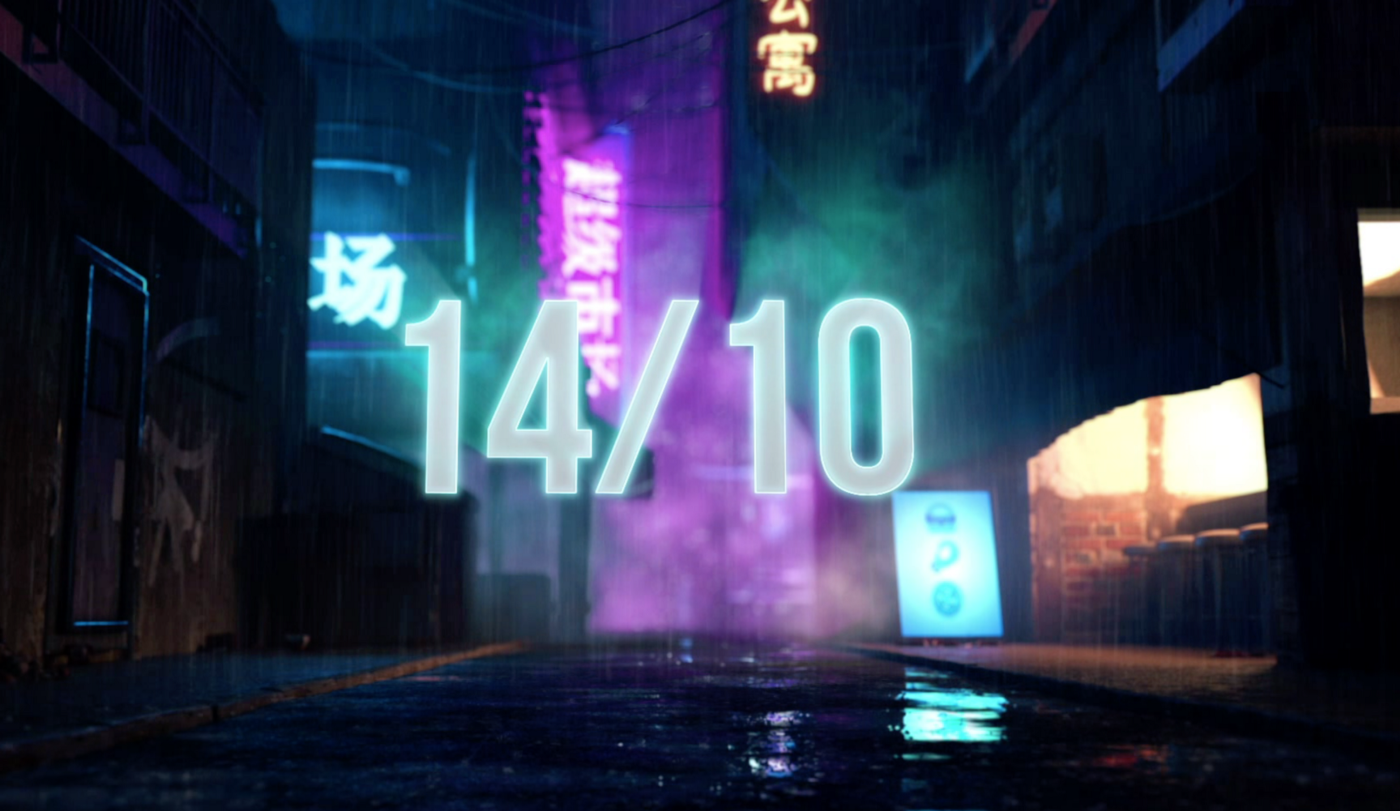 Share your feedback on Zilswap UI and gZIL functionality as part of the public beta testnet testing, now extended to 2 October
Scroll below for detailed Zilswap guidelines
Greetings all,
We are happy to announce that the much-awaited non-custodial staking will go live on the mainnet on October 14!
Staking on mainnet is being built to give each of you a smooth, simplified and secure experience. This is made possible not just by our brilliant tech team, but also in large part due to your engagement. We'd like to take this opportunity to thank you, and our trusted auditors PwC for all the fantastic inputs coming our way. Our tech team has already begun reviewing suggestions, and are implementing the required changes. In fact, we have decided to keep our feedback channels open, and extend the public beta testnet testing of the non-custodial seed node staking programme till October 2.
In this extended beta testnet testing period, we request the community to help test Zilswap — the decentralised exchange built by Switcheo on Zilliqa —on the testnet version, as well as the gZIL token contract. Our objective is to ensure smooth functionality of all elements within staking and beyond, and your feedback is crucial to achieving that. Please spend some time this weekend to test out the features and share suggestions via this submission link.
If you scroll below, you'll find detailed instructions on using Zilswap on the testnet. Note: There are various testing options to consider in this beta test. You could a) HODL gZIL; b) withdraw the gZIL received from your stake, trade it for ZIL on Zilswap, and re-stake the swapped ZIL on Zillion; or c) pool ZIL and gZIL rewards earned via staking in the Zilswap gZIL/ZIL pool. Kindly remember that the Zillion portal is in active development mode, and you may see some new features getting enabled if you are testing in the next few days.
Staking Related Mainnet Upgrade
In parallel to the beta testing campaign, Zilliqa's platform will undergo an upgrade to support new tokenomics as described in ZIP-9. This upgrade will also increase the Scilla code size limit from from 20KB to 50KB.
On tokenomics changes as described in ZIP-9, the changes to the network parameters will be staggered. Immediately after the upgrade, smart contracts execution costs will be reduced 8x. This is thanks to optimisation in both the Scilla interpreter and core protocol. Also, mining rewards will be increased to 270,000 ZIL per DS epoch. A few days after the upgrade, mining rewards allocation will be changed to 60% mining and 40% staking. Finally, approximately 1 month after the upgrade, the minimum gas price will be increased from 0.001 ZIL to 0.002 ZIL. The staggered approach is to ensure all ecosystem players have time to adapt to the new changes.
Our upgraded mainnet means two things for transaction fees. First, payment transaction costs will increase by 2x and second, smart contract transaction costs will reduce by 4x. This will reduce the disparity between the gas fees of both types of transactions.
In the days preceding the launch, you will be able to participate in some fun reward-based campaigns, so stay tuned!
Meanwhile, here are the guidelines you can use when you try Zilswap.
Guidelines on Using Zilswap
In order to test Zilswap's testnet version, you need to have ZilPay installed. We encourage you to help test the following actions:
Test 1: Adding Liquidity to gZIL/ZIL pool: When you stake using Zillion, you earn gZIL. You can use your earned gZIL together with ZIL to add liquidity to the gZIL/ZIL pool. Liquidity providers earn trading fees.
Adding liquidity to Zilswap is a two-step process. First you need to approve Zilswap to transfer tokens on your behalf. Post this step, you can add liquidity.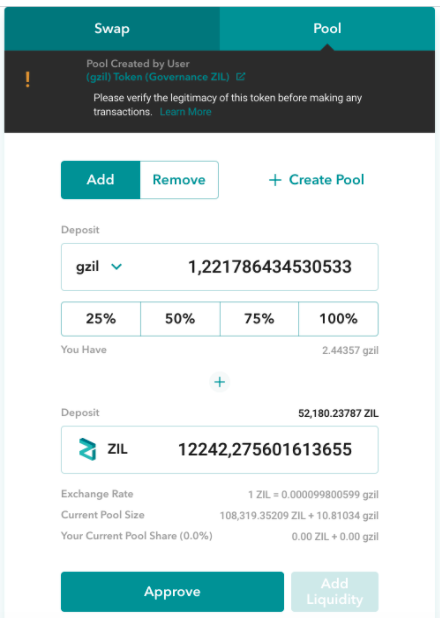 2. Add the pairs you would like to provide liquidity for (ex: gZIL/ZIL) and select the amount of liquidity you wish to provide by clicking on the "ADD" button. After you have chosen the amount click on 'Approve'.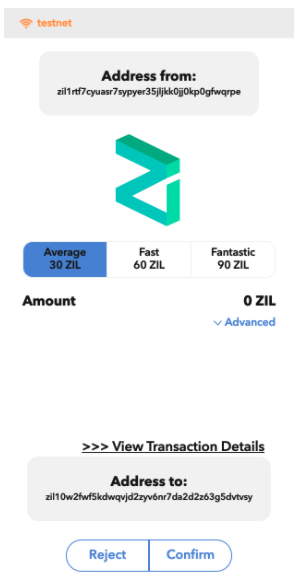 3. Once you have clicked on 'Approve' the following pop up will appear on your screen. Select either Average, Fast or Fantastic depending on how fast you want your transaction to be confirmed. After selecting the speed for the transaction click on 'Confirm'.


4. After confirming your transaction through ZilPay, please wait till the transaction is confirmed on the blockchain (you can check this via ViewBlock).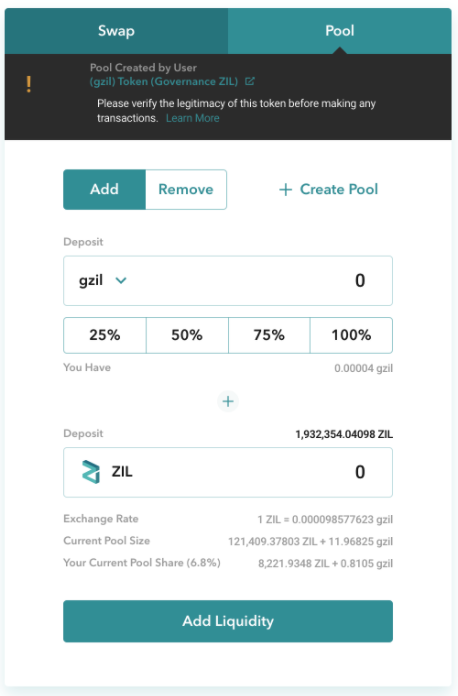 5. After your transaction has been approved the 'Add Liquidity' button will appear. Click on this button and refollow steps 3 to 4. After the transaction has been confirmed your liquidity will be added to the pool.
6. In a similar way, you could remove your liquidity and claim back ZIL and gZIL that have not been traded. Note that the number of ZIL/gZIL received after removing the liquidity will not be the same as the one you had initially put in. Some of your ZIL may have been used to facilitate the sale of gZIL. In such a case, you will end up with more gZIL than the initial liquidity.
Test 2: Swap ZIL for gZIL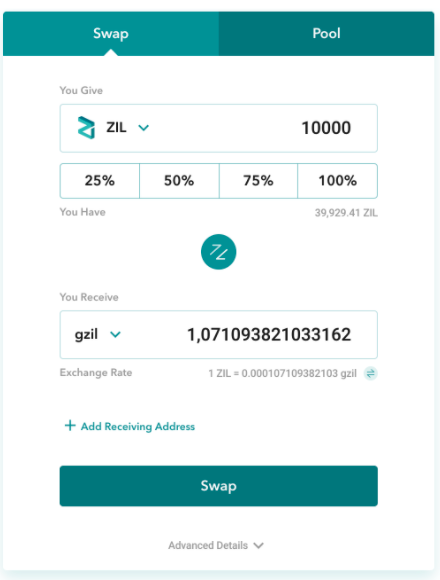 2. To transfer ZIL for gZIL (or any other pair), choose the amount you wish to swap. Then click on 'Swap'.
3. After you have clicked on 'Swap', a Zilpay pop up will appear on your screen as earlier. You can follow the same steps to confirm your transaction and receive your gZIL.
4. If you swap the other way around, i.e., you trade gZIL for ZIL, then you could stake the swapped ZIL back using the Zillion portal.
*****************************************************************