Matt Dyer lays out Zilliqa's plans for 2023
To round off the year and give a taste of our plans for 2023, we hosted an AMA session with Zilliqa interim CEO Matt Dyer, who took the reins in October.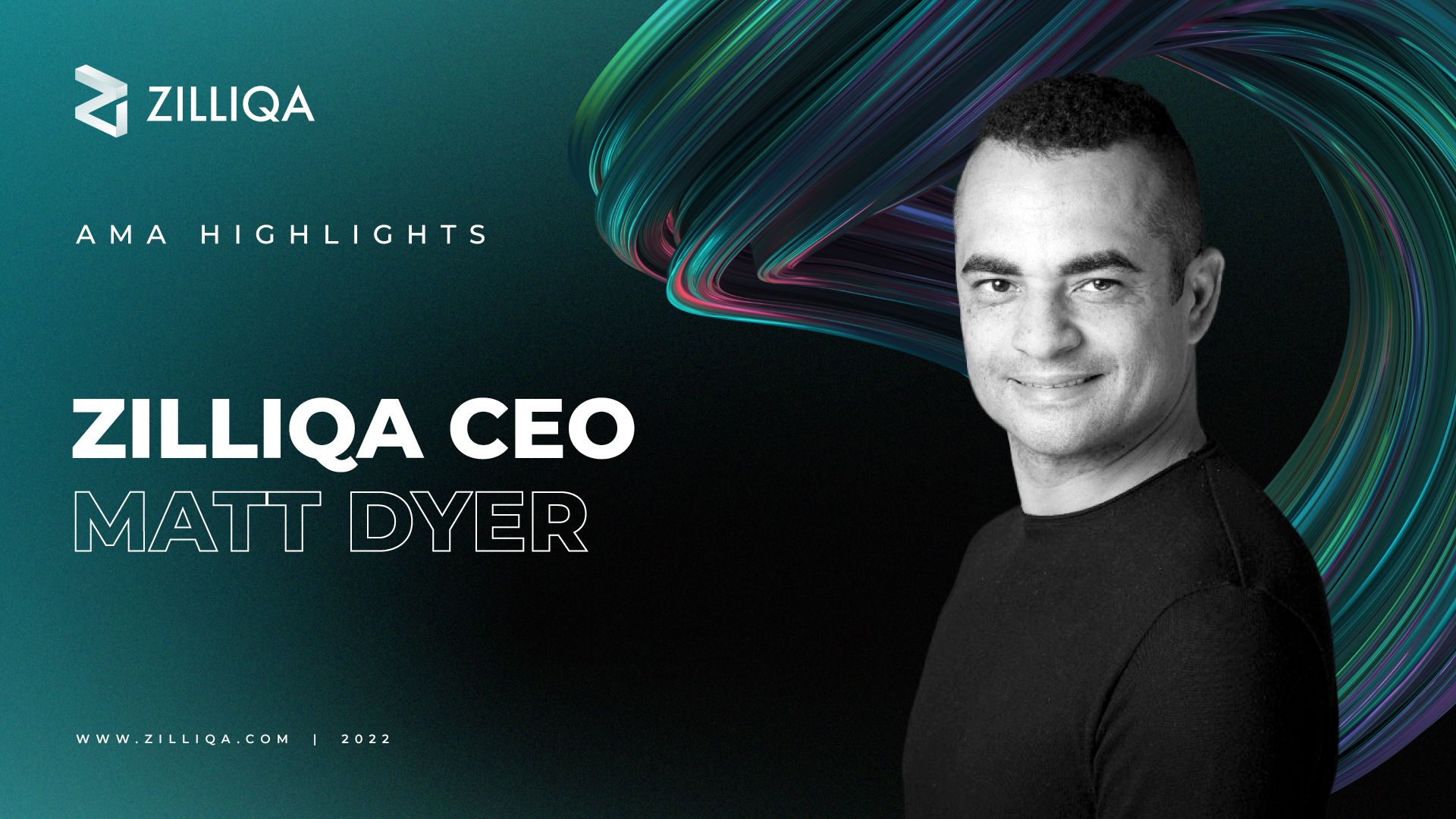 It's been a busy year for the blockchain industry and for Zilliqa. We've reached several major milestones, including the open beta launch of WEB3WAR and the implementation of EVM compatibility on the Zilliqa testnet.
To round off the year and give a taste of our plans for 2023, we hosted an AMA session with Zilliqa interim CEO Matt Dyer, who took the reins in October.
In his AMA session, Matt took a look back at Zilliqa's achievements over the past year and its resilience to the volatility of the wider crypto industry. He also shared his vision for the future of the company as an enterprise blockchain powering innovation across several major sectors - from gaming and multi-chain dApps to DeFi and micropayments.
Check out the highlights from the AMA session with Zilliqa CEO Matt Dyer below.
Background and Zilliqa in 2022
Matt began by introducing himself and reflecting on his experience at several major companies and Zilliqa, where he first joined the sales and marketing division and later shifted to Chief of Staff.
"Starting to read the white paper around Zilliqa, it became very clear their ambition to drive enterprise adoption of blockchain was something that I could lean in on based on the background I had working for a large system integrator who managed the likes of DHL globally over the years," Matt said.

"A good friend of mine introduced me to Zilliqa via the legendary Oly Bell of XCAD fame, I got an introduction to Max, and from there the rest is history."
"It's been an exciting journey and one that I feel very honoured to be in," he added.
Matt also spoke about the importance of credibility and how Zilliqa has established itself as a credible and constructive company in the blockchain space, which is crucial for growth, adoption and investment.
"Zilliqa is five years old in this space, that's a massive testament. I know there's a lot been going on in the space the last couple of weeks particularly. We've been here for a long time - we're an established brand, we're a credible brand," he said.
"I know that's frustrating sometimes. Maybe we don't market as aggressively as people would like, but I think the reality of the blockchain space is about building that credibility. And I think Zilliqa is very well placed in terms of the way we've operated over the past five years, and that's testament to everyone that's worked in the organisation."
Biggest achievements in 2022
Looking back on the biggest accomplishments in the Zilliqa ecosystem this past year, Matt reflected on the success of major players in building viable products, including TokenTraxx, LunarCrush, XCAD, and Zilliqa's gaming division with the success of the WEB3WAR open beta.
The recent launch of EVM compatibility was a big moment for the Zilliqa ecosystem and a major win for 2022, Matt said.
"EVM compatibility on testnet, that's massive. I know people have said why has it taken so long for Zilliqa to enable that? It's not an easy feat to achieve, but the cadence has picked up, technical debt is being dealt with, and [CTO] Richard [Watts] and the team are doing a great job in hitting key milestones," he said.
"Testnet was the plan for Q4, which was delivered on, and in Q1 we should see that live on the mainnet, which is a massive, massive step forward for Zilliqa."
He also lauded the progress made by the WEB3WAR team in demonstrating a powerful use case of the Zilliqa blockchain.
"Another area that people have been a little bit frustrated potentially around Zilliqa is the focus on gaming. But if you look at what we've done with WEB3WAR, where we've already had over four and a half thousand downloads in terms of that game - when you think about trying to drive awareness and build a product that's sustainable, that's a clear use case."
"It's been a great success story for Zilliqa being able to punch outside of just the Zilliqa ecosystem," Matt added.
Other key achievements that Matt highlighted from 2022 included the progress made on the Rialto marketplace, the development of a new lending and borrowing tool, major esports partnerships, and multi-chain development across the ecosystem.
"There's probably a lot of things I've missed covering off, but I think from my perspective, it shows that we're in a really strong position and we're a serious organisation, which is needed in the space," he said.
The future of EVM and multi-chain development on Zilliqa
Speaking about the implementation of EVM on mainnet next year, Matt noted that there would be competition amongst Scilla and Solidity users, but as both will be compatible with the network, the ecosystem would become far more available to everyone.
"We created a smart contract language, which to be fair, is very secure and offers a lot of value. And I think there is going to be a battleground around smart contracts and security in the coming years," Matt said.
"However, there's obviously a challenge in that it's a new language that people need to learn. And it's been a bit of a challenge getting a lot more developers to build applications on our network."
"By offering the EVM capability, we feel that it's going to allow us to attract a lot more developers to build applications on our network to for existing applications, bringing to our network and ultimately attracting a lot more users to get exposure to what we're doing from a blockchain perspective and even from an institutional perspective," he added.
He noted that while this lowers the barrier for new developers on Zilliqa, the secure-by-design Scilla smart contract language is not going anywhere.
"It's just more a question of offering options. Break down a barrier and let's see a lot more people building on Zilliqa's blockchain."
Web3 gaming on Zilliqa
With the adoption of WEB3WAR growing rapidly and updates to the game coming thick and fast, Matt noted that a lot of the communication around highlighting developments in the Zilliqa ecosystem has been focused on Web3 gaming.
"I think from a marketing perspective and a lot of the communications, I would agree that [gaming] has been a big focus for us. But I can categorically state that Zilliqa is not just focussed on gaming. I think in the next period of time you'll even see that part of the business moving to a separate entity to drive that growth."
"We will obviously be supporting it like we do with the likes of TokenTraxx, Metapolis, XCAD, and LunarCrush. But again, that just becomes another business driving their own outcomes. And from a Zilliqa standpoint, we can point to that as a great case study that has been built on Zilliqa," he added.
Pointing to a viable case study of a successful blockchain application is vital to the success of Zilliqa and its ability to gain awareness and builders, Matt said.
Building DeFi and marketplaces
DeFi is a major area of interest for the Zilliqa community and the wider blockchain space in general, which is why Matt is committed to building out DeFi tools and user experience.
"I think Defi is obviously a massive area in terms of driving TVL and attracting new people into our ecosystem, but it's doing it in a sustainable way," he said.
"Lending and borrowing has obviously been one that we tried previously with Pillar, which wasn't a great success in terms of its adoption and it just didn't really work so that got pulled by the Pillar team."
"We have been creating a lending and borrowing app - I won't give the name away but when we look to launch with our EVM in Q1, in parallel to that… we need to create lending and borrowing that's already in play," Matt added.
Development on the Rialto NFT marketplace is also progressing rapidly and expected to launch in the near future, with a focus on partnership-related NFTs and onboarding brands and artists to Web3 through Zilliqa.
"When you think about what we're looking to do with the likes of the esports teams and create a fan engagement layer, naturally they need an NFT marketplace to kind of drive and offer NFT to their fans," Matt said.
"And then obviously from a metaverse perspective as well, having that linkage between metaverse and an NFT marketplace was a key part that needed to be delivered to enable us to start the journey in terms of rolling out the metaverse as a service."
"I think in Q1 2023, we're probably going to see the likes of some of these esports teams coming to market with their offering around the Metaverse," he added.
A look ahead
When asked about the roadmap for Zilliqa in 2023 and beyond, Matt is excited to deliver against technical milestones for general improvements to the blockchain protocol by the end of the year.
"A key one for the end of the year is executing on Zilliqa 2.0 from a technical perspective. We've talked about moving to proof of stake, which is something that is going to be going to be happening."
"What I've seen from Richard and the team from a technical perspective is the ability to speed up the cadence around delivery, to reduce the technical debt," he said.
"I think you're going to start to see a new Zilliqa that's a lot more aggressive in terms of upgrades and deployments that will stand us in good stead to deliver against Zilliqa 2.0 moving forward."
Delivering EVM in Q1 2023 is also a major milestone to look ahead to, as it opens up the ecosystem to more builders and applications, encompassing everything from dApps and games to DeFi.
"It's been a very hard move to bridge previously, which is a barrier we're going to be able to knock down in quarter one next year," he said.
Matt added that he was looking forward to discussions around new investments and partnerships in the first few months of 2023, as well as continued development of demonstrable use cases for the blockchain major developments around the DeFi ecosystem.
"While the focus has been on gaming a lot in terms of the external presence in terms of what we're doing, there's been a lot going on behind the scenes and a lot of work in terms of a strategy on what we should be focussing on from an infrastructure perspective, what we need to be building from a DeFi perspective," he said.
"When we do have even when we do start to come into 2023, we're going to have a lot more talking points in the Zilliqa network as opposed to just potentially talking about gaming."
Matt added that with all these new capabilities, use cases, and partnerships coming to the Zilliqa ecosystem in 2023, the adoption and credibility of the blockchain is set to boom in the years ahead.
"I think with what we've built or has been built by others on the Zilliqa network - I think it is going to be a lot easier for people to start to lean in on Zilliqa and say, 'you know what, that is a real credible blockchain. Let's look to connect potentially and invest there'."