CHANGES AND GROWTH AHEAD
2019 has been a whirlwind and landmark year for Zilliqa. We celebrated the launch of our mainnet and smart contracts platform, becoming the first blockchain platform to be built on sharding that provides a safe-by-design smart contract language Scilla.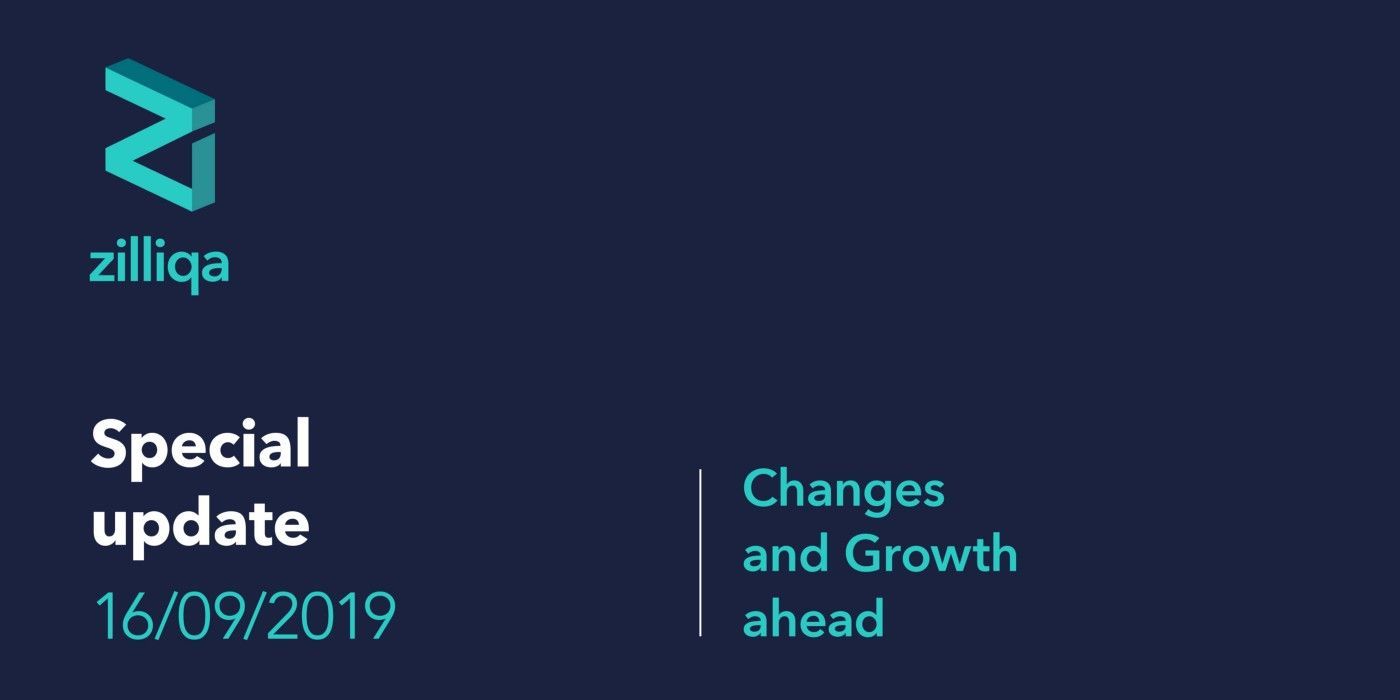 2019 has been a whirlwind and landmark year for Zilliqa. We celebrated the launch of our mainnet and smart contracts platform, becoming the first blockchain platform to be built on sharding that provides a safe-by-design smart contract language Scilla. We also saw the deployment of the first high-volume dApps on our network. The Unstoppable Domains contract for instance has driven unprecedented traffic to the Zilliqa network and clearly illustrates the opportunities that mainstream adoption of blockchain could bring down the road, and how the Zilliqa platform could play an enabling role.
At Zilliqa, our goal has always been to provide an enterprise-ready platform underscored by greater standards of security as we work towards establishing industry best practices. Two years on, we have delivered on our promises — building a far-reaching solution capable of powering a range of platforms and products for start-ups and multinational corporations alike.
THE ZILLIQA TEAM
Building a blockchain network — from its programming language to its consensus protocol — is no small feat. At Zilliqa, no one would know this better than our CTO and Co-Founder Yaoqi who played a crucial role in designing our core protocol. With the tech team now more than capable of managing our mainnet as a result of his guidance over the past two years, Yaoqi will now take on the role of advisor and Member of the Board at Zilliqa.
Having addressed the matter of blockchain scalability and security with Zilliqa, at this stage in his career, Yaoqi would like to explore new industry challenges in order to test his strengths and focus on the entire ecosystem. Though no longer involved in the day-to-day technical development, Yaoqi will continue to advise the tech team going forward — as co-founder, he will always be a part of the Zilliqa family and we support him wholeheartedly in this next stage of his career.
"I saw Zilliqa grow from an idea, first explored in discussions in research labs to a full-fledged paper on the applicability of sharding as a scaling solution in today's blockchains, and to where it is today: a robust mainnet network and a project that flourished over the past two years. From the many technical milestones and industry firsts we've achieved as the world's first public blockchain platform to leverage sharding, working with the team at Zilliqa has been essential to my growth as a leader. At this pivotal time, I'm certain the existing team and incoming tech leads will take Zilliqa's blockchain infrastructure and adoption to the next level. " — Yaoqi Jia, Zilliqa Co-founder
Now that we have delivered the first version of our mainnet rooted in cutting-edge research, our focus is to transform Zilliqa into an industry-grade platform which is convenient, scalable and secure to build on. To this end, we are actively interviewing prospective candidates who have the experience of building industrial-strength platforms to take on the exciting role of CTO in this next phase of growth. In the interim, several key members of the technical team namely Jun Hao, Antonio, Deli and others will share the responsibility under President and CSO Amrit Kumar's guidance.
We believe that this next phase of growth will demand preparedness in terms of developer toolchains, testing frameworks, easy-to-access documentation, dev tutorials and other resources. With this in mind, we have started to build a dedicated team, who will enrich developers' experience on Zilliqa by creating and providing Usability and Development Tools. This team will closely work with the developers in the community to gather feedback on developer experience and engage with them in contributing to the desired toolchains.
We believe this change will bring an exciting new perspective to Zilliqa. We have no doubt that this will benefit us as we move from being a start-up to scaling up and producing industrial-grade technology that can disrupt enterprise business models. This will help in our collaboration with Aqilliz as we work with MNCs to bring balance to the digital advertising ecosystem.
NEW HIRES
As we embark on the next stage of our journey, we are excited to welcome two new team members who will add tremendous value to the Zilliqa team:
Arthur Cheong will be joining us as the Vice President of Growth and Strategy. He will be managing strategic partnerships and identifying promising opportunities across the industry. Arthur brings a wealth of experience in venture building, strategy, investing, and knowledge of the blockchain and cryptocurrency ecosystem to his new role at Zilliqa. With our recent foray into the payments space, Arthur will help to cement Zilliqa's position as a leading ecosystem for decentralised finance (DeFi) applications, attracting more open finance projects to our platform as we conduct ongoing market infrastructure research.
Milan Shoukri has joined us as a Content Marketing Specialist, bringing his expertise in marketing and branding strategy, sales, and community management to Zilliqa. He will be supporting the Marketing and Communications team with content creation across multiple platforms, social media strategy and analytics, and event marketing. He will also work with the wider team to ensure that our narrative is adapted to benefit and reach our diverse stakeholders. Most recently, Milan worked as the Chief Marketing Officer for BarterTrade, a digital assets trading platform.
Zilliqa is more than any one individual or any one team. Our strength lies in our team, their past experiences, and the diverse skill sets they bring to the table, along with you, as a member of our community, in your unfailing support and encouragement. Amid these changes to our leadership team, we want to take a moment to highlight that growth and development are key values that we espouse at Zilliqa. With this shift in our team structure, members of our core tech team will be able to take on greater responsibilities and leadership opportunities, as they continue to progress in their careers.
THE RECENT JOURNEY
Solving the UX problem with Unstoppable Domains
This past spring, one of our Ecosystem Grant Awardees, Unstoppable Domains, raised $4 million in a Series A funding round. With the team's emphasis on solving one of the most critical user experience issues in the industry today with their human-readable domain names, we were excited to partner with them again for a $250,000 .zil grant program. Aimed at wallets and exchanges, this grant program will be essential in making blockchain domains a new industry standard, no longer hindering newcomers from entering the space.
Enabling enterprise adoption and developer projects
This June, we marked our foray into the payments space by partnering with Xfers, a leading fintech payments provider in Southeast Asia. We also announced the launch of ZILHive, a 12-week incubation program developed in collaboration with Singapore-government backed, global blockchain accelerator, LongHash. As part of this initiative, five selected teams will have the opportunity to work closely with the Zilliqa team for technical tutorship as well as receive mentorship from LongHash's global network of experts and industry leaders from the traditional finance, business, and legal space. They will also be awarded with non-dilutive grant funding of US$20,000 upon completion of the three-month incubation programme. We have received over 60 applications, and will be announcing the winners in a few short weeks!
Bringing real-time data to the Zilliqa ecosystem
In a world where data is now the most valuable resource, access to real-time data feeds is now crucial to many industries, be it finance, energy, or politics. With our emphasis on enterprise adoption, we recently announced an integration with Chainlink, a decentralized oracle network in order to build a custom Chainlink adapter that can connect Zilliqa smart contracts with real-world data. With this, smart contracts running on Zilliqa can now access back-end systems, retail payment platforms, market data, weather forecasts, and many other data sets, allowing developers to write contracts with both real-time value and real-world utility.
THE FUTURE
This July, we announced that we would be working as the exclusive technological infrastructure provider of Aqilliz, a blockchain solutions provider that looks to restore the balance across the platform economy in the digital marketing space. Such partnerships gesture toward our emphasis on driving strategic market adoption, allowing for us to become the backbone to many far-reaching solutions as we've always hoped for.
As the blockchain industry continues to mature, so will our team. You can expect more changes as we continue to make key hires to our marketing and communications, business development, and senior leadership teams.
From start to finish, we are so proud and so appreciative of the endless support that our community has offered and we look forward to continuing on this next stage of our journey together.