Zilliqa Monthly Newsletter — September 2021
Monumental and historic. September 2021 marked an important milestone for us. It will go down in the books as the month where Zilliqa first achieved interoperability with another blockchain .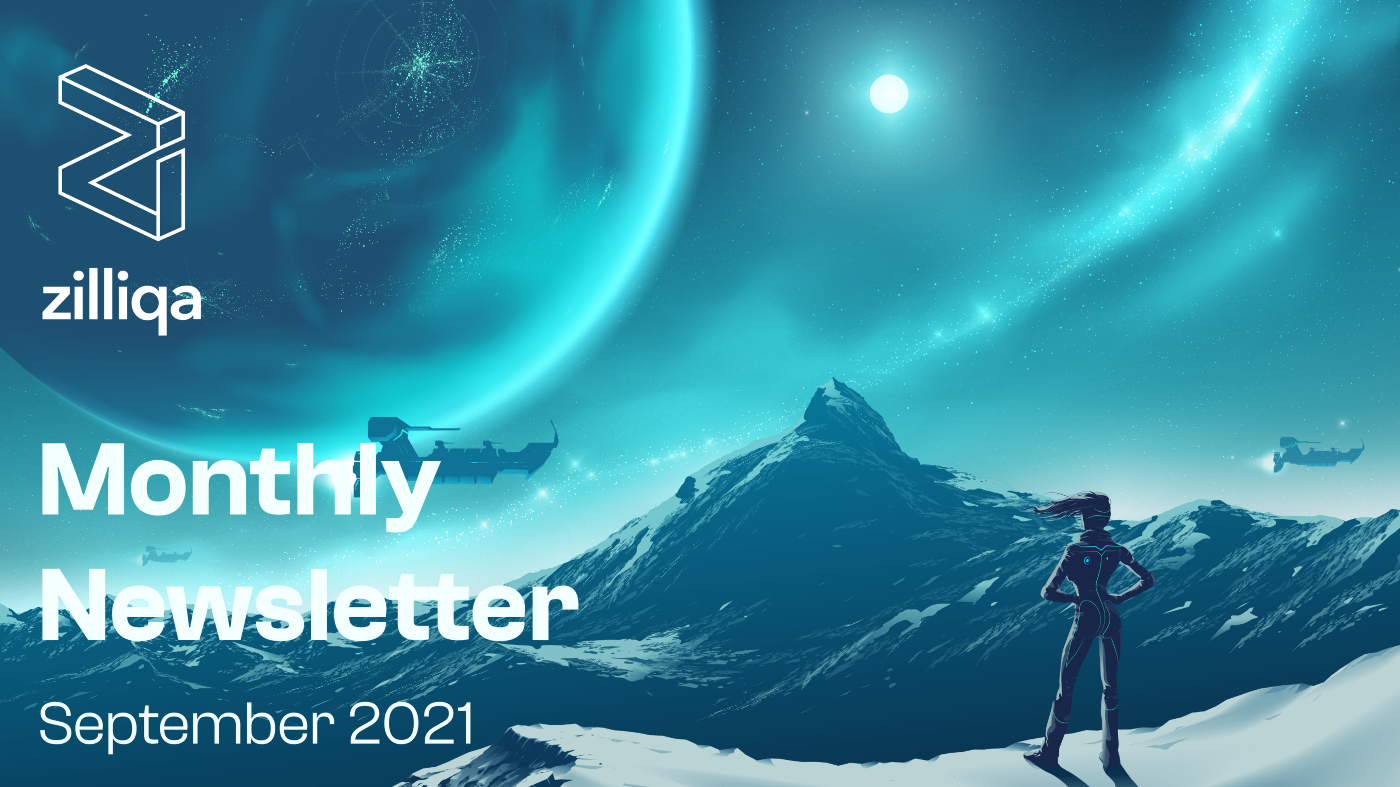 A historic month of milestones and achievements to remember
Welcome Interoperability and a Multichain Zilliqa Ecosystem!
Monumental and historic. September 2021 marked an important milestone for us. It will go down in the books as the month where Zilliqa first achieved interoperability with another blockchain . It also signals the dawn of a new chapter for projects within our Zilliqa ecosystem, as soon they can start using assets from Ethereum mainnet like wrapped Bitcoin as collaterals. Such functionalities are set to unlock a whole new layer of composability to the Zilliqa ecosystem.
Let me give you a quick run down of the highlights, or as I like to call it, the 9 wonders of Zilliqa in September!
ZilBridge Launch
The importance of the ZilBridge and what it would bring to the Zilliqa ecosystem has already been emphasised enough through the posts that we had over the past few months. To learn more about the ZilBridge, the upcoming Liquidity Mining incentives on ZilSwap and how to bridge your assets over, check out the article on the launch here.
2. Bear Market Commemorative NFT
To celebrate the first year anniversary of our partnership, Switcheo Labs launched a commemorative NFT collection, The Bear Market. The inaugural ZilSwap NFT marketplace collection consists of 10,000 randomly generated unbearably adorable bears. It generated over US$ 1 million in sales, indicating the growing interest in the Zilliqa NFT space!
3. Xcademy Influencer Market Cap
Xcademy's Influencer Market Cap is now live! Xcademy, the revolutionary watch-to-earn project built on Zilliqa that tokenises influencers on YouTube has been making waves in September, announcing multiple influencers on their platform and also revealing their mainnet launch strategy! Read more about it here.
4. Last Month of gZIL minting
In October 2020, it was announced that stakers of ZIL will also be awarded gZIL in addition to ZIL for staking. gZIL is a token that empowers its holders to be decision-makers in the Zillow ecosystem. September marked the last full month of minting for gZIL, with the final block of minting coming in early October. Stakers, please remember to claim your gZIL before the final block! You can view the countdown over at Zilstream. gZIL utility is also coming in the next month, with staking on IgniteDAO and Pillar Protocol coming soon, so stay tuned!
5. DeMons
In the last month, DeMons broke the record for the highest amount raised in a Zilswap Initial Launch Offering (ZILO)! DeMons raised approximately $4.6 million USD for their token DMZ on ZILO in just 24 hours. They've also sold out their first batch of NFTs in about a minute or so, with the first 111 of 666 DeMons going on sale. DeMons is certainly an exciting project in the ecosystem that eventually intends to gamify its NFTs and play a big part in the Zilaverse!
6. World NFT and DeFi show in Dubai
As part of Zilliqa's strategy to gain more exposure to the global crypto scene and market expansion strategy, Zilliqa participated in the World NFT and DeFi show in Dubai. The summit featured entrepreneurs, leaders and authorities in the blockchain space. With Dubai's strong focus on being a global innovation hub, the show certainly did help in giving our brand exposure as we showcased our metaverse vision!
7. Zilliqa Javascript Library
The Zilliqa Javascript Library saw 3 updates in the last month. Versions 3.1.0, 3.2.0 and 3.3.0 were released in the month of September with numerous improvements made such as build optimisation, code refactoring and updating of documentation. Version 3.1.0 also supports the new API "GetStateProof". For more details on the release, check out the Zilliqa Javascript Library github.
8. NFT Marketplaces
Numerous projects in the Zilliqa ecosystem announced their intent to help grow the Zilaverse by bringing more NFT marketplaces to the Zilliqa ecosystem. Switcheo announced that it would create an NFT marketplace on Zilswap, growing it to become the OpenSea of Zilliqa. Okimoto has also launched its NFT marketplace with 0% fees. Check them out to see how the Zilliqa NFT space is growing exponentially.
9. ZILHive Gitcoin Hackathon
ZILHive has also announced its Hackathon slated for 8 October. The hackathon has up to $50,000 USD worth of bounties (paid in ZIL) up for grabs for builders and aspiring developers. With a goal of growing the Zilliqa NFT ecosystem, the hackathon's theme "Zilliqa: NFTs Beyond Art" encourages builders to develop their idea on the themes like gaming, using NFTs as collateral and more. Visit the gitcoin page to find out more about their cool bounties.
October, Uptober.
Zilliqa is definitely ramping up for an even more exciting October, with incredible projects in the pipeline. Stick around Zilliqans, because we're going full speed into Uptober, and with a bullish vision for Q4 and beyond.